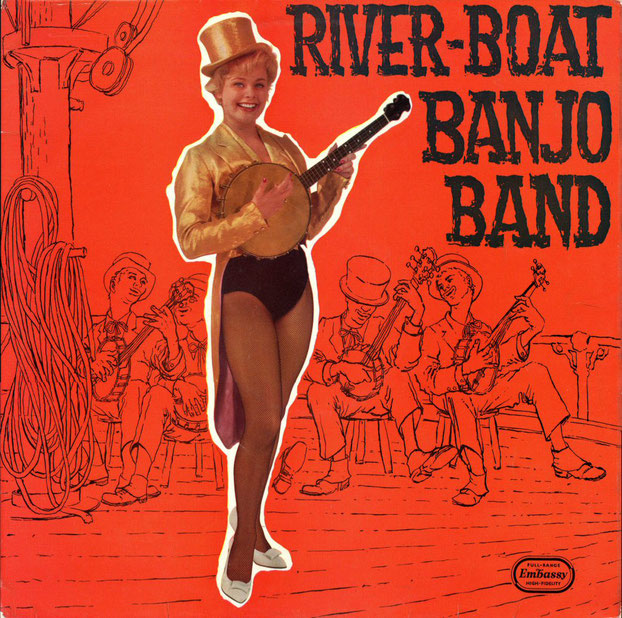 Label / Cat. No: Embassy WLP 6030
First Released: 1961
What The Album Blurb Says...
Anchors aweigh! Splice the mainbrace! For the Riverboat Banjo Band is about to be launched - and you'll really go overboard about the tunes they've decided to play.
Yes, as nautical a crew of strumming chaps have never made such a happy-go-lucky voyage. Welcome aboard. First-class accommodation only, and a guaranteed smooth passage for all.
The Riverboat Banjo Band really make you feel you're having a carefree, away-from-it-all time. Why not sit comfortably amidships and relax?
Boats and banjos have a long association now. You can look first at the old Mississippi paddle boats that went out from New Orleans. Southern belles were serenaded against a background sound of churning paddle wheels by the banjo which raised its sometimes plaintive, always pleasing, melody above the noise.
Then came the time when the banjo was a more exclusive instrument. At least, there were just two in a boat. A girl reclining on the cushions of a drifting punt, a man strumming his banjo between spells of poling.
Today, we get the best of both worlds.
There are some tunes that seem to have been written for the banjo; they have that something extra at the nimble hands of the banjo-player. That's certainly how it sounds here. A dozen of the banjoest tunes you could ever imagine, played at a fair turn of knots by a blue riband crew of banjoists.
Listen to them and you can well understand why the banjo is enjoying such a return to popularity. It is happy music, all-pals-together music that could change a hornpipe into a twinkletoe quickstep, that could even make the Ancient Mariner forget his years.
All we ask as you play it, don't have your friends all dancing to starboard as the Riverboat Banjo Band sets sail. Your turntable could well turn turtle. So, indeed, could your dancers.
Which would be a pity, because before the riverboat drops anchor, there is a cargo of happy memories to be shared, and a tidal wave of warm, flowing melodies to enjoy.
Take a trip with the Riverboat Banjo Band and you'll be wanting the same, sparkling voyage again and again.
What I Say
OK, let's get this out of the way. Any album that features the sleeve notes "a girl reclining on the cushions of a drifting punt, a man strumming his banjo between spells of poling..." is going to get my vote every time. Such an evocative picture, and so unintentionally funny when viewed in a somewhat less innocent era.
But I should start with the sleevenotes rather than the sleeve or the music, because they are so wonderful. Obviously, the junior writer who was given this commission picked up on the supposed nautical theme and really ran with it. After all, they start "Anchors aweigh! Splice the mainbrace!" Now I'm no nautical cove, and even I know that a paddlesteamer or riverboat is propelled by a steam driven waterwheel, and not by sails, therefore making a mainbrace redundant. I'm sure I'll be corrected now by somebody far more educated in these ways than I am, but I still stand by my argument that whoever wrote these notes was stretching an already tenuous link. 
Again, I'll concede that banjos and riverboats might go together in popular culture, but banjos and punts? I return to our gentleman strumming and poling (and all in front of a young lady too - shocking). I've been punting, I know how difficult it can be, and I can tell you from personal experience, if I'd had to pick up a banjo and give it a quick strum between strokes, I would have become pretty disillusioned with the whole affair very quickly.
Our valiant writer does his (or indeed her) best to try and make the banjo sound interesting and desirable, but gives themselves away by saying that the banjo is enjoying "such a return to popularity" Clearly at this stage it had been properly unpopular for, oooh, about 80 years I'd suggest. And with good reason too. After all, the banjo is not the most serious instrument in the pantheon of music makers. It's the hyperactive young cousin of the guitar, useful for novelty songs, but little else.
This is abundantly clear on this album. When they stick to stomping banjo tunes, you can almost forgive these men for learning to play in the first place. OK, so it's not to my taste, but I can see how you'd be caught up with the foot tapping revelry that they suggest.
The album opens with a perfect banjo styled opening , and we start with a proper footstomper.
Sadly though, by the time we get to Moonlight Bay, the second song, they've overstretched themselves. Two cardinal sins have been committed - firstly, the song is slow and tries to convey emotion other than light hearted wackiness. Secondly, the banjo takes over a vocal melody, which it clearly wasn't designed to do. It sounds like an octogenarian Italian crooner. Or at least what I assume an octogenarian Italian crooner would sound like.
But with the next two songs we hit the motherlode. The banjos find themselves with their natural bedfellows: The trombone and the muted trumpet. The three pariahs of the orchestra sitting at the back of the class, causing mischief. They rattle along at a fair old pace, and after racking my brain as to what they reminded me of, I realised that either of them could be used by the Two Ronnies as the accompaniment to their musical number at the end of the show. Yes, they're so good, they could have been written by Ronnie Hazlehurst himself.
Yes Sir, That's My Baby is an odd one. It has vocals. Yes, I know. Vocals. On a banjo album. How dare they? Close harmony male and female combo vocals at that. If I didn't know better, I'd say it was The Brian Rogers Connection from 3-2-1 (or almost any ITV light entertainment programme from the late 70s). Sorry if you'd only just managed to wipe the horror that was 'The Brian Rogers Connection' from your mind.
The last couple of tracks on side one are more middle of the road banjo type ramblings. There's only so much I can about banjos, considering I know so little about them. In 'You Are My Sunshine' the banjo and muted trumpet take turns to replace the lead vocal line. As you know, I believe that the banjo substituting vocals is an abhorrent mockery of nature, whereas the trumpet sounds great. To have the two together makes for a real sweet and sour experience. And then Side one ends, as it opened, with an absolute benchmark of the style. 
Top that, Radiohead.
The big let down of this album is that after the stunning highs and soaring lows of Side A, the B side is just.... competent. It's more of the same really, shuffles and stomps, redeemed only by the fact that someone, somewhere decided to rhyme 'paddling' with 'Madelaine' to come up with 'Paddlin' Madelin' Home'. This would have been a stroke of genius if it had been a vocal track, but as it's just a bunch of banjos playing, you might as well have called it "Oof, my Piles are playing up something rotten." So really, they're letting the side down (pun fully intended. Sorry)
Sound Clips
Tracks
Side 1
Row, Row, Row
Moonlight Bay
On The Mississippi 
I'm Sitting On Top Of The World
Yes Sir, That's My Baby
How Ya Gonna Keep 'Em Down On The Farm
You Are My Sunshine 
Side 2
If You Knew Suzie
For Me And My Gal
He'd Have To Get Under
Don't Fence Me In
Beer Barrel Polka 
Somebody Stole My Gal
Paddlin' Madelin' Home
Final Score
7.75 out of 10
(It would have got 6 out of 10 just for the phrase "A dozen of the banjoest tunes....")