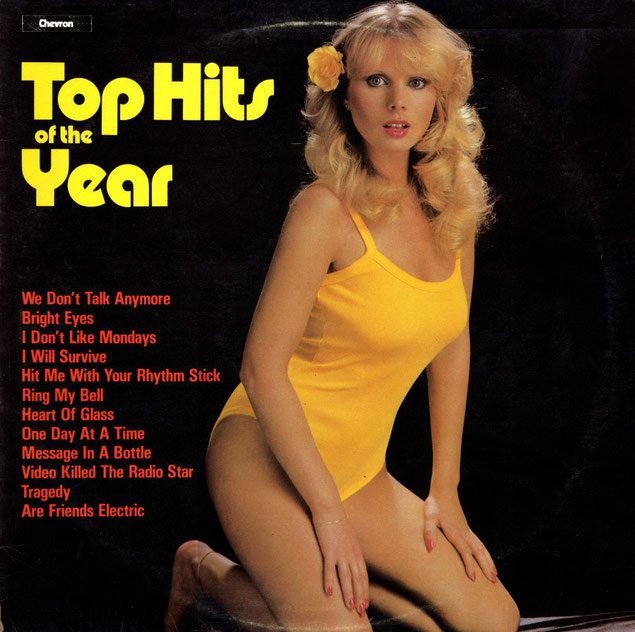 Label / Cat. No: Chevron Records CHVL 177
First Released: 1979


What The Album Blurb Says...

To reach the coveted number one spot in the British charts is not only an achievement all 'home-grown' artists long for, it is a pinnacle which any band or solo artist in the world today would love to reach. Featured on this album are musical tributes to the people who have achieved that rare distinction this year. Our own versions of these hits are performed by a select group of session musicians and singers handpicked from the cream of the studio world.

1979 has seen a real potpourri of musical styles gain commercial success and so it follows that this year's number ones are, in their own way, all quite unique. From the synthesized sounds of "Are Friends Electric" to the brilliant harmonies of "Tragedy". From the futuristic lyrics of "Video Killed The Radio Star" to the foreboding lines of "I Don't Like Mondays", all twelve songs comprise an entertaining look back on the past year's music. Enjoy it!


What I Say

Oh, at last! I've hit paydirt. This album is a reminder of why I got into this field of work in the first place. Yes, yes, I know it's not work, and I've not been here long, but all the same.... Where do I start? There is so much that is gloriously wrong about this album I'm spoiled for choice.

Chaps of a certain age in Great Britain will certainly remember the 'Top of The Pops' albums of the 70s. Semi annual compilations of all the current hits performed by wannabes and session musicians struggling (though failing) to sound like the original artists. A cheap and cheerful precursor to the 'Now' series of albums which killed off the cover-compilation market in one fell swoop. After all, who'd want to have soundalikes when you can get an album stuffed with the original artist recordings?

My knowledge of music law is slim, but as I understand it, record companies own the recordings they release, but not the songs. To licence the recordings for a compilation album would be prohibitively expensive. But get a few hungry musicians into some dead studio time, churn out piss-poor versions of current hits, and you've got a licence to print money.

So, back to those 'Top Of The Pops' albums (which I'm sure I'm obliged to point out had nothing to do with the TV programme of the same name....) On every cover was a picture of a spectacularly zeitgeisty model wearing something light and flimsy (and preferably off the shoulder), and looking slightly surprised, like you'd just caught her having an inappropriate thought. Pretty much the same kind of thing you used to see on peanut packet display cards. Probably still do, if you buy peanuts, which I can't say I do all that often. Not that that's relevant now.

I accept fully that these albums had a fantastic reason for their production. Pop consumers don't necessarily want to buy all the albums, or even singles, that these cover jobbies have on them, so to have them all in one place is cheap and convenient. Also, it also meant you never had to think about what to get your Dad for Christmas. This year's 'Top Of The Pops' album? That'll do nicely.

But the 'Top of the Pops' albums were at least a brand, and were pretty mainstream. You'd always find them well marketed at Woolworths at the very least. But this item we have before us today? Chevron Records? Top Hits of the Year? I never realised that there was a cheaper and nastier alternative to the cheap and nasty alternative provided by TOTP.

Let's start with the cover, shall we? I suppose we can forgive that fact that this is the late 70s, and this brand of cheerful sexism was still de rigeur. I'm a little concerned by the all in one vest / leotard, 100% man made materials, chemical yellow number the dear lady is wearing, and I suppose the flower in her hair is more a gypsy / spanish allusion than a throwback to the summer of love. However, I can't help but wonder what people like Ian Dury, Sting or Bob Geldof would think to having an album of their material graced by such gloriously tacky cover art. I may be being presumptuous here, but I'm not sure it's really their bag.....

The idea that the fine people at Chevron Records try to present this as a "tribute" to those outstanding individuals doesn't quite ring true. Not unless their definition of "tribute" is "to cynically make money on the back of the songwriting of other people far more talented than we are" which, to be fair to them is possible. But as they commanded me in the sleeve notes to "Enjoy it", then I feel beholden to do so.

Actually, it's not that hard to enjoy. The pleasure may not be, as our friends at Chevron records expected, derived from pure enjoyment at the high quality of these recordings. Instead, all entertainment as far as I can tell comes from seeing how hard these poor people are trying to faithfully replicate the original recordings. Sadly, I can report that in every instance, they fail to cut the mustard, and the results are often hilarious. I can clearly picture some 'Filthy Ralph' style producer in his smoke filled studio saying 'ah, fuck it, that sounds close enough. Right, who's going to be Gary Numan?' Oh, and if you don't recognise the 'Filthy Ralph' reference, you haven't watched enough 'Filthy, Rich & Catflap' and you should rectify that immediately.

Part of the problem, I admit, is that most of these songs have gone on to be remembered as classics. Fair enough, who remembers Lena Martell except my Mum? But we all know what 'Heart of Glass' should sound like. And it's not like this. Sting's vocal ticks are so familiar that without them 'Message In A Bottle' sounds just weird. And who in their right mind would even attempt to sound like Ian Dury or Bob Geldof? It can only end up as a dreadful parody at best.

I mean, the guy who does Ian Dury sounds like he's from a public school, and is doing his best to sound like a geezer, but just comes across like his hernia needs attention. An effeminate Gary Numan? And don't even ask about their "Trevor Horn". Instead of using the vocoder (?) at the beginning of 'Video Killed The Radio Star', they just get him to sing in a squeaky, semi-strangulated voice.

Having done a little checking, there were five other Number Ones in 1979 which, for reasons best known to themselves, failed to make the grade for this album. Two were by artists already featured (Sunday Girl - Blondie and Cars - Gary Numan), but I do feel cheated knowing that we could have had versions of YMCA, Another Brick In The Wall, and worst of all, Dr Hook's "When You're In Love With A Beautiful Woman". I'm sure you feel cheated too.

Tracks

Side 1
One Day At A Time
We Don't Talk Anymore
Message In A Bottle 
I Will Survive
Are Friends Electric 
Heart Of Glass 

Side 2

I Don't Like Mondays 
Ring My Bell
Bright Eyes
Video Killed the Radio Star 
Tragedy 
Hit Me With Your Rhythm Stick 

Final Score

8.5 out of 10 - a valuable half point lost by the omission of Dr Hook.