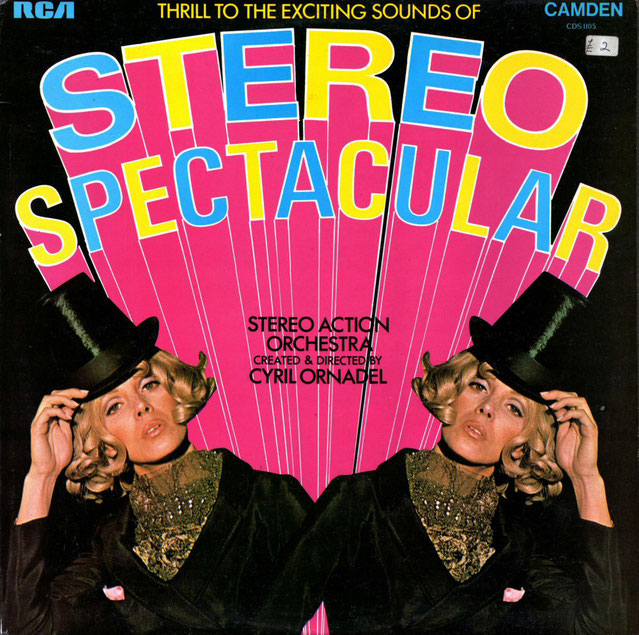 Label / Cat. No: RCA Camden CDS 1105
First Released: 1972


What The Album Blurb Says...

If there's a recipe for an album that sets out to combine the very best in songs with the best in orchestral performances, then Cyril Ornadel has surely achieved it with this collection. What's more he's managed it with a style and a panache that has, quite rightly, placed him in the forefront of music makers.

Certainly he's had the very best of ingredients to work with because names like Kaempfert, Lennon and McCartney, Bernstein, and Simon and Garfunkel find a ready acceptance and respect from all musicians. In compiling this album, Cyril Ornadel hasn't just set out to make an LP that is perfection by musical standards, although that's as much a part of the album as anything, but on a broader basis he's created an album that is rich in the kind of musical pleasure that stems from listening to old favourites like "Lazy hazy crazy days of summer", "Strangers in the night", "In the midnight hour" and "Zorba's Dance". They're songs that have a lasting popularity and listening to the Stereo Action Orchestra perform them it's easy to see just why they're so frequently played. But although you've heard them before under different guises we can safely guarantee that in the hands of Cyril Ornadel they remain not only great melodies but lasting moments of enjoyment.

What I Say

"Thrill to the exciting sounds of Stereo Spectacular" shouts the rather garish cover. "An LP that is perfection by musical standards" and " We can safely guarantee....lasting moments of enjoyment" shrill the cover notes.

Big words indeed. But can the Stereo ACTION Orchestra (I like to type it like that, as it makes them seem even MORE dynamic) live up to those words. Or is Cyril Ornadel all piss and wind?

Actually, it's kind of difficult to tell, because whoever engineered this album must've been thinking about something else at the time. I was expecting one of those Stereo demonstration albums where everything is mixed either to the extreme left or the extreme right so that stereo salesmen in shiny grey suits can demonstrate the AWESOME power of the latest groovy hi-fi.

What seems to have happened is that everything is mixed pretty much near the centre, but occasionally the levels drop out, and so the extremes are of volume not of audio panorama. Either you have a very poor sound engineer who doesn't know the difference between left and right and up and down, or somebody thought that this could be a job for the work-experience boy 'cos nobody would notice.

It's also clear that Cyril is an equal opportunities employer, as everyone gets a shot at the vocal melody, each instrument getting a line or two, though not too much now as there's a lot of instruments to get through. Oh, and let's not worry about contrasting mellifluous pipes with grating buzz guitar; it only serves to make the listening experiences more enjoyable...

The overall effect is listening to the endless demo on a 1980's keyboard. It's a showcase of all the sounds that it can create, but without any real consideration being given to the internal harmony of the piece. Sure, it can make lots of different sounds, but do we want all of them, all the time?

And there's a strange mix of songs here - a bit of soul, a bit of musical theatre, some 60's pop and some classic 'oldies' all given the Cyril Ornadel treatment. I can just see him, working out the score, thinking "What Eleanor Rigby really needs is MORE BONGOS". Fantastic. In fact, Eleanor Rigby is the perfect encapsulation of the whole of this album, so ENTIRE SONG available below. I am so good to you, it hurts.

One thing I particularly like about this journal is the surprises these albums sometimes turn up. I was amazed to find that Cyril wasn't just a Blackpool Organist who got ideas above his station and created the Stereo ACTION Orchestra, but was, nay IS, a bit of a big-man in musical theatre. He's a composer of original scores, and he's even written a song that you may know - "If I Ruled The World".

Strangely though, the partial discography on his biography doesn't mention the Stereo ACTION Orchestra. Maybe I should e-mail them about their oversight.