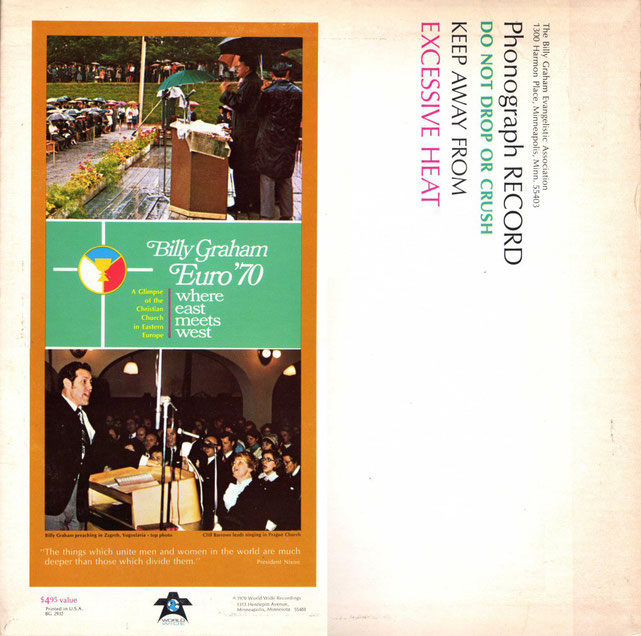 Label / Cat. No: World Wide Recordings BG 2932
First Released: 1970
What The Album Blurb Says...
On July 7, 1967, Billy Graham crossed the Yugoslav border above Trieste, en route to his first public meetings in Eastern Europe. We well remember the enthusiastic reception he received in Zagreb. During his EURO 70 Crusade, the evangelist "returned" to the same city when it joined 35 others to be linked with Dortmund's Westfalenhalle, in Europe's largest ever, closed circuit TV network.

Although Mr. Graham has not yet visited Czechoslovakia, members of the team have taken his personal greetings to Christians there. They have confirmed my own conviction that God's people in Eastern Europe can be more closely identified with those described in the Book of Acts than any others we have seen.

This record, introduced by Cliff Barrows leading congregational singing in Prague, captures something of the victorious spirit of these our fellow members of the Body of Christ. It is presented with the hope that it will encourage Western Christians to pray for them, as they pray for us, and thus strengthen the ties which bind our hearts in Christian love.

Dave Foster, Eurovangelism
What I Say
What an oddity we have to mark the "long-awaited" return of forgottenalbums, a 1970 souvenir of Billy Graham's tour to Europe.  I have to admit something of a vested interest here, in that in 1984 I saw Billy at Ipswich Town Football Stadium where his doom mongering, predictions of an imminent nuclear war and obvious showmanship had the opposite effect on me from that intended.

Anyway, first thing to note is that this 'Billy Graham' album contains no actual Billy Graham. Not a bit of it. The spoken introduction and final prayer are from his 'music and program director', Cliff Barrows. While I've got nothing against Cliff (well, apart from the fact that he made a film with Cliff Richard which would prejudice you against most people), you buy a Billy Graham album, you expect a bit of Billy action. I'm tempted to complain of false advertising here...
Cliff's proselytizing bookends the musical content of the album, Christian music sung by a variety of Eastern European choirs and organisations. There's some diversity here, from the almost but not quite Welsh stylings of the Prague Male Voice Choir, to the instrumental pieces which sound like the soundtrack to a piece of avant-garde Soviet animation.
However, my clear favourite by a country mile is the Bratislava Youth Ensemble. While the rest of the album provides foreign language versions of Western favourites or tunes embedded in Romantic folk, the Youth Ensemble are giving it large in a very 1970s Eastern European understated way. The songs are just that little bit more chirpy than the Wesleyan sounding hymns, and there's the acoustic guitar, so beloved on Christian Youth Groups. During 'Mary Magdalene', there's even a bass guitar, and you can tell that the bassist is just itching for an excuse to burst into 'Jazz Oddysey'. Thirty seven years on, their exciting, youthful glee sounds like every other progressive Christian Youth Group of the last couple of generations, only in Slovak.
The rest of the album is.... curious. It's like trying to watch 'The Weakest Link' in a language you don't understand. You understand the format and the mechanics, but lack the comprehension. I have the tune of 'What a Friend We Have In Jesus' ingrained on my memory from years of Sunday School, but the novelty here is that it's in Czech. Almost like a cover version. Which reminds me, I have an excellent version of 'William, It Was Really Nothing' by the Smiths sung in German. Nothing to do with Billy Graham, but then again, nor has this album really.
Sound Clips
Tracks
Side 1
1. Greetings and congregational singing of Blessed Assurance (Cliff Barrows and congregation of Baptist Church, Prague)
2. Jerusalem The Golden (Baptist Choir, Bratislava) Slovak
3. His Eye Is On The Sparrow (Rumanian solo)
4. The Head That Once Was Crowned With Thorns (Male Voice Choir, Prague)
5. Mary Magdalene (Youth Ensemble, Bratislava) Slovak
6. Wonderful Name Of Jesus (Euro 70 Choir, Dortmund) German
7. Doxology (Male Voice Choir, Prague) Czech
Side 2
1. What A Friend We Have In Jesus (Male Voice Choir, Prague) Czech
2. Roll Jordan Roll (in English) (Male Voice Choir, Prague) Czech
3. This Little Light Of Mine (Unique Instrumental Duet) Czech
4. What Is He To You? (Youth Ensemble, Bratislava) Slovak
5. Surely Goodness And Mercy (Baptist Choir, Zagreb) Yugoslavia
6. Just As I Am (with final prayer by Cliff Barrows) (Baptist Choir, Bratislava) Slovak
Final score:
3 out of 10 for incomprehensible (to me) cover versions..