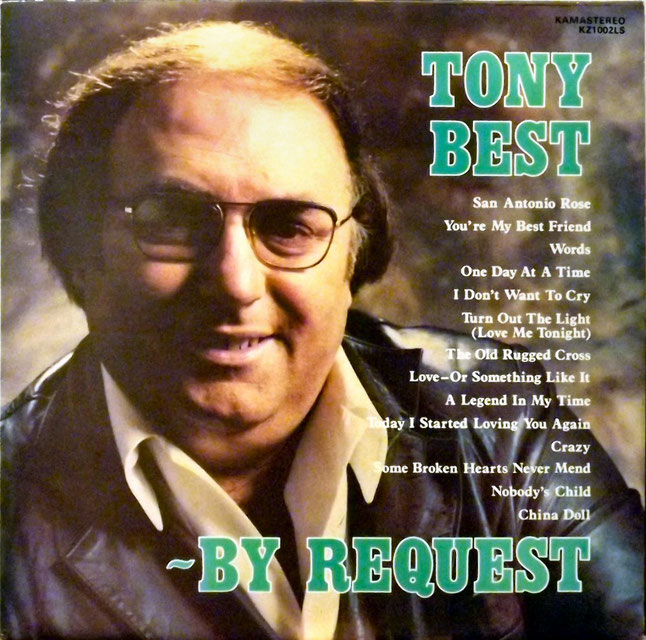 Label / Cat. No: Karma Records KZ1002LS
First Released: 1979
What The Album Blurb Says...
Here, at last, is the long awaited first album by Shropshire's 'Mr Entertainment' Tony Best – and if you are reading this wondering whether or not to buy one, read no more. Buy it now! You won't be disappointed.
Including as it does 14 of the songs for which he gets the most requests, all the songs are favourites ranging from old country music standards to recent chart hits for Larry Gatlin and Kenny Rogers. Add a few of Don Williams' most popular songs, a couple of the best loved country gospel numbers and a fine version of the Bee Gees' hit 'Words', and you have the recipe for a great album that will be eagerly snapped up by Tony Best's many fans.
And you can count me as one of his biggest fans. Like many professional acts who travel all over Britain singing country music, I first met Tony when we appeared together a few years ago at a show in the small Shropshire village of Minsterley. I took an immediate liking to the warm, friendly personality of the man described as "22 stones of entertainment" – and what better description!
He was born in South Wales, entered the Forces straight from school, and served in the R.A.F. for twelve years, during which time he entertained in such places as Germany, Cyprus, Aden and the Persian Gulf. On leaving the service, Tony spent some time playing in groups, appearing in many different parts of the country. But it is since he came to live in the thriving Shropshire town of Shrewsbury that he has established himself as one of the most talented all-round entertainers in the business.
As a comedian, he will soon have you rocking with laughter – he was recently voted the winner of an award as 'Comedian of the Year' by Staffordshire and Cheshire Clubland; an excellent compere for any kind of show with the ability to get an audience with him from the first minute he walks on stage; a talented musician, usually playing accordion to back his own fine singing voice, and the versatility to entertain any type of audience, from a chidren's party to a rugby club stag night.
This then is a brief look at the big man with the big talent, who is destined to be one of the big names in all-round entertainment, Tony Best. I am proud to have been asked by Tony to write these few words, and proud to know him as a friend.
Good Luck in everything you do, Tony, and here's to continued success.
Tony Goodacre
What I Say
Oh what a fantastic find this is for so many reasons. I've mentioned before that I have a strict rule when choosing albums for review, and that is that I go by cover alone. I don't allow anything to get in the way of that snap decision, not even reading the sleeve notes. So imagine my excitement when I found I'd got an album by a local artist, Shropshire being only 7 miles from my front door.
I can't think of any other famous people from Shropshire except Percy Thrower, so history wasn't really on Tony's side in terms of heritage. After all, I've been to Minsterley village hall, and it's really not the most auspicious of venues in which to be discovered.
The cover shows our Tony in a leather bomber jacket, looking for all the world like Arthur Scargill's cheeky younger brother, his warm, avuncular face oozing reassurance. This is a man you can trust to deliver the goods. On the back of the album we get a full body shot of Tony standing next to an ornamental chair - relaxed pose, one hand on the back of the chair, the other tucked into his trouser pocket. His blue suit is buttoned up, but the lack of tie shows his devil-may-care attitude. The album is also autographed to 'June & Jim', who have clearly treasured this album since 1979, as it's in mint condition.
My favourite aspect of this album is that the title and artist rhyme – Tony Best – By Request. I think that albums would be a lot more interesting in general if artists took more effort to rhyme their name with the album title. Who wouldn't want to buy 'On The Cover of Vogue' by Kylie Minogue? Or 'Playing With Dave In The Park' by Orchestral Manoeuvres In The Dark. At the very least, you now have a game to while away long hours with the family over Christmas. Consider that my gift to you. You're welcome.
I have doubts as to whether anyone would bill themselves these days as '22 Stones of Entertainment'. It probably contravenes some kind of hate crime law, but this album hails from less enlightened times, and Tony's size defines the man. Which makes it all the more surprising to find that he has quite a high register, coping admirably with the Bee Gees classic 'Words', and hitting a worryingly high final note on 'I Don't Want To Cry'.
Tony's strengths are without doubt the country tunes. This whole work is dripping in country, whereby even the more rockin' numbers have the benefit of steel guitars draped all over them (played, I might add, by the gloriously named 'Slim Pickens'). This is a man who takes his Country Music seriously – and boy does he take it seriously (but of that more later….) His voice isn't as bombastic as you might expect, though clearly a history of working the clubs comes through in some of the dramatics that his vocal melodies display. There's a fragility in most of the songs here, but give him a standard like 'The Old Rugged Cross', and he turns in a polished and professional performance.
What we have here is a product of its times. It's country music in the traditional mould. It's not going to break down any barriers. But if you like your Country Music sung by a Welshman in Shropshire with a mid-Atlantic twang, then Tony really is your Best option.
Sorry.
Sound Clips
Tracks
Side 1
1. San Antonio Rose
2. You're My Best Friend
3. Words
4. One Day At A Time
5. I Don't Want To Cry
6. Turn Out The Light (Love Me Tonight)
7. The Old Rugged Cross
Side 2
1. Love – Or Something Like It
2. A Legend In My Time
3. Today I Started Loving You Again
4. Crazy
5. Some Broken Hearts Never Mend
6. Nobody's Child
7. China Doll
Final score:
8.75 out of 10