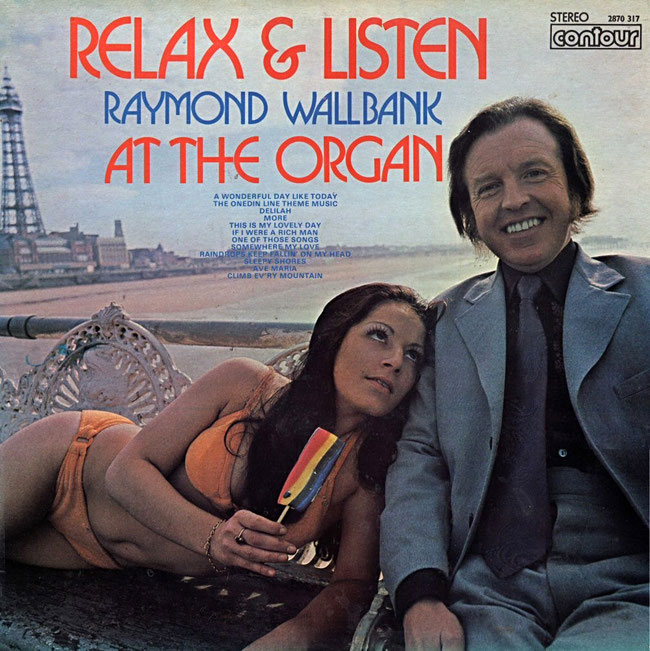 Label / Cat. No: Contour 2870 317
First Released: 1973
What The Album Blurb Says...
As well as his popular programmes in the Sun Lounge on the North Pier at Blackpool Raymond Wallbank has also appeared as a concert organist in many parts of the country, including performances on the fine organ at the Gaumont, Manchester.
During the winter months Raymond plays for dances almost every evening. His recent engagements include appearances at the Floral hall, Southport on the same bill as Victor Sylvester and his Orchestra and as successor to Reginald Dixon as organist at the official switch-on of Blackpool Illuminations carried out by Danny La Rue.
Like many top-class artistes Raymond makes time to do special charity performances, including regular broadcasts for local hospitals. He also took part in a special B.B.C. television programme about Blackpool, and has been heard on B.B.C. Radio programmes.
He is, of course, well known to many thousands of Blackpool holiday-makers and his twice daily organ recitals in the Sun Lounge have become a permanent feature of the North Pier summer-time entertainment – in fact an important contribution to Blackpool's wide range and variety of top class artistes appearing each year for the enjoyment of countless holiday-makers.
His special request programmes offering on-the-spot birthday, anniversary, or purely sentimental tunes, from (sic – I'm sure it should be 'form') the high-light of a programme content which caters for all ages and all tastes, recalling nostalgic moments for many patrons. His sense of humour and pleasant personality set the scene for a delightful two-hour concert of relaxed musical entertainment with, of course, the possibility of a sun-tan at the end of it! Why not try it for yourself when next in Blackpool.
What I Say
I know you must all think that it's a life of glamour, searching England's premier charity shops to find albums for your delectation and delight, but believe it or not, there is a down side. Every so often you're reminded that you're looking through the once-treasured record collection of somebody recently departed. I had such a moment when I chose Relax & Listen. One day, about 30 albums of organ music appeared, all together, in one particular shop – obviously somebody found this sort of thing appealing.
There were a number of albums there by Reggie Dixon who as I'm sure you know is the Daddy of the Blackpool organ scene. In face I'd go so far as to say that the former owner of the records had been a serious Reggie fan. But of course, I try not to go by names, I go by the covers. And oh my, what a cover.
I'm sure Raymond is a lovely chap. It says so on the back of the album after all - "his pleasant personality" - but he would also appear to be easily led. I'm fairly confident he didn't choose the scenario for the album cover, not least because he looks so uncomfortable having a semi-clad 'lovely' snuggling up to him in his acrylic suit and kipper tie. His smile is forced, and his eyes are wishing he was somewhere, anywhere but there. Those aren't laughter lines he's got – that's 100% tension.
And I know this may well be a case of pots and kettles, but does anyone think that a man like Raymond would be the recipient of attention from as young a nubile lovely as we have on this cover? I know that certain women go for musician types, but really….. are there organ groupies (fnarr….)
In a past life, I used to run a betting shop in Blackpool. I know, how do I live with the shame, etc… but I can tell you that having worked for two summers in Blackpool there is not one single day when you would want to be wearing a bikini. It's cold, it's wet and it's windswept. I wouldn't be surprised if our lolly waving lady wasn't painted to hide the lovely shade of blue her skin must surely have turned. You don't wear bikinis in Blackpool. You wear scarves and gloves. And a hat. And one of those coats that looks like a duvet. I actually laughed out loud at the comment that you could enjoy a two-hour Raymond gig, and have a sun-tan at the end of it. Now frostbite I could believe.
Lolly wielding wench aside, I'm a bit concerned that all we learn about Raymond is by association. He once played on the same bill as Victor Sylvester. Well whoop-de-do. I once played on the same bill as Bobby Nolan. What do you mean who? Bobby Nolan is the brother of the "fantastically talented" Nolan Sisters. But I don't boast about it. Equally, just because he played the organ when Danny La Rue was switching on the Illuminations doesn't actually raise his standing as an organ player. He just happened to be doing his job at the same time. I once performed as part of a double act while Benny Hill just happened to be in the audience. Doesn't mean I put it on my journal info page. Actually, that gives me an idea….
Well, at least you're getting to find out more about me.
So I have to say I'm very suspicious of a man who seems only to be famous by association. Even that cover has to have the Blackpool Tower lurking in the background just so we know that's he's from the tradition of Blackpool organists.
All in all very poor.
What do you mean I haven't spoken about the music? Well, it was crap. Really, truly, awfully dreadful. Painfully so. But if you actually like this kind of thing, then it might be passable. But to me, this is the worst thing I've put myself through in years. Save yourselves. Avoid the sound clips. Especially 'Delilah'. You poor people, flee while you still can.
Sound Clips
Tracks
Side 1
1. A Wonderful Day Like Today (From the musical 'The Roar of the Greasepaint')
2. The Onedin Line Theme Music (Love Theme for Spartacus)
3. Delilah
4. More
5. This Is My Lovely Day
6. If I Were A Rich Man
Side 2
1. One Of Those Songs
2. Somewhere My Love (Lara's theme from 'Dr. Zhivago')
3. Raindrops Keep Fallin' On My Head (from Butch Cassidy & the Sundance Kid)
4. Sleepy Shores (theme from BBC TV series Owen M.D.)
5. Ave Maria
6. Climb Ev'ry Mountain (from 'The Sound of Music') 


Final score:

1.5 out of 10 for the violently coloured lollipop