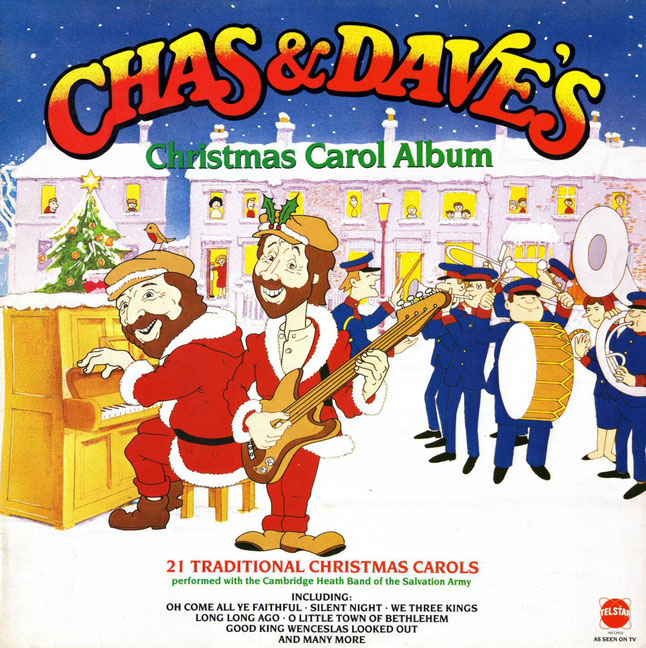 Label / Cat. No: Telstar STAR 2293 
First Released: 1986 

What The Album Blurb Says...

None, sadly. I've never thought about why or when the sales pitch on the back of record sleeves declined, but I doubt you'd find many from about 1983 onwards. Are we too knowing now to be swayed by hyperbole from paid critics? Is music so compartmentalised into tiny sub-divisions of genre that we can't just buy a 'jazz' album or a 'swing' album, and have a fair chance of enjoying it?

Or was it simply that people got wise to the fact that the glowing praise plastered across the back of almost every album bore little or no relation to the contents of the disc?

Maybe my new year resolution should be to form a pressure group to advocate the reinstatement of album blurb.

Or maybe not.


What I Say

Oh dear, oh dear, oh dear. I had really wanted to enjoy this album. After all, I do have a real affection for Chas & Dave. And Christmas. I quite like Christmas too. Put them together, and you should have a winner, and yet this combination is so much less than the sum of its parts.

As far as I can make out, there are three elements that should make up this record. The Cockney musical stylings of Messrs Charles and David, the traditional brass ensemble of the Cambridge Heath Salvation Army Band, and a number of good old fashioned carols. Put them together in any combination and you're onto a sure fire, 24-carat gold winner. Surely there can be no doubt, and yet…
This is probably best explained through the medium of the Venn diagram. Allow me, if you will…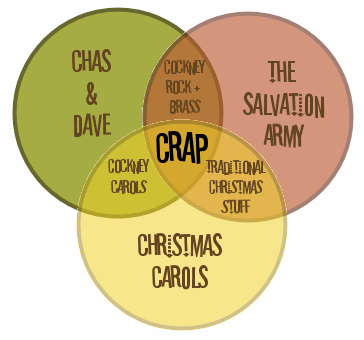 What saddens me is that this is a missed opportunity, a fudge if you will. Chas & Dave are (despite initial impressions) talented musicians. After all, Chas was taught to play piano by Jerry Lee Lewis. They've been sampled by Eminem, and covered by Tori Amos on more than one occasion. These boys have the potential to compete at a world-class standard. Their 'Cockney Rock' or 'Rockney' as I believe they call it, is a distinct style which deserves its place in the English Folk-Music pantheon.

But this isn't a 'Rockney' album. It's a Salvation Army album with a bit of Dave's Bass Guitar over the top of traditional brass band arrangements, and a bit of pub-rock drumming for good measure. Nothing more.

I suppose that Chas & Dave fans would buy the album because it's got Chas & Dave on it, and Salvation Army fanatics (of which I'm sure there must be a few, though I wouldn't like to imagine Salvation Army Band groupies) won't be too alarmed by what is a fairly traditional Carol with Chas Hodges gruff vocals replacing those of the more traditional angelic choirboy. If it came to punch up, my money would be on Chas & Dave over Aled Jones any day.

This is not to say that there isn't some value in this album. Firstly, I'm intrigued by the cartoon character cover. This isn't the only Chas & Dave album that's been done in cartoon style. Was this part of a mid-80s ploy to try and create a Chas & Dave animated series? Can you imagine how redundant the Simpson's would have been had we been graced with 'The Adventures of Chas & Dave'? It's not too late, people. Together we can make this happen.

And there are moments of sheer oddity – Chas & Dave, the beer-swilling terrors of the East End singing medieval yuletide songs? Listen to Coventry Carol, and you'll see what I mean - we're only short of a couple of 'Hey Nonny Nonnies' and we'd be laughing. And that gives me an idea. 'The Time Travelling Adventures of Chas & Dave'. It would be like Dr. Who, but with a pair of lovable Cockneys, solving problems through time and space with a knees-up round the old joanna. Really. Write to the BBC and demand that your license fee is used to commission this programme.

And just once or twice you can tell the boys are just itching to bash the piano keys and stomp their feet. The bass gets a bit more twitchy, Chas' vocals start to run away with him, but we never quite achieve the breakthrough. The first part of 'Good Christian Men Rejoice' is pure Chas & Dave, and it works precisely because the Salvation Army keep their horns shut. When they do come in, they're so low in the mix, I can't help but wonder if the sound engineer on this album shared my misgivings. I was waiting for 'The Rocking Carol' to really see the boys let their hair down, but sadly it's just a Carol with the refrain 'We will rock you, rock you, rock you' referring to the baby Jesus, rather than in a Queen way.

But my favourite part of the whole album is the very last song, 'We Three Kings'. During the introduction, I'm pretty sure the drummer is so distracted, that he's actually playing 'Delilah' by Tom Jones. Listen to it – you'll see exactly what I mean. But it's a shame I had to listen through 21 poor songs to find that gem.

So, a missed opportunity all round. Sad, but probably predictable. Which pretty much sums me up too!

And as an extra treat (and by way of an education to my overseas readers who probably don't have the first clue what I'm blithering about), please find below a master-class in the Cockney style of music. Merry Christmas Everyone. 
Tracks
Side 1
1. God Rest Ye Merry Gentlemen
2. Unto Us A Child Is Born
3. While Shepherds Watched Their Flocks
4. Long Long Ago
5. Good King Wenceslas Looked Out
6. Coventry Carol
7. Wassail Song
8. O Little Town Of Bethlehem
9. Hark The Herald Angels Sing
10. Good Christian Men Rejoice
11. Silent Night
Side 2
1. O Come All Ye Faithful
2. See Amid The Winter Snow
3. Yes Jesus Loves Me
4. It Came Upon The Midnight Clear
5. The Rocking Carol
6. In The Bleak Midwinter
7. The First Noel
8. Once In Royal David City
9. Away In A Manger
10. We Three Kings
Final score:
4 out of 10