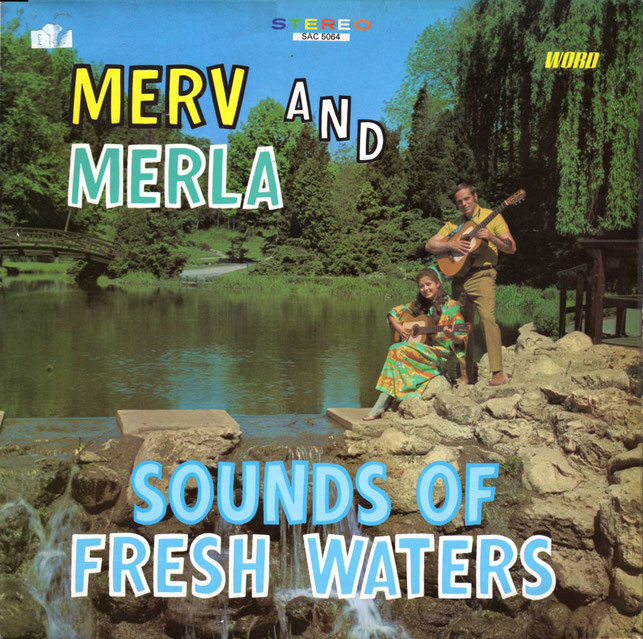 Label / Cat. No: Sacred SAC 5064
First Released: 1972

What The Album Blurb Says...

SOUNDS OF FRESH WATERS are exciting new sounds from Merv and Merla Watson, two remarkable musicians, well-trained and refreshingly creative. The music from this husband-wife team is a rare find in its up-to-date lyrics and original sounds that communicates with any audience.

Merv and Merla are not like some folk singers you've heard. They have a different drive, an unusual commitment to their music and its message. The songs they sing are a part of them, for they have spent many long hours in composing, scoring, searching for the right words to please their audiences across their native Canada and the United States.

Merla is accomplished as a vocalist, pianist and violist. In 1962 she toured the Middle East as soloist with the Canadian Broadcasting Corporation concert party entertaining U.N. troops. Merv, outstanding with the guitar and accordion, is a graduate of the University of Toronto and has taught music in the Toronto schools. Together the two originated the idea of the Schoolhouse Concerts in Toronto to stimulate interest in the performing arts as a means of Christian witnessing.

The concert series met with immediate success, as did Merv and Merla, as they sang their own folk music at each concert. Recognition for the two came quickly and they began touring with their folk-gospel music, receiving acclaim for their ability. Audiences everywhere responded enthusiastically to their music that moves naturally, uninhibited by tradition or boundaries.

This album is their finest work, sounds and feelings that are jubilant, some haunting in the contemplation of God, others crystal clear in lyric, all fresh and new, a symbol of their faith.

What I Say

I don't think I've ever met or known of anyone called Merla. To my 30something English ears, there's a certain exotic ring to the name. It conjures up 1950's mid-west diners, gingham and bitter coffee. For all I know, it could have the same connotations as 'Doris' or 'Mabel' over here, but there is a certain glamour I can't help but imagine.

The picture of Merla in a very 1972 dress with her racy gold shoes does nothing to dim my excitement. The only thing that can do that is to listen to the album.

I know that the job of the album blurb is to sell the album to the casual record browser, but you can't help but wonder how they can promise so much and yet deliver so little. In the case of Merv and Merla, I had considered a line by line breakdown of their claims against the reality, but I can feel a rant coming on, and would need a couple of aspirin and a good long lie-down if I went down that route.

But there are four key issues that I think do need to be addressed:-

1. The up-to-date lyrics reflect a two-millenia old system of religious beliefs. Not the most up-to-date now, is it?
2. Communicates with any audience? Surely that's the point of an audience, or am I missing something here?
3. Merla is "accomplished as a vocalist, pianist and violist". So why picture her on the album cover holding a guitar, an instrument which you seem to be saying she wields with all the grace of a lump-hammer?
4. Merv is a graduate of the University of Toronto is he? In what subject? Zoology? Physics? What?

One other thing that bugs me is that poor Merla is relegated into second billing, even though alphabetically her name comes first, just. Is poor Merla just another victim of the misogyny of patriarchal society, or does 'Merv and Merla' just sound better than 'Merla and Merv'? You decide.

The music itself is an odd blend. The album starts with a guitar sounding like a harpsichord, which leads into liturgical-influenced melody. It seems to be tripping over itself, but never quite falls.

At times this album conjured up 1960s Leonard Cohen (that'll be the folk element then), and at other times, it reminded me of the soundtrack from 'Hair' (though being Christians, I kind of doubt that Merv and Merla would be cavorting naked, covered in body paint during their "Schoolhouse Concerts".) Some of it was quite Jewish in its influences, and it was only subsequently that I found out that Merv and Merla now reside in Israel.

There's talk on that site of 'Merla's Miracle', a book detailing how Merla defied the surgeon's predictions after a 'bizarre' accident where a piano crushed her hand, and in fact did play professionally again. You will of course be pleased to know that in the cause of furthering my knowledge of the artists I present to you here, I have tracked down and purchased a copy of 'Merla's Miracle', and I will of course let you know in due course what the book's like.

The most bizarre track however is 'The Time of The Singing Of The Birds' in which Merv and Merla whoop, holler and tweet like a pair of demented magpies. Sadly this track jumps on my copy, meaning I can't present it in it's fullness. But thanks to the wonder and diversity of YouTube, I found that someone had used it to enhance some video of some birds.

So ladies and gentlemen, kick back, relax, and enjoy the freakish sound of Merv and Merla.
Tracks
Side 1

1. O Sing A New Song
2. Consider Him
3. The Time Of The Singing Of The Birds
4. Miracles
5. Hear My Prayer
6. Just Before Midnight

Side 2

1. I Will Sing
2. The Lord Is My Shepherd
3. It's Gotta Be Great
4. In The Night
5. The Seed Of Joy
6. Grace Be To You And You

Final score:

5.75 out of 10