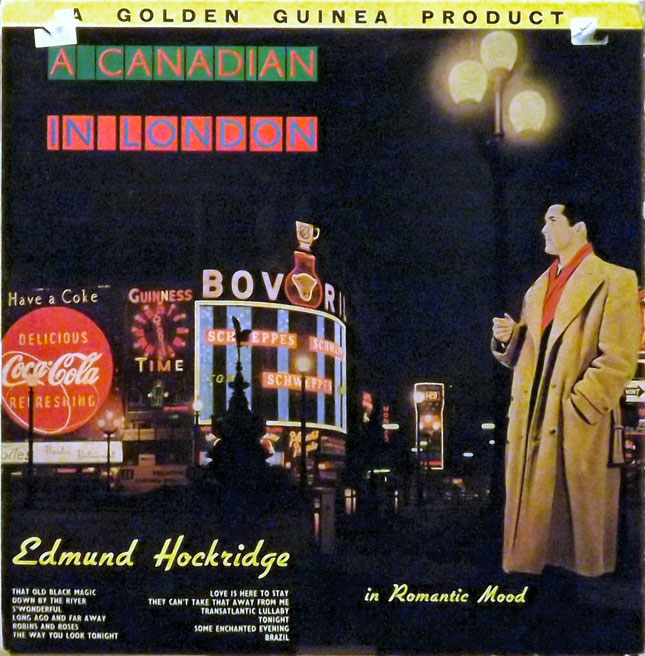 Label / Cat. No: Pye Golden Guinea - GGL 0111 
First Released: 1960s
What The Album Blurb Says...
Edmund Hockridge first came to London with the Royal Canadian Air Force in 1940, where he worked on the Allied Expeditionary Forces programme, making hundreds of broadcasts in the distinguished company of such artistes as David Niven, Robert Farnon, George Melachrino and the late Glenn Miller.
But Edmund, or 'Ted' as he is affectionately known to his countless admirers, was shortly to become known as a star in London's West End. He had returned to Canada at the end of the war but came back to England in 1950 with recordings of his Canadian broadcasts. He was signed to BBC radio, and shortly afterwards successfully auditioned for the leading role in Carousel at Drury Lane.
Some three years and 1,300 performances later he left the show, played his first Royal Command Performance, and opened the very next day in Guys and Dolls at the London Coliseum!
Another 400 performances later he moved into the leading role of Cole Porter's Can-Can at the Coliseum and in September 1955 co-starred with Joy Nichols and Max Wall in the Pajama Game. Three leading roles in three successive musicals at one theatre - an unprecedented record!
Pantomime, cabaret, variety, summer show, television - Edmund Hockridge has since successfully tackled them all. And here on the LP you will find treasured memories of this Canadian in London who has now become so much a part of the English scene.
What I Say
James Brown, the hardest working man in Showbusiness? I think not. We have a pretender to that title, and his name is Edmund Hockridge (which I think we'll all agree sounds a lot more noble than the rather common 'James Brown')
When I first got this album, I assumed that our Edmund was a second string crooner, a novelty purely because of his nationality. Once again, it seems that my ignorance of musical history has got the better of me. Edmund Hockridge was a star, albeit in Musical Theatre. It would seem he was the John Barrowman of his day (though clearly without the blatant homosexuality - after all, Edmund has a wife, Jackie, described on one website as 'lovely').
The cover shows a man I'm assuming to be Edmund, standing in Picadilly Circus at night, alone but thoughtful, smoking a cigarette under the glow of a streetlamp. While I agree that this has all the elements necessary to illustrate the concept of 'A Canadian' and 'In London', I have to ask who thought an album would fly off the shelves when it was, in large part, just a great big advert for Bovril. In Romantic Mood, eh? What you need mate is a cup of warming Beef extract. That'll have the girls flocking to take you up on your Canadian charms. Guaranteed. 
But the joy of picking records so randomly is that treasures are there to be found, and this is definitely one of them. Edmund (I can't call him Ted - it seems so informal) has warm, rich, rounded Baritone, clearly perfect for his job in Musicals. It also does a fine job on the selection of songs here. It's always nice to have a few songs you know, so that you can really judge the voice rather than being distracted by the novelty of the songs, and here we have a few standards.
He doesn't take risks, but what he gives is a polished, professional performance that does indeed indicate that he's in Romantic Mood (has anyone told Jackie?). On songs like 'Some Enchanted Evening' and 'They Can't Take That Away From Me' you get him in full flight, belting out songs with all the restrained passion the early 60s would allow.
As I've often found, the best tracks on this type of album is saved for last. The string-laden, brass-honking, snare-brushing glory of 'Brazil' sweeps you up in it's insistent latin beat, and Edmund pitches perfectly - brassy voice, excitement oozing out of every phrase, but able to turn in a gentle, subdued turn when required. I mean, I love this song anyway, but Edmund really does it proud.
I suppose ultimately this falls into the Easy Listening category - a much maligned and derided style of music, but this really is easy to listen to. Just let Edmund's rich voice wash over you, and you could almost be in Picadilly with him, hiding in the shadows of doorways. Just remember to take some Bovril with you - it looks cold out there.
Tracks
Side 1
1. That Old Black Magic
2. Down By The River
3. S'Wonderful
4. Long Ago And Far Away
5. Robins And Roses
6. The Way You Look Tonight
Side 2
1. Love Is Here To Stay
2. They Can't Take That Away From Me
3. Transatlantic Lullaby
4. Tonight
5. Some Enchanted Evening
6. Brazil
Final score:
8.5 out of 10 - I like his style...