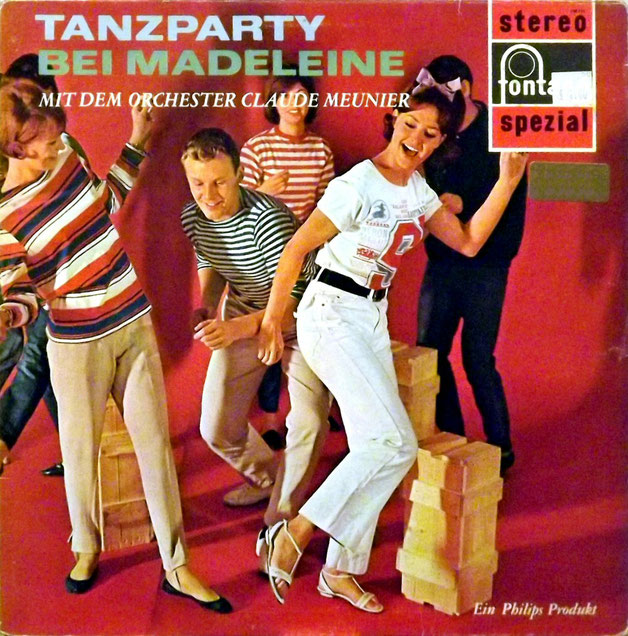 Label / Cat. No: FONTANA 700 151 WGY 
First Released: 1965+ 

What The Album Blurb Says...

FONTANA - spezial - Langspielplatten sing nach dem modernsten Stand der Schallplatten - Aufnahmetechnik hergestellt. Alle Aufnahmen sind mit den neuesten professionelien stereo-Bandgeräten und Stereo - Kondensator - Mikrofonen gemacht, die alle mit dem menschlichen Ohr wahrnehmbaren Frequenzen des Hörspectrums zwischen 16 und 16 000 Hertz erfassen. Sie garantieren - auch in der Monofassung - eine unübertroffene Klarheit des Klanggeschehens und ermöglichen die Reproduktion des Originalklanges in voller Dynamik, naturgetreuer Klangfarbe und absoluter Reinheit der Tonhöhe. Die Überspielung dieser hochwertigen Originalaufnahmen und Übertragung auf Pressmatrizen geschieht mit höchster technischer Präzision in klimatisch regulierten Räumen unter Verwendung elektronischer Kontrollsysteme. Die fertiggestellten Langspielplatten werden laufend optisch und akustisch überprüft und dann mit einer neuartigen Vakuum - Schutzfilm - Verpackung fabrikmässig versiegelt.

Der Käufer der FONTANA - spezial - Langspielplatten kommt somit in den vollen Genuss dieser hervorragenden Aufnahmetechnik. Voraussetzung dafür ist jedoch die einwandfreie Beschaffenheit der Wiedergabeapparate, insbesondere der Zustand des Abtastsaphirs. Auf dieser winzigen Spitze lastet auch bei geringstem Gewicht des Tonarmes eine Kraft, die dem Gewicht eines mittleren Kraftwagens auf der Fläche eines Zehnpfennig - stückes entspricht. Der Saphir ist daher der Abnutzung unterworfen und sollte auch bei normalem Gebrauch in regelmässigen Abständen ausgewechselt werden.


What I Say

OK, OK, first things first. I know quite well that the album blurb is really just FONTANA telling us what great records they make, and not directly related to Claude Meunier or his Orchestra, but I just love the German language. It really is the language of love with all those sexy guttural sounds and harsh grating consonant clashes. Mmmm.... does it for me every time, though that might in part be from a childhood watching ''Allo 'Allo' and the sexy secretary to Herr Flick.
And anyway, it's harder than it looks, typing in another language. But I love the way FONTANA capitalise their entire name, and any phrase which may reflect on them also gets capitalised, you know, just in case.

The previous owners of this album thoughtfully left a sticker with their name, address and telephone number on the front of this record. So, Basil and Marjorie of Droitwich Spa, what posessed you to buy this album? I mean, it's pretty inoffensive, but how did you think it was going to enhance your life?

The conceit for this album is that it's a Party. At Madeleine's house. And not just any kind of party, oh no! The only cirumstances under which this album could possibly come about are something like the dramatisation below. I shall call the characters Marjory and Basil entirely as a random choice...

Basil: Hey, have you heard, there's a party at Madeleine's.

Marj: A party? At Madeleine's?

Basil: Yes, a party at Madeleines. And guess what!

Marj: What?

Basil: It's a Dance Party.

Marj: Terrific. So no food or drink to get in the way of our non-stop dancing then.

Basil: None. In fact, so as not to distract us at all, she's holding her Dance Party in a big red room, empty except for a few inconveniently placed miniature packing cases right slap bang in the middle of the dance floor.

Marj: Groovy.

Basil: You said it Daddio.

Marj: I'd better get my striped top if I'm really going to swing the joint.

Basil: And don't forget your ski pants either.

I do have to ask if anyone has ever been to a party, Dance or otherwise where people have come together to form the combination of shapes that we have on the cover. It is so posed as to be laughable to our cynical 21st Century eyes, but there surely must've been a time when this image truly depicted teenagers having a groovy time.

And who, except those wishing to trick their friends who've just taken acid, would party in a plain red room. Well, OK, who apart from David Lynch.

But my absolute favourite part of the cover is the girl in the background in the red and white striped top. While all the others are carefully holding their poses in a pretence of a) enjoying themselves and b) dancing with all the gay abandon of youth, our girl is making a half-hearted hand movement, and staring straight at the camera!. Good girl! They've tried to hide this by putting the word 'Claude' right across her face, but her eyes line up beautifully with the 'u' and 'd' making it look like she's wearing avant-garde spectacles. Marvellous!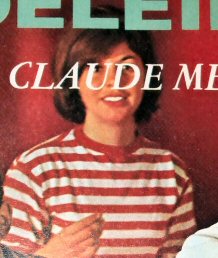 What do you mean, 'what about the music'? It's fairly innocuous, bog-standard Hammond Organ stuff. 'The Happy Organ Player' just about sums this all up. Actually, so does the 'Happy Sailor'. When you're at a Dance Party, everybody's happy. Not the kind of thing I'd be likely to dance to, or even use to liven up my party, but then that's where Madeleine and I differ.
Tracks

Seite 1

1. Skiffy
2. Amalita
3. Pierre et Madeleine
4. Tête à tête
5. Deseo
6. Happy Sailor
7. Huckleberry Finn

Seite 2

1. Jumping Jacks
2. The Happy Organ Player
3. Lorena
4. Croisettes
5. Baquita
6. Jolly Melody
7. Samba Mobile

Final score:

4 out of 10. Inoffensive is the best I can muster.