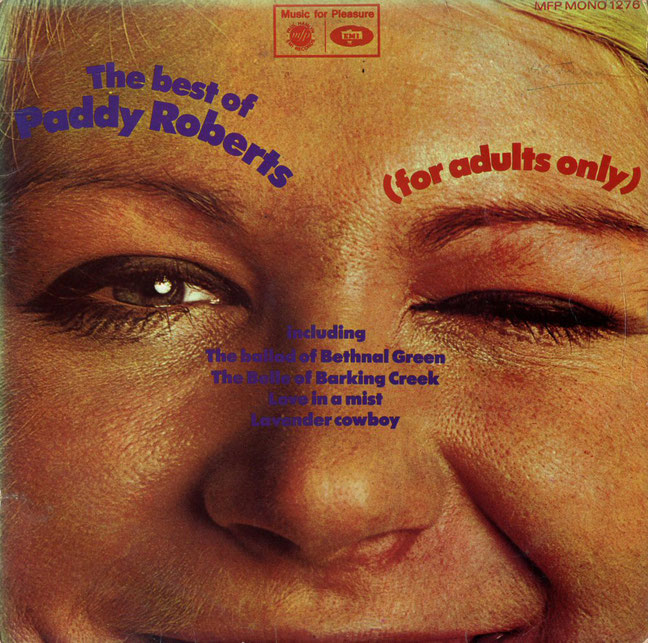 Label / Cat. No: EMI Music For Pleasure MFP 1276 
First Released: This compilation 1968 

What The Album Blurb Says...

Paddy Roberts is a large man with a quiet voice and a gentle manner that belie his ironic but dangerously sharp sense of humour. In his time he's been a divorce lawyer, a club pianist, an airline pilot and a 'song plugger', but we all know him now as the singer, in a voice with an appealing tendency to go off-key, or some of the wittiest and wickedest songs ever to entrench themselves in the hit parade.

Born in a remote part of South Africa in the year the King Edwared VII died, Paddy was sent to England for his schooling, but returned to South Africa where after graduating he took up a law practice, "making a speciality of undefended divoce cases". But he had started to write songs at university, and when the opportunity arose he worked his passage on a sailing ketch to Britain, where he landed with 30/- in his pocket. Taking on odd jobs to keep himself, he began his assault on the British song industry. He was first heard on the BBC in a series called 'Songs You Might Never Have Heard'. As a member of a vocal group featured on the show, the 'Tin Pan Alley Trio', he was beginning to make finacial progress when war broke out.

During the war, Paddy flew with the R.A.F. across the Atlantic. to Russia, in the Western Desert and with Coastal Command, and when peace came he became a transatlantic pilot for B.O.A.C. But in 1950 he returned to song writing, and reached the number on spot in 1954 with 'Softly, Softly', which was recorded by Ruby Murray. Then he made the first of the records featuring his own singing of his more saucy songs which were to keep him at the top of the charts for months on end, and he rapidly became a top cabaret star. Since then he has been very busy with appearances throughout Britain, and he has been back to sing in South Africa, but he has also found time to work as vice-chairman of the Performing Rights Society and Chairman of the Song Writer's Guild.

Here on a newly-recorded L.P., Paddy Roberts sings again the songs, spicy, sophisticated, some the slightest shade of blue, which have made his name a byword for wit and entertainment. Starting with that classic tale of our time, 'The Ballad of Bethnal Green', these songs will stimulate the most jaded spirits, and bring a wry smile to the most world-weary lips.


What I Say

This album came as a complete surprise, and a pleasant one at that. Judging by the cover (as I always do), I'd assumed that the lewdly winking totty and the 'For Adults Only' subtitle would have put it in the same category as this half remembered album from my childhood...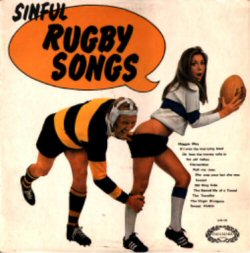 But no! Not even close. Paddy Roberts provides us with lyrically dense songs, in a traditionally Britishly witty manner that can only really be described as whimsical, or perhaps quaint. No, I'll stick with whimsical.

This is curiously British stuff in the arrangements and delivery, even if Paddy is himself a South African. After all, if that all-English icon Sid James can be South African, so can Paddy.

I can still remember the day when I first heard Tom Lehrer. Actually that's a bit of a lie, because I couldn't give you an exact date if you were to get aggressive and press me for one. But it must've been late 1987 or early 1988. I was given a third or fourth generation copy of 'An Evening Wasted' and 'That Was The Year That Was' by a much older colleague, and it opened my eyes to how 'unfashionable' music could really tickle my fancy. We had intelligent lyrics, pastiche tunes and unashamedly bad puns. It was wonderful. My mother certainly approved, and even asked for her own copies....

...which makes me wonder why she waited a further 17 years to tell me about Jake Thackray. If ever there was a direct line between styles, then this was it. OK, so Jake was steeped in the French 'chanson' tradition, and didn't have the sharp political / satirical edge of Tom Lehrer, but there was the same tunefulness, lyrical dexterity and humour in both.

Paddy Roberts reminds me a great deal of Jake Thackray, both in the structure of his songs, lyrical content and style. I can see a musical family tree that descends from Gilbert and Sullivan's 'Patter' songs, through Noel Coward, Paddy, Tom and Jake through to Benny Hill, back into rock sensibility with Ian Dury and finally someone like Eminem. Fine, call me pretensious if you like but a) I bet nobody else has compared Eminem to Gilbert and Sullivan, and b) the volume of lyrics crammed into song, the humour, the wordplay the linguistic dexterity are all comparable. Remember, you heard it here first.

The suggestion that this album is in any way rude or 'for adults only' is laughable today. I'm not sure that even when this compilation was released in 1968 his work would have been considered risque. It's definitely from a different era, and there is one repeated 'bloody' in 'L'anglais Avec Son Sang Froid' which would have shocked my Grandfather, so maybe he was considered a bit wild. But the adult themes are so gently alluded to that unless you've got a filthy mind, I'm sure you could have played these to your maiden aunt with the minimum of censorship. For example, allow me to present to you the lyrics to 'Love In A Mist':-

When I was a little wolf cub and you were a brownie,
We always remembered our good turn each day.
First it was your turn, and then it was my turn,
And life was so wonderful and carefree and gay.

Follow me, follow me,
Tonight is the night of the Jamboree.

When I was a little wolf cub and you were a brownie,
We learned all the regulations of which there were lots.
We wandered into the clover, and tried them all over,
And you did your semaphore and I did my knots.

Follow me, follow me,
Tonight is the night of the Jamboree.

When I was a little wolf cub and you were a brownie,
We did everything a wolf cub and brownie should do.
I wanted to be a boy scout so I could salute you
With three fingers vertical instead of just two.


Follow me, follow me,
We'll go to the grotto, and get slightly blotto.
To hell with the motto! Just fo-o-ollow me.

©1959 Essex Music

See, not exactly hardcore now, is it. Obviously some of the stuff reflects the era in which it was recorded, and the gentle mockery of homosexuality in 'The Lavender Cowboy' seems out of place now, but I suppose you have to look at the album in the context of the era in which the songs were written. It seems odd now, but I'm sure modern life would've seemed odd to Paddy.

My only real complaint about this album is that 'The Belle of Barking Creek' is almost identical to his most famous number 'The Ballad of Bethnal Green' - check out the soundclips below to see what I mean. He's not doing anything that countless others have done since in terms of finding a formula that works and sticking to it, but coming to his music fresh and hearing the two side by side, it just seems... lazy I suppose.

But I can't possibly hold it against a man who released an album called 'Songs For Gay Dogs'. What, you don't believe me?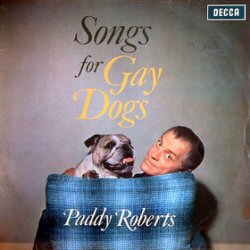 Tracks
Side 1

1. The Ballad Of Bethnal Green
2. Follow Me
3. Love In A Mist
4. Country Girl
5. The Big Dee-Jay
6. I Love Mary
7. Why Did It All Begin?

Side 2

1. The Belle Of Barking Creek
2. The Tattooed Lady
3. Don't Upset The Little Kiddywinks
4. Love Isn't What It Used To Be
5. The Lavender Cowboy
6. L'anglais Avec Son Sang Froid
7. What's All This Fuss About Love?


Final score:

8.5 out of 10