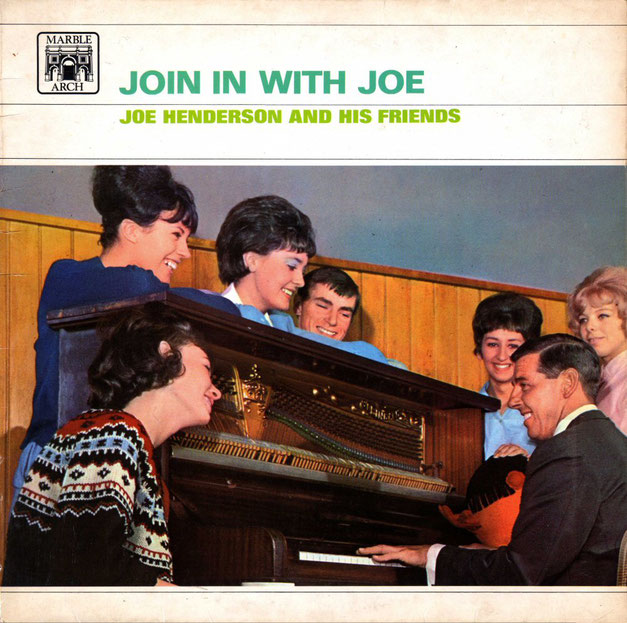 Label / Cat. No: Marble Arch MAL 638 
First Released: 1966 

What The Album Blurb Says...

None. Which is a shame. I'd like to know more about Joe Henderson. And his friends.


What I Say

The Electric Guitar was invented, almost certainly in the 1920s. The first known performance using one is recorded as being in 1932. That's 34 years before Joe "Mr. Piano" Henderson (as he indeed is known) recorded this album. In the intervening 34 years, Rock 'n' Roll had been invented, Elvis, the Stones and the Beatles had all come and made their mark. So why do we find ourselves in 1966 still making and producing this piano-led drivel?

Don't get me wrong. I like a nice bit of piano. Keane have made a virtue of using one instead of electric guitars, and I am indeed in my own small way a very amateurish pianist. But surely even in 1966 this was annoying, trite, banal, undemanding pap. Surely.

I suppose I'm from an era that spawned Prog Rock, Punk, New Wave etc. etc. We can see the rapid progression of musical tastes and styles, feeling the evolution of one form into another. Maybe fads change more quickly now, and we constantly expect the new, the different and the exciting. Was there really a time when people just liked one kind of music and stuck with it? I suppose there must've been - Country music has very dedicated fans who won't listen to anything outside of their narrow genre. Metal heads are equally unwilling to take off the blinkers.

But what surprises me the most is not just that it's the same style of music which seems to keep cropping up over and over again, it's the fact that it's also the same bloody songs. Why would anyone, even in 1966 need another recording of 'On Top Of Old Smokey', 'Hole In the Bucket', or even 'Hello Dolly'.

And Joe, or simply 'Mr Piano' as I shall refer to him from here-on-in is clearly not without talent. For a start he was the best selling artist (record and sheet music sales) of 1958 with a song, Trudie, which also won an Ivor Novello award. This man, Mr. Piano can write and play. He also got to snog Petula Clark which even in my youthful opinion can't have been a bad thing. So my question remains, why waste such a clear talent on derivative crap? It's such a waste.

Joe's 'Friends' (who I sneakily suspect are session singers) provide the kind of group singing not heard since the heady days of The Brian Rogers Connection on 3-2-1. I'm not sure if it's the same 'friends' who adorn the cover, but you'll notice that Mr. Piano seems to have significantly more female friends than male, by a ratio of 5:1. The sly old dog. There he is, knocking one out (a tune, of course) while smiling broadly at the winsome girl in the islands sweater. He knows how to impress the ladies. After all, he's Mr. Piano. Though I wonder if anyone could explain to me why there's a strange orange soft toy splodged on the end of the piano...
You may have guessed by now that I'm not too keen on this. It's just.... joyless I suppose. Formulaic, singing to the choirstalls. I can't claim Mr. Piano sold out, but he's clearly providing a product that he knows there's a market for. I shouldn't judge a 1966 album by 2007 standards (even if Sgt. Peppers was 1967 and stands up reasonably well to critical appraisal). But if I wasn't so thoroughly judgemental, we wouldn't have this journal now, would we.

Tracks
Side 1

1. Hold Me
2. Everybody Loves Somebody
3. I Love You Because
4. Together
5. I Wouldn't Trade You For The World
6. Near You
7. I Won't Forget You
8. Hello Dolly (from the Mus. Prod. "Hello Dolly")

Side 2

1. The More We Are Together
2. Nice People
3. Who (from "Sunny)
4. On Top Of Old Smokey
5. Heartbreaker
6. Glad Rag Doll
7. Who's Sorry Now
8. Hole In the Bucket
9. Heart (from "Damn Yankees")
10. Heartaches
11. Heart Of My Heart
12. Ay, Ay, Ay
13. After The Ball
14. Goodnight Ladies
15. The Band Played On
16. So Long, It's Been Good To Know You


Final score:

2 out of 10