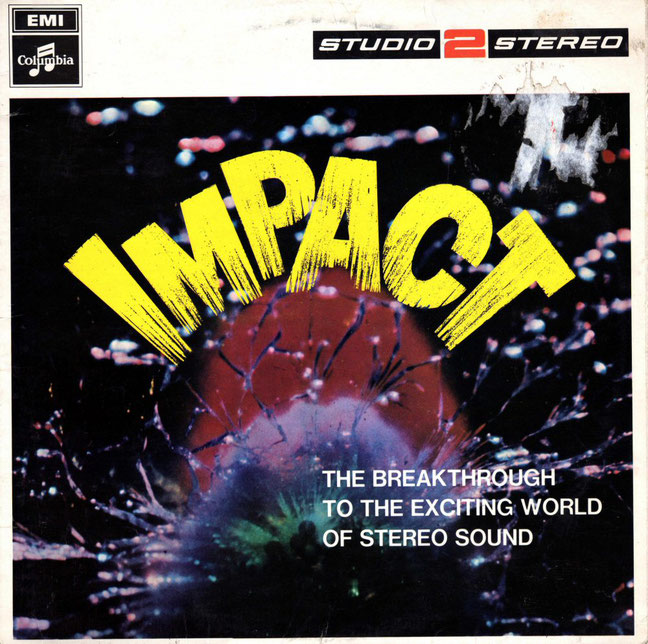 Label / Cat. No: Columbia - STWO 2 
First Released: 1968 

What The Album Blurb Says...

THE BREAKTHROUGH TO THE EXCITING WORLD OF STEREO SOUND.

A further selection of tracks from the spectacular and exciting Studio Two catalogue.... each one chosen to highlight the variety of repertoire and stereo sound quality; together forming a highly entertaining album that will be appreciated by all listeners....

What I Say

I'm big enough to admit when I'm wrong. And I'm wrong. You see, I had always assumed that these albums that were released to demonstrate the exciting new world of Stereo Sound would use the new technology in a clumsy and naive way. I had got it into my head that we would be working with extremes of stereo, like 'Now I'm Here' by Queen, the sound engineer throwing the balance left then right then back again, so it felt to the listener like he was being assaulted on all sides.

And I was wrong. 'Impact', or IMPACT to give it its correct title (you should've learned by now, I'm a sucker for capitalised words), is a far more subtle and entertaining beast. The stereo mix is in no way extreme and is in fact rather delicate.

I love the impression you get that every artiste had their own Orchestra, or at the least, a group of musicians to do their bidding. There's a big difference between Cliff Richard and The Shadows, and Ron Goodwin and His Orchestra. Every man (for they are indeed men) on this album has his own back up set of musicians, except for poor Jack Emblow, who, tagged on at the end even has to have his instrument noted by his name. Is he such a poor accordion player that we need to be told which instrument it is that he's mangling? How much further would Jack Emblow's career gone if he'd had an Orchestra of his own? We shall never know now.

And what names to conjure with. Why wasn't I named 'Norrie Paramor', 'Pepe Jaramillo' or even 'Basil Henriques'? You just don't get names like that any more. Or if you do, they don't seem to be showing up on my radar.... which is hardly surprising seeing as I'm based in a small market town near the border with Wales.... but I digress. These are SERIOUS names. Names to reckon with. And, as if Acker Bilk wasn't in itself a name to rise above the average, he then insists on being addressed as Mr. Acker Bilk. How cool is that? Sir, I salute you.

The music on the album is also top notch - mind you, with that many orchestras in attendance, you'd bloody hope so. But when an album starts with the slide trombone of 'The Stripper', you're in for a real treat. There are no duds here, though I'm not entirely sold on the cover of 'The Fool On The Hill'. Too soon I think, chaps. Furthermore, when you listen to 'Legend of the Glass Mountain', you just know it's a film soundtrack in the good old tradition. There was no need to add "(Theme from film)" after the title. It screams movie at you from each and every honey-draped string.

But the very greatest treat on this record is the tune 'Wheels', performed here by Joe Loss And His Orchestra. I will wager that most of you will look at that and think 'Wheels? I don't know that one'. Listen to it. You know it, oh yes, you know it well.
Sound Clips
Bonus:-

Alternate version of 'Wheels by 'The String-A-Longs'. 
Extra Double Bonus for people who remember the 80s in Britain...
Tracks

Side 1

1. The Stripper - David Rose & His Orchestra
2. Soul Coaxing - Norrie Paramor & His Strings
3. Stranger On The Shore - Mr. Acker Bilk & The Stan Tracey Big Brass
4. Sucu Sucu - Pepe Jaramillo & His Latin-American Rhythm
5. Love Is Blue - Franck Pourcel & His Orchestra
6. Legend of The Glass Mountain (Theme from film) - Ron Goodwin & His Orchestra

Side 2

1. Wheels - Joe Loss & His Orchestra
2. Live For Life (from the film) - The Norman Newell Orchestra
3. Can't Take My Eyes Off You - Basil Henriques & The Waikiki Islanders
4. The Fool On The Hill - Ralph Dollimore & His Orchestra
5. A Man And A Woman (from the film - Manuel & The Music Of The Mountains
6. Ritual Fire Dance - Jack Emblow (Accordian)

Final score:

9 out of 10 - the highest so far.