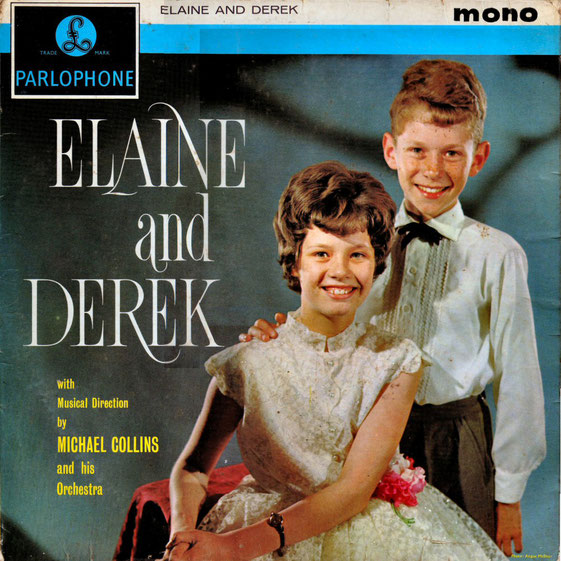 Label / Cat. No: Parlophone PMC 1160
First Released: 1961
What The Album Blurb Says...
Fairly bursting with confidence and talent are Elaine and Derek Thompson, the thirteen-year-old twins from Belfast, who have been busy lately making a name for themselves with their records and television appearances.
Born on October 23, 1948, Derek is ten minutes older than Elaine - "and very proud of the fact," says his mother. They both attend Belfast Modern School where everyone is very excited about their popularity and success: it appears that the only two calm people in the school are Elaine and Derek themselves!
"We've been singing since we were six years old," says Elaine, who always takes charge of the situation, "at socials, parties and charity concerts, so I think this is why we don't feel nervous about singing before large audiences and in recording studios. It's Mum and Dad who suffer for us while we just get very excited. We don't sing rock 'n' roll, but we enjoy listening to it - it amuses us. Gene Vincent is one of our favourite performers; we like the way he flings himself around the microphone on stage!"
At school the twins' favourite subjects are French and algebra. They are not madly keen on sport, and all their spare time is taken up with singing. In fact they allow themselves little or no time to enjoy the hobbies and amusements that children usually like.
The twins were introduced to promoter Phil Raymond by a friend, when they were singing at a party one evening,. Raymond liked their voices and within a short time he booked them to appear at the Belfast Opera House with Gene Vincent and Emile Ford.
Recording manager Norman Newell was told about tht twins and flew to Belfast to hear them, with the result that they travelled to London and the E.M.I. studios to record their first disc for Parlophone Records - One Little Robin and Brahms' Lullaby (45-R4783). This proved so popular that before long they returned to cut another single - Bluebird, coupled with Wooden Heart (45-R4829) - and this delightful LP of twelve children's hymns, to the sensitive accompaniment of Michael Collins and his Orchestra.
What I Say
Hmmmm.... this album is rather like an onion. It has so many layers, and there's something new to discover underneath, but all the layers are really the same, and it makes me cry when you cut it up, and it makes a delicious base for most savoury meals. OK, so I didn't think out my metaphor very well before I started, but this album holds a few surprises, which aren't at first apparent.
For example, as is my practice, I chose the album on the qualities of its cover alone. Although first released in 1961, the influence of the 50s is still clear to see, from the typeface used on their names, to the formal outfits and hairdos of the twins. Dereks frilly fronted shirt and hand-made slacks (see, always the slacks) provide a formal accompaniment to his sisters frilly, fussy party dress with faux-pearl buttons and sewn on corsage.
What I didn't know when I picked up the album is that this is full of Children's hymns. Twelve songs that are supposed to uplift and convince children of the glory of god. But is it really aimed for children? I have a sneaking suspicion that the market for this kind of album is the grannies of this world. I have a clear image of a grey haired granny settling down in her favourite armchair to listen to 'those wonderful Irish children' sing about Jesus. And it must've been a comfort, for in 1961 when this record was released, rock 'n' roll was shaking the foundations, but just so long as teenagers were singing about Jesus and not girls and cars, then there was hope for the future.
And this album has been well loved. Unlike most of the records that I pick up which are in pristine condition, this is worn and scratched, with jumps, pops and hisses all over it. Someone has played this album over and over again. Either that, or they hated it so much they've used it as a dinner plate.... but I'm sticking with my doting Granny theory.
I'm also surprised at how happy they both seem to be. If you'd asked me at thirteen to stand next to my sister to have my photo taken, let alone smile, or - horror of horrors - touch her, I would have sulked and made the most unattractive of photographs. But here we have true professionals. They both look happy, relaxed, almost like they like each other. That's not normal in a teenager, is it?
Now, I know in my review of The Kaye Family that I suggested that there was something weird about families playing together, (although I did qualify that about it being weird across the generations), but there is one clear benefit of families singing together. I've heard it suggested that the reason why the Beach Boys, the Proclaimers and the Bee Gees do harmony so well, is because that they have similar physical vocal structures, as well as similar accents and similar tonality to their voices. Because they've grown up in the same environment, their voices sound very similar, and you end up with harmony not just of notes, but also of tone. (I am of course bluffing here, but don't tell anyone...) The same applies here - the songs sound sweet because the two voices compliment each other very well.
That's another thing. In a world where we are so used to our child stars being brash to the point of obnoxious, precocious and schmaltzy, the gentle sweetness of these two is quite refreshing. It's not my kind of music at all, either in subject matter or musical style, but there is something very calming and gentle about the way they sing together which is unexpectedly lovely.
Derek tends to sing the lower parts (unsurprisingly) with a fairly linear melody, while Elaine tackles the more complex melody lines. It's a traditional arrangement, but it works here. The songs I've picked for the clips are all much of a much - I just chose the ones I knew - there isn't a great amount of variety in this album, it must be said.
I wonder how annoyed Derek was though, that although he is chronologically and alphabetically first, that his name came second in the billing. That must've hurt, though it does say clearly on the sleeve notes that Elaine is in charge. I wonder if she made that business decision.
But who's laughing now, eh? For while Elaine has subsided into obscurity (I say that like I know - for all I know, Elaine could be a major star under another name....) Derek, the mighty Derek of Elaine and Derek grew up to be one of England's favourite TV stars.
Yes, this was the biggest surprise that this album yielded for me. When I started doing my 'research' (assuming a bit of googling can be counted as research) for this album, I discovered that this album's Derek is......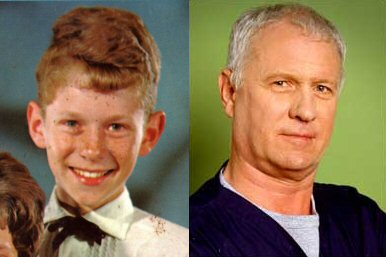 Tracks
Side 1

1. There's A Friend For Little Children
2. O What Can Little Hands Do
3. When Mother Of Salem
4. How Great Thou Art
5. Standing Somewhere In Life's Shadows
6. Jesus Loves Me


Side 2

1. Gentle Jesus Meek And Mild
2. Stranger Of Galilee
3. I Am So Glad That Jesus Loves Me
4. Who Is He In Yonder Stall
5. Jesus Tender Shepherd
6. Nearer My God To Thee


Final score:

7 out of 10