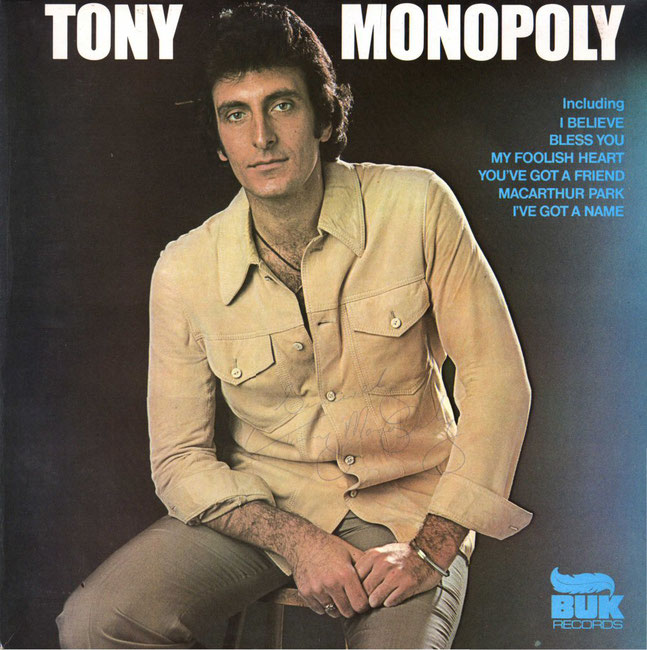 Label / Cat. No: BUK BULP 2000 
First Released: 1976 

What The Album Blurb Says...

None. Once I again, I feel cheated. And so should you.


What I Say

These are the things that you need to know about Tony Monopoly.

1. He looks like my mate Brian.
2. He used to be a monk (Tony, that is. Not Brian. He's never been a monk).
3. He's the only person to be named after a board game to release an album named after another one.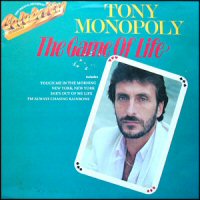 4. Monopoly isn't even his real name.  His real name is 'Monopoli'.  I might be being a bit picky here.
5. He lost his virginity to a Go-Go Dancer called 'Big Pretzel'
6. He's dead.

I find Number 6 the most surprising in many ways. You see, I was kind of aware of Tony Monopoly, in that I knew the name from my childhood. Actually, that was it. I knew the name. But it's one of those timeless names that's going to play the club circuits forever. And it turns out he died in 1995. That's 13 years I've been going round quite happily still thinking I might get a chance to see him live in concert, whereas in fact I've been kidding myself. Damn.

Having said that, if he hadn't died, I wouldn't have been able to find out facts number 2 and 4. Tom Lehrer once said that the obituary of Alma Mahler was the most exciting he'd ever read. For me, that honour most definitely goes to Tony Monopoly's. Allow me to quote you the first paragraph:-

Tony Monopoly was a former Carmelite monk who abandoned the contemplative life and went on to win six consecutive editions of Opportunity Knocks. Famous for his white suit, medallion and luxuriant chest hair, he was frequently compared with Tom Jones and Englebert Humperdinck. Monopoly was the youngest and least successful of this awesome triumvirate, but the only one with a sound grasp of the teachings of Saint Teresa of Avila.

Genius. 

The second reason I chose this album is because it's been touched by the hand of Tony. Look.... an autograph. Not one of your insignificant squiggles - Tony takes the effort to write his name in full, legibly, but with a definite flamboyance.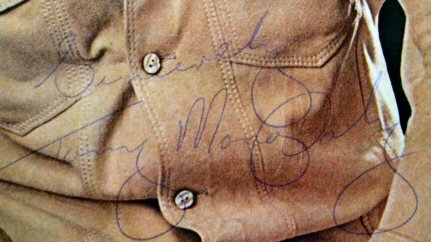 And just look how he signs himself... "Sincerely...." I can feel the sincerity oozing out of every pen stroke, and every groove on the vinyl.

To be honest, I thought I wasn't going to enjoy this album - a bunch of fairly obvious cover versions by a talent show winner - not the kind of thing I'd normally go for. But I found myself singing along during the first song, and I thoroughly enjoyed it. It is fairly corny, and that sincerity oozes and drips in every phrase Tony sings, but if you want to be entertained by someone who can belt out a tune, you could do a lot worse than let Mr. Monopoly into your life.

The arrangements are a bit odd though - it must be difficult for an artist to make a song his own, and a surefire shortcut is to make an unusual or different version of a song. But really... 'I Believe' with a proto-disco backbeat. I'm not sure I approve. And our Tony (see, I'm getting ever more familiar...) also has a number of voices to help differentiate the songs. In 'You've Got A Friend' we have intimate, gentle, quiet Tony. 'I've Got A Name' sees bombastic Tony, and 'I Believe' gives us the real crooner that Tony was trying to release.

In later years fortunes don't appear to have been too good.... long stints on cruise liners seem to have been the norm, and there was a brief re-flowering of Tony's career when he got the lead in Cameron Mackintosh's musical version of Moby Dick (sadly, no. I'm not joking...). Oddly enough, it got scathing reviews. I can't think why....

Oh yes, hang on. It's because it was crap. YouTube has again been my friend, and I offer you Tony Monopoly as Captain Ahab. Please don't let this be his legacy. Remember him as the hairy chested eye-candy for ladies of a certain age that he was.
And finally, a 2017 edit - at last YouTube has come up with the goods, and here's Tony giving it his unrivalled all, with a bit of Bernard Manning thrown in for bad measure.  Ladies and Gentlemen, sit back and enjoy, Mr. Tony Monopoly.
Tracks
Side 1

1. I've Got A Name
2. Will You Still Love Me Tomorrow
3, I Have To Say I Love You In A Song
4, Macarthur Park
5. I Believe
6. Walk On By

Side 2

1. Bless You
2. Every Time I Sing A Love Song
3. You've Got A Friend
4. One More Mile (And Darling I'll Be Home)
5. My Foolish Heart
6. Rock 'N' Roll (I Gave You The Best Years Of My Life)


Final score:

8 out of 10