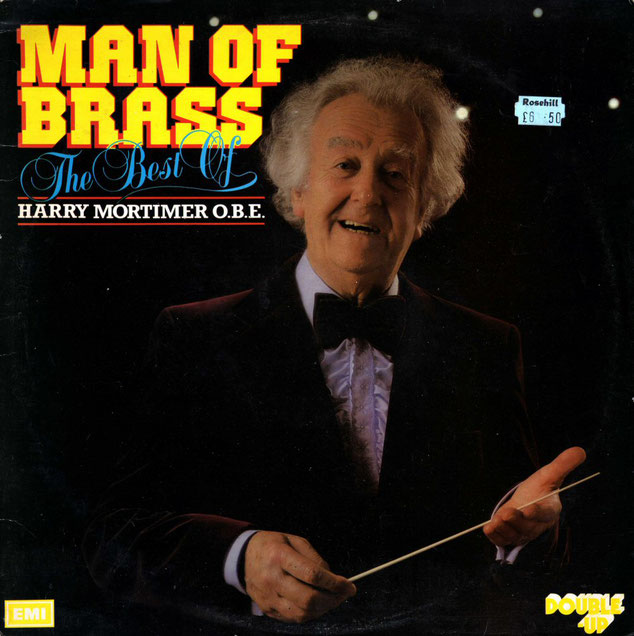 Label / Cat. No: EMI DUO130 
First Released: This Compilation 1981 

What I Say
I think we need to talk about the blurb for a bit. Did you read all of it? No? I'm not surprised. Bit much really. I think it's fair to say that the author, Jack Oliver was given a brief to fill out the inner sleeve of a gatefold album, and he has done so. However, apart from the tedious repetition of how great Harry was and how fantastic the EMI recordings of his work are, one thing becomes painfully obvious. As we go on and on, the grammar becomes more and more tortured. Allow me to give you an example from the final quarter of the blurb:-
It was featured in a notable series of EMI records and a taste of the superb quality of the band is provided by their performance of the suite KENILWORTH by Sir Arthur Bliss, one of the classics of brass band literature, recorded in 1960 which appears on side 2 of the second record of this album.
I suspect that the deadline came round a bit quick for Mr Oliver, and he found himself the night before, hunched over his typewriter, desperate to fill the blank page before him. It started well enough, but as the night wore on, and our Jack started to tire, the language got more and more tortured.
But, bless him, he managed it, and he even used the UNEXPECTED CAPITALS trick that I'm so fond of. It works particularly well when confronted with things like "ALL-STAR BRASS", making it seem exotic, exciting and mysterious...!
But we can easily sum up this massive amount of blurb in the following way.
Harry Mortimer played the cornet. He started playing in his Dad's band, and continued to play in his Dad's band in an example of crass nepotism. He could hold a tune, better than most, and played in both brass bands and orchestras. He kept busy, had a job with the BBC for a while, and helped to popularise brass band music in the post war years. He organised the odd extravaganza like "MEN O'BRASS" where his maxim was clearly more is more, and he chucked together all the bands he worked with so that there was a big crowd of blokes playing brass instruments instead of a small crowd. Here are some recordings. They were made by EMI. Enjoy. Oh, and he also did a bit of conducting on the side.
See. That wasn't too hard was it. But no, instead we had to have Jack Bloody Oliver going on and on about 'Harry Mortimer' always bloody 'Harry Mortimer', never just Harry, or Mr Mortimer, or even Hazza. No. I shan't let it get to me. But really...
So, where was I? Oh yes, Brass Band music. It seems, as it goes, Harry Mortimer was a bit of a fan, and that's fair enough. But I'm not. I'm afraid I was put off by my next door neighbour, James Hearn. When we were children, he would practise his bloody trumpet every Saturday morning, without fail, starting at 9 o'clock and going on for a couple of hours. Yes, exactly. Prime 
Tiswas
 time, ruined by a trumpet. To be fair, it wasn't his fault, and he was very good at it (or at least, he became very good at it, though not as good as Hazza, of course...), but that put me off brass as a whole. 
Therefore, I'm not really in a very good position to tell you whether this is a good brass album or not. It certainly seems very... professional. There's lots of brass, a few tunes we know, and plenty we don't. So I'm going to have to take the middle ground here and just say it's OK.
And what have we learnt?
Well..... firstly, that Brass Bands all appear to have double entendre names like 'Black Dyke' and 'Fairey'.
Secondly, there is (or at least was) a whole thriving brass band community, one that probably was damaged irrevocably by the closure of the mines in the 80s. Which reminds me - if anyone out there hasn't seen 
Brassed Off
, they probably should.
Thirdly, there was a composer called 'Granville Bantock'. I wish I'd called my child Granville Bantock. I promise that if I ever get a dog, that's what I shall call it. And he was a fine looking fellow too. Proper beard - the works...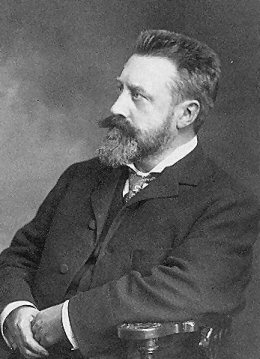 Fourthly, you can go a long way if your Dad's leader of the band.

And finally, Harry Mortimer, the 'Man Of Brass' himself does indeed look like a cleaned up version of Father Jack Hackett...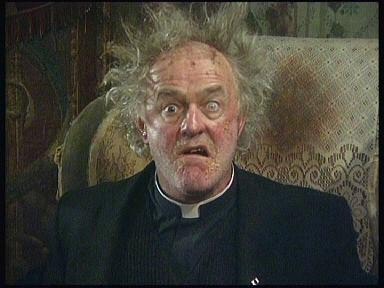 Edited to add - Thanks to Gareth for pointing out that Harry Mortimer also looks like Rowley Birkin QC....
Oh, and of course, I couldn't leave an entry on Brass Bands without this now, could I....?
Tracks

Side 1
1. Overture: ZAMPA
2. MAC AND MORT
3. RICHMOND HILL
4. Polka Brillante: SHYLOCK
5. ALPINE ECHOES
6. IL BACIO
7. CHAMPION MEDLEY MARCH No. 3

Side 2

1. TRUMPET CONCERTO IN E FLAT
2. ZELDA
3. HAILSTORM
4. THE SWALLOWS SERENADE
5. A HUNTING MEDLEY

Side 3

1. OPENING FANFARE
2. THE THREE TRUMPETERS
3. Suite: KENILWORTH
4. JENNY WREN
5. THE SHEPHERD'S SONG
6. THE LOST CHORD
7. RADETSKY MARCH

Side 4

1. BLAZON
2. RIDE OF THE VALKYRIES
3. TO A WILD ROSE
4. Overture: THE BARBER OF SEVILLE
5. SPRING (Elegiac Melody No. 2)
6. JESU, JOY OF MAN'S DESIRING (from Cantata No. 147)
7. GALOP AND FINALE (from the William Tell Overture)

Final score:

5 out of 10