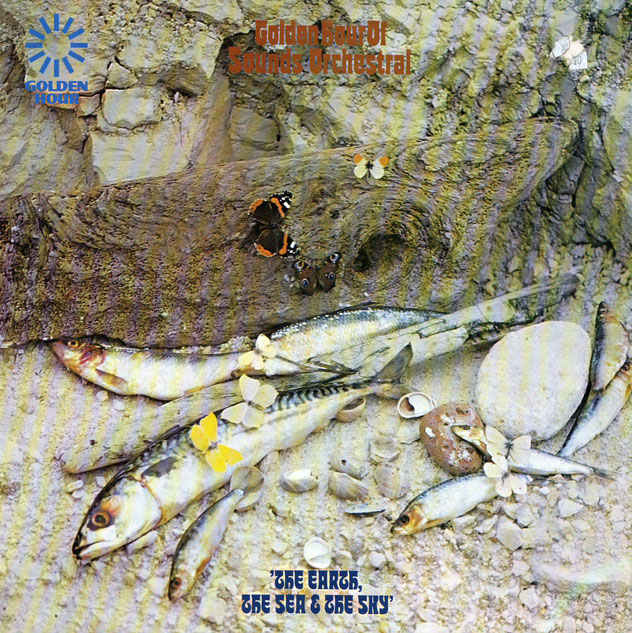 Label / Cat. No: Golden Hour (Pye) GH511 
First Released: This Compilation 1970 

What The Album Blurb Says...

John Schroeder, the brilliant young producer and creator of Sounds Orchestral has come a long way since 1962, the year that first saw him thinking about a musical concept that sprang to triumphant fruition three years later when "Cast your fate to the wind" sets Sounds on the international chart trail.

But while the years since have been filled with hit sounds for a multitude of artists, Sounds Orchestral continues to occupy a very special place in John's affections. For time and again, in the company of those other Sounds Orchestral veterans, Johnny Pearson and engineer Ray Prickett, John Schroeder returns to the studios to make fresh albums, yet albums that still retain the ingredients that keeps Sounds Orchestral a best-seller all over the world. 

This, his latest contribution to the Sounds success story starts, appropriately enough with the Vince Guaraldi classic that began it all. But complementing it are a string of familiar and enduring melodies that have found their way into many hit parades and into the affections of millions of people. Johnny Pearson has arranged them with the brand of perfection that has become his trademark and because the musical performances that graces them maintains the Sounds Orchestral formula, the result is sheer enjoyment for anyone who loves good music.

Arranged, Conducted by, and featuring the Piano of, Johnny Pearson
Produced by John Schroeder
Engineer: Ray Prickett


What I Say

When I was a sweet young thing of 13, I recorded a copy of 'Waiting' by Fun Boy Three from one of my sisters friends. Shhh, yes, I know, home taping is killing music. It's a great album, and one I still own. But my over-riding memory is that it managed to fit on one side of a C60 tape, all except for the last word of the last song ('that' of 'well fancy that'). If I'd bothered, I probably could have edited out the silence with judicial use of the pause button and made up those few precious moments to allow the final song in its entirety to fit on the tape. As it was, I didn't bother, and I quite liked the way the album just hung in the air, not quite resolved.

The point in all this reminiscing is that clearly the album, if it could fit on one side of a C60 only really lasted about 30 minutes. Pretty short for albums which in those days, you'd reckon to get on one side of a C90. 45 minutes was pretty much the norm until CDs came along and stretched things out. So to have an album with a guaranteed 'Golden Hour' of music would've been quite a bargain. Mind you, you're not getting any more than that. This album runs to 1 hour, 1 minute and 13 seconds. That's about as close as you can get, though I wouldn't set your watch by it. Well, I might set your watch by it, but not mine.

I have to tackle the cover. I can understand that with the butterflies, the fish and the logs / rocks you're getting a pretty literal depiction of 'The Earth, The Sea & The Sky', but whoever thought it would be a winning formula to stick a dead fish on the front of an album cover really needs to go back to marketing school. I grew up believing that album art was something to treasure. That in some cases, the cover was as important as the contents, that together they produced the whole experience intended by the artist. That may be because I listened to a lot of Prog Rock (I know, I know...) and they tended to go for the overblown, pompous, album cover.

But it was all part of the experience, listening to the album, poring over the cover art, looking for clues, for details, for messages. An hour spent looking at a picture of a couple of dead fish might push some people over the edge, however great the music is.

And the music isn't great. It's competent. It's nicely arranged, but it does nothing new. It falls between two stools like so many of its contemporaries - It won't radically change the arrangements of the music because the target market need nice, recognisable tunes that they can tap their toes to. So the arrangements aren't particularly bold or exciting. But equally, they don't have the full Orchestral sweep that would put them firmly into that realm. In fact, I wonder who on earth came up with the name 'Sounds Orchestral'. It sounds like a jazz trio plus a violin or two when the budget allowed. That it took John Schroeder three years from having the idea to making 'Sounds Orchestral' a reality makes you think that he spent that time building the foundations of something special. I suspect he didn't leave himself enough time to come up with that winning idea. That, or he just got distracted for a couple of years building a scale model of York Minster out of matchsticks and Jaffa Cake packets.

I'm afraid that this is all fairly generic stuff. Nothing in particular stands out (except for the drummer - he must've been sleeping with the Engineer to have got placed so high in the mix. That is of course a joke, and I'm not implying anything of the sort.....) Anyway, where was I... Oh yes. I don't expect innovation on every album I listen to, but if I could just find a spark of something interesting, something new or different then I would look far more kindly on this kind of album. But I really can't here, no matter how I try.

The saving grace however is that it does have a copy of 'Good Morning Starshine' on it. I don't think you can ever top the Original Cast sound recording of that particular song, but it's always good to hear any version of a song that has the following lyrics:-

Gliddy glub gloopy
Nibby nabby noopy
La la la lo lo
Sabba sibby sabba
Nooby abba nabba
Le le lo lo
Tooby ooby walla
Nooby abba naba
Early morning singing song

Can't go wrong there now, can you?!
Sound Clips (& Bonus full version of 'San Jose' thanks to Uncle Leo!)
Tracks
Side 1
1. Cast Your Fate To The Wind
2. What A Wonderful World
3. Moon River
4. Stranger On The Shore
5. Guantanamera
6. Nocturne (Chopin)
7. Petite Fleur
8. Moonglow
9. Carnival
10. Many Moons Ago
Side 2
1. Good Morning Starshine
2. Do You Know The Way To San Jose
3. The Poor People Of Paris
4. Canadian Sunset
5. Romance On The North Sea
6. Starglow
7. Red Roses For A Blue Lady
8. Pretty Flamingo
9. Waltz Of The Flowers (Valse Des Fleurs)
10. Exodus
Lots more information about 'Sounds Orchestral' can be found here
Final score:
4 out of 10