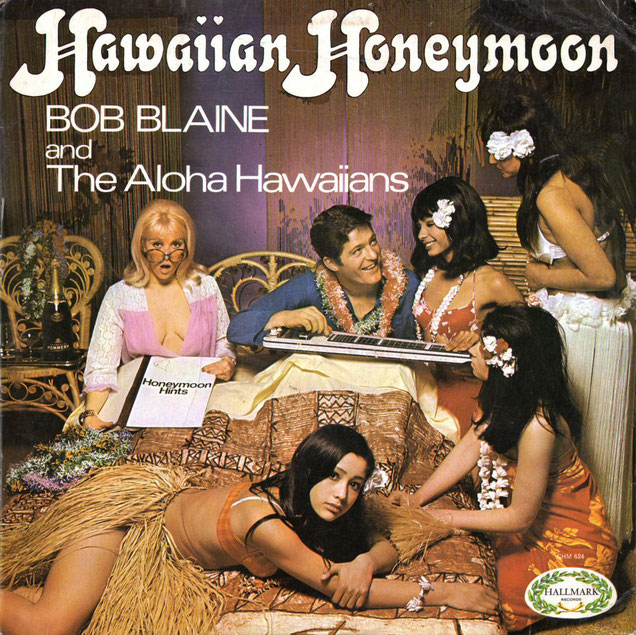 Label / Cat. No: Hallmark CHM 624
First Released: 1969 
What The Album Blurb Says...
For those of you who are as yet unacquainted with the happy looking gentleman on the right, permit us to introduce you to Mr. Bob Blaine
Early biographical details can be found on the sleeve of his previous album 'BOB BLAINE SINGS COUNTRY MUSIC FOR BEDTIME' - Hallmark HM. 581. Suffice it therefore for us to say that he hails from Liverpool, has had years of experience with many name bands, and, as you will discover, he is a very fine singer.
Bob is considered by many people in the music business to be a walking encyclopeadia on standard songs and for this album he has personally selected the best, and most romantic of the songs of the Islands and just for good measure has thrown in three brand new ones that he wrote himself, including the title song 'HAWAIIAN HONEYMOON.'
So if you want to escape the weather, the tax man, or anything else that bothers you, may we suggest you get the album, go home, slice a pineapple, light a sunlamp, turn on the record player, sit in your favourite chair, play the record, close your eyes and you're off to Hawaii - Bon Voyage.
DON TODD
What I Say
Last time I admitted my ignorance regarding national musical exports, I managed to (quite understandably) ruffle a few Canadian feathers. As I pointed out at the time, any nation that gives us Celine Dion should surely face international sanctions. Anyway, I confess an equal lack of knowledge on the musical history of Hawaii, and shan't compound my ignorance with ill-informed commentary.....
Oh, who am I kidding. That's my stock-in-trade - ill informed opinion based on incomplete facts and minimal research. So, what do I know about Hawaiian music? Well, there's the Ukelele, which isn't what George Formby played (that was a hybrid between a ukelele and a banjo, and was quite seriously known as a banjolele. See, I do know some things....) Beyond that, I get stuck, although I did like that Israel Kamakawiwo'ole song they used in that advert.
And, er.... that's about it I think. Except to say, I really don't think that what we're presented here bears much relation to real Hawaiian music. Not least because it's been recorded by some Scouser who's probably never been further west than Llandudno. To my uneducated ears, it sounds like a series of slow tempo Country Music songs with a bit of ukelele and slide guitar stuck in the mix for good measure. I'm prepared to accept that this might be the genuine Hawaiian sound, but I seriously doubt it.
The songs really do all sound the same - same tempo, same arrangements, more or less the same melody, with just a couple of exceptions. "Black Is The Colour Of My True Loves Hair", despite sounding like a Donovan lyric is quite a dark, moody piece, clearly showing the harder side of our Scally Bob. 
The second slightly odd song on an album called Hawaiian Honeymoon is 'Flower of Tahiti'. I had to go and check on Google Earth, but I'm right. Tahiti really isn't anywhere near Hawaii. But hey, those South Sea Islands are all the same, aren't they....?
In 1969 Merseyside, Hawaii, and indeed Tahiti, must've seemed endlessly exotic, and they were therefore prepared to accept any old tat with a Hawaiian tag just to get themselves a taste of the islands. But knowledge of other cultures was a little more.... basic than perhaps it is today (anybody for My Boomerang Won't Come Back?Anybody....). I'm sure the English record buying public were prepared to believe that this light country froth really was the sound of the islands.
And clearly Hawaii is synonymous with romance, lust and dusky maidens if the cover's anything to go buy. Despite the title track being about the romance and special nature of taking your new bride to Hawaii, the cover depicts a new bride in a revealing negligee, clutching a book called 'Honeymoon Hints', looking shocked because her husband has lured four Hawaiian beauties to the boudoir using only his Ronco Slide Guitar. Looking shocked and mildly put out is probably the best reaction he could have hoped for - I'm pretty sure if I'd lured four dusky maidens to the bedchamber on my honeymoon I wouldn't be a father of three now...
All in all this is a bit of a wallpaper album. It's so gentle it just washes over you so that you almost don't notice, like a warm breeze in Waikiki. Not that I've been to Waikiki, but I have been to Llandudno.  But I've never been to me.
And this is how to do it right:-
And this is a bit of banjolele for you good people.
Tracks
Side 1
1. Hawaiian Honeymoon
2. Hawaiian Wedding Song
3. Song Of The Islands
4. South Sea Island Magic
5. Blue Shadows And White Gardenias
6. Beautiful Dreamer
Side 2
1. Aloha Oe
2. Hawaiian Memories
3. Moon Of Manakoora
4. Black Is The Colour Of My True Love's Hair
5. Flower Of Tahiti
Final score:
5.5 out of 10