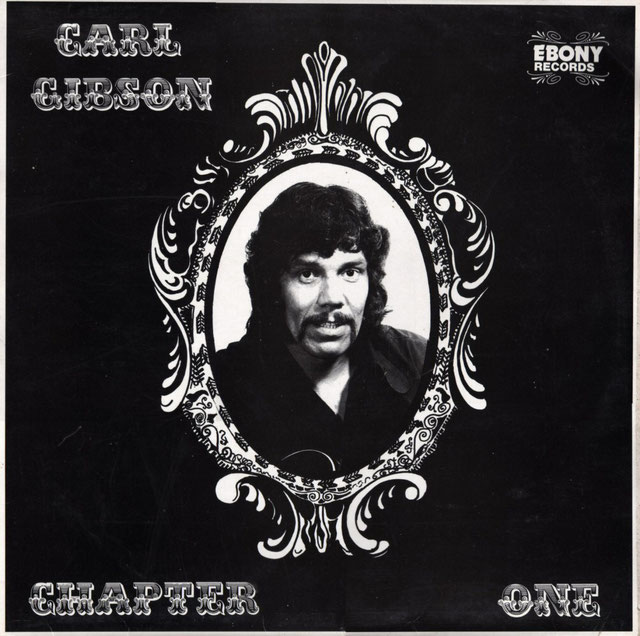 Label / Cat. No: Ebony Records - ERC1 
First Released: 1978 

What The Album Blurb Says...

Carl Gibson, being of Cherokee Indian descent, is one of the most fiercely independent men I know, (this being a typical Indian trait). He created this record almost entirely alone and unaided. It has been my privilege to witness a great talent at work. His "Sessions" in the studio would make good writing for a "Best Seller" alone. His moods during the recording, the anguish when he fell short of his aims, his great elation when "things" went right. He is voted by Opinion Poll as one of the World's leading "Country Fingerstyle Guitarists", to me, after watching him, this is an understatement!!! His Vocal Range is second to none. To see him "LIVE" is sensational, but it's impossible to appreciate his great talent by just one or even two performances. He created this Album with just his voice, one electric guitar, one acoustic guitar, bass and a tambourine, and his deep determination to 'achieve'. Well, he certainly has achieved, in this case, a more beautiful portrayal of Vocal and Instrumental talent than I've ever heard in this field before. His outstanding arrangements of 'Ghost Riders' and 'Skip-a-Rope" are, I'm sure, going to be among the biggest hits in the field of Country, since they were first written two decades ago. I may add at this stage, that he puts great store by his choice of sound engineer Des Bennett, the only other person to work with Carl on the Album. He acknowledges Des to be certainly one of the best in Britain today...

Carl has just one particular life-long friend who has recently become his co-producer and adviser, Jeff Purnell. In General Production, Research, Publicity Promotions and the fiercely competitive field of Marketing, Jeff has no equal! He handles all of these with a quiet but extremely powerful driving force, as well as being an influence on Carl, which proves a steadying effect. Every decade carries a provincial "Star Maker". I believe Jeff Purnell to be in this category.

"Chapter One" can only pave the way to Chapter Two, Chapter Th.....

WATCH FOR THEM....

PATTI NOBLE


What I Say

I would have thought it a pretty basic requirement that the person writing your sleeve notes should probably like you. It can only help to sell your record if you get a kind word or two extolling your virtues, and saying what a great singer / musician / human being you are. At first glance, it seems that Patti Noble is doing a fantastic job at selling Carl Gibson - if you take the gushing prose at face value, you'd think that here was a talent unparalleled in the Country Music field, that Patti had discovered a new Dylan or McCartney.

But look a bit closer. He's described variously as 'fiercely independent' (read: stubborn, awkward and impossible to work with), has only one life-long friend (is anti-social), and needs a 'steadying effect' (is difficult to manage). Underneath the high praise, I think that Patti's had just about all she can of Carl's artistic temperament, and this is her chance to let the world know what he's really like. She'd have been more honest if she'd just scrawled 'I think this man is an absolute shit' across the back of the album.

Oh well, I can't vouch for his character, but I hardly think it's surprising that a Cherokee might harbour a tendency towards fierce independence. You can hardly blame them.

Of course, talk about Native American musicians, and thoughts turn immediately to Jimmy Carl Black. What do you mean who? Jimmy Carl Black was a member of Frank Zappa's original 'Mother's of Invention' which in my eyes elevates him to hero status without question. Oops - I've given to much away. Anyway, my mate Shaun, through a series of 'too complicated to go into now circumstances' once let Jimmy sleep in his bed. Jimmy duly thanked Shaun by autographing his toilet door. When Shaun then moved house from Haringey to Lewes, the door moved with them. Some poor sod bought a nice house in London without a toilet door all because of Frank Zappa's drummer.

Well, it's not much of an anecdote, but at least it's 100% true. And besides, it's curious to notice that Carl and Jimmy share a moustache. Well, I don't mean they have one between them, but they both wear the same style. I am ignorant of Indian ways, so I can't venture an opinion as to whether it's part of their cultural heritage, but personally I think it's probably just a coincidence.

Anyway, back to the album. I think it was a brave assertion of Patti Noble's that this 'Chapter One' would pave the way for future Chapters. I have to say, I've scoured the internet, and I can't find any mention of Carl, let alone of Chapter's Two, Three or beyond. I assume it's safe to say that this was pretty much it, and that it failed to live up to the high ambitions that Carl held. It also strikes me that this being record catalog number ERC1 that this was probably something of a vanity project, and that Ebony Records didn't survive (in this incarnation at least) very much after this album was released.

I mean, Carl has an OK voice - he can hold a tune which is more than I can. He seems to have quite a range, demonstrated in 'Ghost Riders' and 'Rose Marie' where the high notes are frankly scary. His guitar picking is fine. What more can I say? It's fine. 

But this album doesn't make any kind of statement. It's a competent musician playing it safe with a pile of standards. There's no individuality, nothing to make this stand out against the other countless covers of 'Ruby' (Don't Take Your Love To Town) or 'Rose Marie'. I'm not searching for endless novelty, and there's no point in change for the sake of it, but I think it goes some way to explaining why Carl Gibson isn't remembered as an outstanding international artist. There is no character or personality in this album. It's just those same old songs. Again.

If there is anything that marks this album out, it's that Carl has a tendency to sound anguished. Yes, he does anguished very well. The cries of 'Johnny , remember me' closing the song of the same name takes that 60s schlock to a whole new level. But this anguish is best demonstrated on 'Scarborough Fair', my favourite track from this album. The 'remember me to one who lives there' no longer sounds like a request to send your best wishes, but an animal response to being forgotten by your true love. It actually made me stop in my tracks and listen, which was a nice contrast to the rest of the album.

If only he hadn't followed it by an overly jangly and jolly version of 'Ring of Fire'. The fool.

No Carl Gibson, I'm afraid, so here's the original JCB instead...
Tracks
Side 1
1. Ghost Riders
2. Okie From Muskogee
3. Fight'n Side Of Me
4. Scarborough Fair
5. Ring of Fire
6. Johnny Remember Me
7. Bobbie Magee

Side 2

1. Skip-a-Rope
2. There'll Never Be
3. Rose Marie
4. Ruby
5. Lonesome Me
6. Spanish Eyes
7. Phoenix Arizona

Final score:

3 out of 10, (2 points for Scarborough Fair, 1 for Johnny Remember Me)