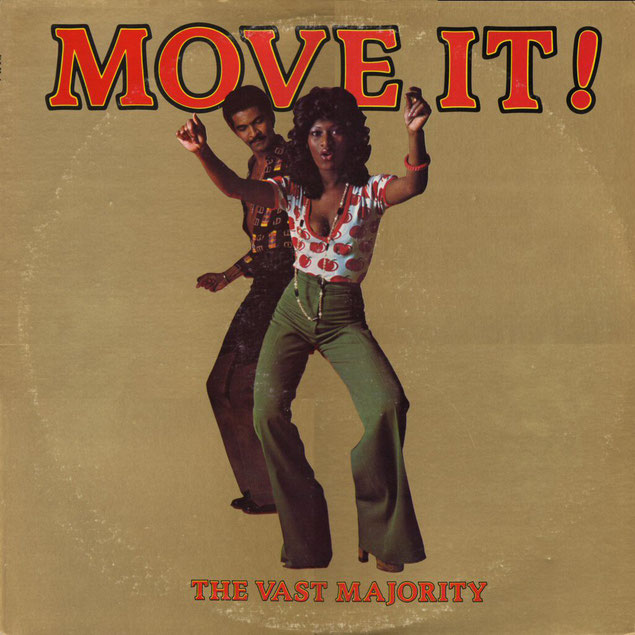 Label / Cat. No: D&M Sound DML 1 
First Released: 1976 

What The Album Blurb Says...

As one Disc Jockey Said - "The Vast Majority is not just wall to wall sound; it is city block to city block sound - and babe, it's all disco heat and color!"

That's where T.V.M. is at! Sixty of the greatest players and down home singers that ever hit a speaker system. They start by working out driving funky rhythm charts and tracks - add strings, brass, reeds and then finally their great blues and salsa vocalists. You name it! From funky blues to symphonic jazz - sensuous salsas to hard rock. The vast majority has it covered.


What I Say

I believe that there is a transatlantic and generational gap in understanding of the word 'Disco'. Clearly for our American cousins in the 70s, Disco was an exciting, energetic movement. It was a scene, with its own rules, its own dress code, its own moves and its own drugs of choice. It was cutting edge, it was, frankly, funky.

For me, hitting my teens in the early 80s, the word 'Disco' means a school organised event once a term, where teenage boys fuelled on Mars Bars and Coca-Cola would act like pillocks on the dance floor until the slow set started, when they suddenly became stuck to the walls.

American 70s Disco had Studio 54, Tavares and Shep Pettibone. English 80's Disco had middle-class white guys called Tim who'd play a selection from that weeks Top 40, plus 'The Birdy Song' and 'The Can Can'.

I can still clearly remember my first Disco, in the main hall of Causton Junior School, Felixstowe in July 1982. It was still light outside, and all the P.E. equipment had been moved to the side of the hall to make room for a dance floor. I even recall that two of the songs that were played were 'Green Door' by Shakin' Stevens (who, I'm sure I needn't remind you, was dubbed 'The Welsh Elvis'.... hah!), and 'The Hucklebuck' by 'Coast to Coast'. A happening scene, it was not.

And all this background flavour is only to point out that I am the last person who should try to review a Disco album. I am thoroughly unqualified to make any assessment as to what's good and what's not. To be fair, I know that's never stopped me before in my reviews.

I've spent some time trying to find out if this is a proper, genuine Disco album, or some cheap cash-in. I started with the assumption that it was probably the latter, not least because it has the words 'Disco Dynamite!' plastered across the back of the sleeve. I thought that a genuine part of the Disco movement wouldn't need to state it so boldly. I then discovered that the scores were by Colin Fretcher and Roy Budd. Now, Roy Budd may be a respected film score arranger, but he's also from South Norwood, which is just round the corner from where I was born, and most definitely not Disco Central. The other chap, Colin Fretcher, is credited as producer on this album which is hardly going to do his credibility any good.

But the producers, Dave Miller and Marty Wilson seem to have a good enough reputation, and know what they're doing. The catalog number of DML 1 made me think this might be some fly-by-night outfit, but D & M records were set up in 1975, just in time to get in on the early days of Disco, and according to some sources, they invented the concept of the 12" single. Yikes!

So, I'm prepared to accept that this is the genuine article - an album from the early days of Disco. But is it any good? Well.... I enjoyed it well enough. It didn't make me want to get up and dance, though very little does these days. You know, what with my ageing bones and everything. But what really struck me was the unpolished nature of the songs. They seemed slightly plodding, pedestrian almost. None of the high polish and perfect production that marks the later Disco sound. I suppose for me that that's what gives this its authenticity. It's a snapshot during the development of Disco. It's not the finished article, but a work in progress. All the elements are there, but it would take a while for this professional shine to be applied.

And that's about it. It's OK. Actually, it's quite good. But of course, Disco gave rise to Disco Dancing, which was always a challenge. Until now....
And those tracks from my first school Disco...
Tracks
Side 1

1. Love For Sale
2. Move It!
3. Pain Dealin' Woman
Side 2

1. Muddy Sneakers
2. Salsa Woman
3. Take It!
4. Oceans Apart
Final Score

6.5 out of 10