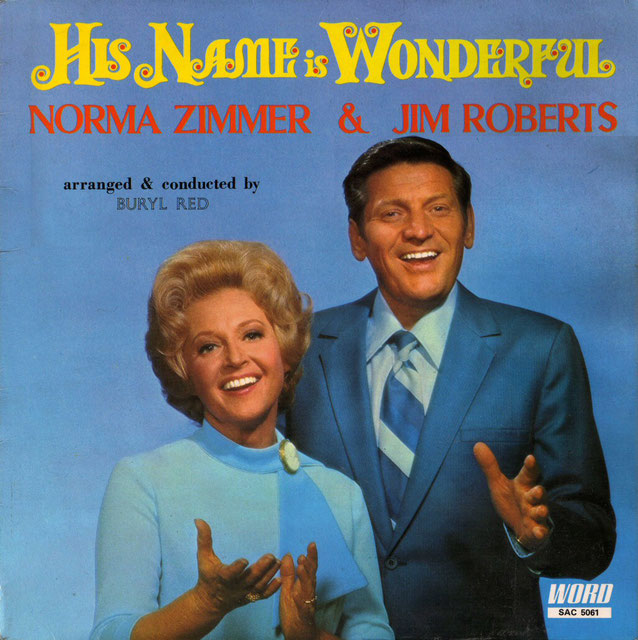 Label / Cat. No: Sacred SAC 5061
First Released: 1972
What The Album Blurb Says...
For a number of years now Jim Roberts and Norma Zimmer have provided moments of unusual enjoyment for millions of Americans. In the world of pure entertainment, longevity is synonymous with popular response. Norma and Jim have been premier performers for many years now courtesy of us, the American people, and Lawrence Welk. Mr. Welk ultimately decides who the performers will be; we feel his choice is just right!
This is the third album by Norma and Jim. Their style of singing seems perfectly matched - it's as comfortable as a pair of gloves. they blend beautifully singing some of the most popular gospel songs of the day - and some songs that are ageless. HIS NAME IS WONDERFUL is a favourite and is performed by mass choirs around the world. thank you Audrey Mieir, for the inspiration with which you've graced the world! I wonder how often BEYOND THE SUNSET has been sung, played, whistled, and used as a source of comfort since Virgil Brock first penned the lovely lyric some years ago. You will enjoy having this recording in your home.
The performances of hymns on TV by Jim and Norma have opened a door that has given many additional thousands an opportunity to hear them in person; in hymn festivals, in concerts, as solo performers in Billy Graham Crusades, and in churches everywhere.
the creative arrangements on this album are by Buryl Red. Mr. Red is gifted in many areas of music, one of which is the art of arranging. you will also hear his lovely song entitled HIS GENTLE LOOK.
KURT KAISER
What I Say
I know, I know. When I bought this album I had a tiny sliver of hope that this was going to actually be about somebody called 'Wonderful'. You know, in the same vein as 'A boy named Sue'. I mean, there are some unusual names about. I once knew someone called Zachariah Puddlechuck, and that would make a great name for an album - 'His Name Is Zachariah Puddlechuck'. But no, with crushing inevitability, this turned out to be an album of Christian songs, extolling the virtue of some chap name of Jesus. Or Wonderful. I'm still not sure which.
The sleeve notes warrant a bit of a further look. Firstly, longevity is apparently synonymous with popular response, apparently. Well look at 
Cliff Richard
 for a start. He's been around since the Pilgrim Fathers, and who wants to listen to his records? Oh yes, my Mother-in-Law. Alright then, maybe 
Jonathan King
 would be a better example. There's a man who is pretty much 
universally unpopular
 but who won't stop making his bloody songs.
Also, who is the Lawrence Welk character who stands head and shoulders above the American People then? Well, you can 
see for yourself
, but seeing as this was released by London label, and I've managed to go 37 years without ever hearing his name even casually mentioned before, I'm prepared to stick my neck out and say that that's going to be pretty meaningless to a lot of Brits. Apologies of course to all those people better informed and educated than I...
However, I am most concerned by the line 'You will enjoy having this recording in your home'. Is it me, or does that sound more like a command than a recommendation. Maybe it's the Teutonic tone of Kurt Kaiser's comment that scare the living bewonderful out me, but I'm scared. I'm scared because I have that album in my home, and I didn't (and don't) enjoy it. Will Mr. Kaiser come round in the dead of night, drag me off, and leave me bound and gagged and listening to his 
sacred music compositions
. I sincerely hope not.
The music sounds like a grown-up 
Elaine & Derek
 - a collection of sweet Christian tunes which all merge into one. I've always found that Christian music tends to err on the side of dull. Actually, there's a challenge for you - are there any Christian music albums that won't bore me to tears? A prize for anyone who can find one. Anyway, as I was saying, this album features 9 samey songs.
Ah, but I hear you cry, "but there are 10 songs on this album, surely". Well, yes there are. Just as you think you can't take any more sweetness, side two starts with 'Sweet, Sweet Spirit'. This song has A COUNTRY TWANG. Not enough to be exciting or offensive, of course, but just enough to lift the tedium. It was at this point that I thought that this might yet have some saving grace - a sub-Carpenters kitsch that might just make this album worth something to me.
But it wasn't to be.
All too quickly it sank back into the banal. I mean, yes, their voices are fine, the arrangements are a bit saccharine for my tastes and seem to my untrained ears to be somewhere between Andrew Lloyd Webber and Disney soundtracks. But it's all soooooo bland.
There is however one very positive point about this album. It clocks in at just under 28 minutes. I tell you, I'll never have that half hour back again, but I was far more in the mood after it to thank Wonderful, if only for not having made the album a double.
Sound Clips
Tracks

Side 1

1. His Name Is Wonderful
2. Every Moment Of Every Day
3. He Lifted Me
4. When I Kneel Down To Pray
5. I Would Be Like Jesus 

Side 2

1. Sweet, Sweet Spirit
2. His Gentle Look
3. Take Up Thy Cross
4. He Touched Me
5. Beyond The Sunset


Final score:

2 out of 10