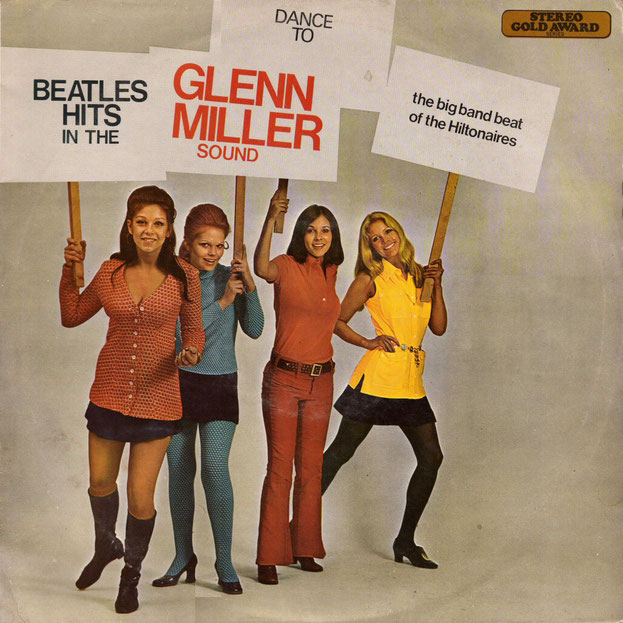 Label / Cat. No: Stereo Gold Award MER 336 
First Released: 1971 

What The Album Blurb Says...

Here's a dance party with two favourite ingredients - the great, nostalgic sounds of Glenn Miller and hit songs by The Beatles.

These sweet and swinging arrangements were written by Bill Holcombe (an old T. Dorsey sideman), who has taken these British bred hits and written the inimitable Glenn Miller style around them.

The Hiltonaires under the baton of Stan Reynolds are joined by the vocal stylings (a la Modernaires) of Tony Mansell and his group.

Here's big band at its best - with familiar hit songs.


What I Say

I apologise for going highbrow for a moment, but Samuel Johnson once wrote of women preachers, "Sir, a woman's preaching is like a dog's walking on his hinder legs. It is not done well; but you are surprised to find it done at all." If the great Dr. Johnson were alive today, I am convinced that he would have felt the same way about this album. Well, maybe 'convinced' is putting it a bit strongly, but I can understand this attitude entirely when applied to 'the big band beat of the Hiltonaires'.

Come with me for a moment into the future. The year is 2013, and someone decides to release an album of Coldplay songs performed in the Mel & Kim style. There'd be uproar, rioting in the streets and possibly the end of civilization as we know it. But back in 1971 this kind of evil alchemy was not just thinkable, it was actually happening.

It's of little surprise then that this was released on the 'Stereo Gold Award' label. To be fair, I was as much drawn to this album by the very fact that it was a Stereo Gold Award offering as I was by the fine bevy of 1970s lovelies on the cover. You may recall that Stereo Gold Award have already given us Big Dave who I exposed as a fraud and a charlatan. It seems that the label was owned by a chancer who just made cheap, cash-in rubbish, and this album certainly fits into that category.

There's just so much wrong with this album it's difficult to know where to begin. Well, for a start I'm confused as to why they actually included some Glenn Miller / Big Band tunes. After all, the album's called 'Dance to the Beatles Hits...) Does that mean you have to stop dancing when Moonlight Serenade comes on? It's preposterous I tell you. Is this a Beatles album? Is this a Glenn Miller album? Frankly I'm confused, and I suspect it shows.

And then there's the fact that these are two entirely different genres of music that simply do not fuse well together. I accept wholeheartedly the fact that the Beatles, and in particular Lennon & McCartney wrote classic, timeless songs which can withstand reinterpretation and have been covered, reasonably successfully many thousands of times. Which then begs the question how did they make these Beatles songs sound so crap.

I think the answer lies in the fact that the Hiltonaires (or at least Bill Holcombe's arrangements) concentrate on the style rather than the substance of the song. There is no sensitivity to the mood or the lyrics of the Beatles numbers, it seems to have been rattled off a checklist of Big Band stylistic hooks regardless of the order or original speed of the songs.

The very worst culprit (if you can get past 'Hey Jude' without waves of nausea welling up) is the butchering of 'Let It Be'. Not only does this start with the most awful Barbershop Quartet style prologue, but is the possessor of possibly the worst guitar solo ever, both in tone and tune. Really, it's that bad. Just listen. See? There's 20 seconds you're never having back.
I didn't expect to enjoy this album, and I wasn't disappointed. In the past I've commented that the brevity of an album often makes up for its awfulness. Not in this case. It may only be 24 minutes long, but you try sticking cocktail sticks in your thighs for 24 minutes, and believe me, it will seem like an eternity. This is the aural equivalent.

The good news however is that this isn't the last Stereo Gold Award album in my collection. Let joy be unconfined!
Sound Clips
Tracks

Side 1

1. Moonlight Serenade
2. Something
3. I Want To Hold Your Hand
4. Michelle
5. Bird Cage Walk
6. Londonderry Air 

Side 2

1. Hey Jude
2. Let It Be
3. Yesterday
4. Diamond Rock
5. A Hard Day's Night 




Final score:

1 out of 10 - for using the term 'vocal stylings' unselfconsciously.