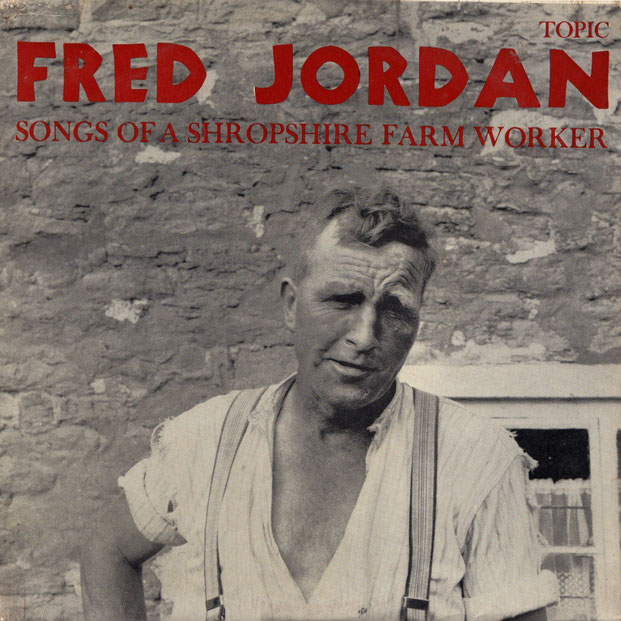 Label / Cat. No: Topic 12T150 
First Released: 1966 

What The Album Blurb Says...

Fred Jordan was born on January 5, 1922, at Ludlow, Shropshire. He is a farm labourer, living in the village of Aston Munslow, about seven miles from Ludlow. His house has a view of Corve Dale and the distant Clee Hills.

In 1952 Peter Kennedy, then working for the British Broadcasting Corporation, visited the area, and being told by the local blacksmith that Fred Jordan was a good singer, he recorded him for the BBC's folk song archive. In the autumn of 1959, Fred attracted the attention of participants in the folk song revival when he appeared at the English Folk Dance and Song society's festival wearing his everyday clothes - heavy boots, leggings and weather-defying hat. His singing drew immediate acclaim. Since then he has appeared with increasing regularity at concerts and clubs, with other country singers and also with revival performances. He enjoys concert and club work, where he sings with the straightforward 'professionalism' and unselfconsciousness common to most country singers.

As a folk singer he may be classed with the best - and that best includes Harry Cox, George Maynard and Phil Tanner. Though he is still a young man he has the essential style of this older generation. His musical sense is very highly developed; his ability to make small rhythmical changes to suit the words of songs is marked and his use of melodic ornament is subtle and skilful. the quality of his voice may seem strange at first hearing, but it is not unique, and there is nothing here of an old man's quaver, for Fred Jordan is in his prime.

In performance, he inclines to let his personality retire behind the song, in the true manner of traditional singers. He sings without change of facial expression, without physical mannerism. He performs Barbara Allen and The Old Armchair in precisely the same manner, in the straight-faced almost deadpan way that amateur singers still adopt in town pubs where they stand up to give out with I'll Take You home Again, Kathleen.

Fred Jordan acknowledges three main sources for his songs: first his parents (his mother came from Warwickshire, his father comes from Leeds); second the travellers and gypsies who frequent the district; last, his acquaintances in the countryside. In his own mind he distinguishes between what he now calls 'proper folk songs', music-hall songs, and the arranged versions of folk songs that he learned at school.

All the songs on this record are found up and down the country in one version or another. Many are to be found in the classic folk song collections. Others, of known authorship, the pops of yesteryear, have taken their place alongside traditional songs in the folk singers' repertoire on their merits of narrative and melody. Some of these are American in origin. The music-hall and touring show all played their part in widening the popular repertoire, and radio and gramophone records have also had their effect. This record shows the mixture of song types in the repertoire of a country singer in the 1960's.


What I Say

Some of you will have seen 'The Green Green Grass', the spin-off series from 'Only Fools & Horses'. If you have caught this show, then you have my deepest sympathy. Really. The premise, for those of you who haven't seen it, is that Boycie, a second-hand car salesman from Peckham in South London, moves to the Shropshire countryside to avoid some shady underworld types, and what follows is a fish-out-of-water "comedy". For anyone who lives within 100 miles of Shropshire, the biggest mystery is why do all the Shropshire characters dress like they live in the 1930s and speak with yokel Somerset accents. I mean, just look...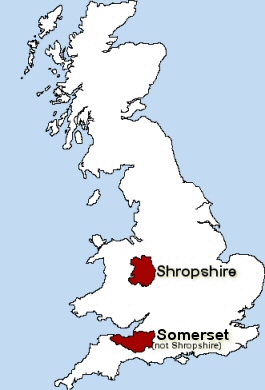 Sorry to have to put you through that, but it just isn't Shropshire. But Fred Jordan, now he's the real deal...

What an unexpected gem we have here. I chose this album from my pending pile because I have spent the last week working on a farm not 10 miles from the Shropshire border - barn building, labouring and general jobbing. I believe this makes me supremely qualified to look at an album by a fellow man of the soil. Well, to be fair, I didn't get that close to any actual soil, but still, Fred Jordan must be singing the songs that speak to my heart, mustn't he?

Well, yes and no.... the title is a touch misleading - these aren't songs about Shropshire farm workers, or even songs that Shropshire farm workers in general would sing. Instead, it's a collection of songs sung by one Shropshire farm worker, namely Mr Jordan. I won't go into details of Fred's life here, because there are some excellent biographies around - try here for starters if you want to know more about the Fredster.

The songs aren't even all about farming or the bucolic life. At least two of them are nautical in flavour, and Shropshire's pretty far from the sea at the best of times.

But that's of not matter. I can honestly say that this is unique in all the albums I've listened to - what we have is Fred Jordan. Nothing more, nothing less. No musicians, no backing singers, no accompaniment whatsoever. This album stands or falls on Fred Jordan's voice, and it stands.

It stands as a period piece, it stands as a collection of English folk tunes sung by someone steeped in the folk tradition, and it stands as a collection of tunes by an accomplished singer. True, there are some vocal mannerisms which sound curious to our pop-soaked ears, and the starkness of hearing a single voice cut the silence takes some getting used to. But that also summarises the character of this album. It is raw, stripped back, nothing but the singer and the song, and to my jaded ears it made a very refreshing change. I can't say that this is going to be a recurrent favourite on my playlists, but unlike a lot of what I plough through (see what I did there?), I'm more than happy to give this a second listen. Maybe even a third.

In looking for details of this album on this wonderful internet of ours, I was amazed to find that the Topic record label not only still exists, but is a beacon of independent labels, having been releasing albums now for 69 years. Go and have a look at their site to find out more, but any label that boasted John Peel as a fan must have something going for it.

Lovely jubbly.

Sorry.
Sound Clips
Tracks
Side 1
1. We Shepherds Are The Best of Men
2. The ship That Never Returned
3. Down the Road
4. We're All Jolly Fellows that Follow The Plough
5. The Watery Grave
6. The Dark-Eyed Sailor
7. Three Old Crows

Side 2

1. John Barleycorn
2. The Banks Of Sweet Primroses
3. The Bonny Boy
4. Polly's Father Lived In Lincolnshire
5. The Royal Albert
6. Down The Green Groves
7. The Farmer's Boy 
2017 Edit - Full album available on Spotify - click here
And on YouTube