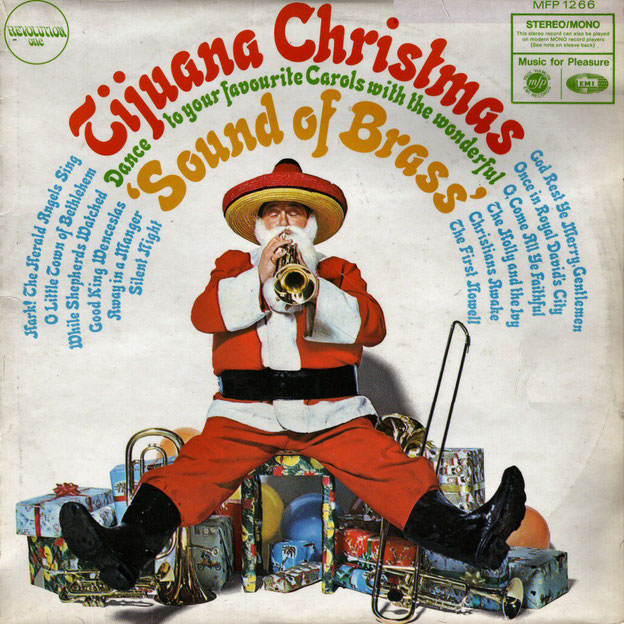 Label / Cat. No: Music For Pleasure MFP 1266 
First Released: 1968
What The Album Blurb Says...
Christmas is the most joyful festival of the Christian year, when we celebrate at the same time the turning point of the winter and the new hope that was brought to men with the birth of Jesus. Christmas is a time when we make up for the bleakness of the weather outside with the warmth of our spirits, and it is no coincidence that the songs which have come to be particularly associated with Christmas should be carols, which have always been the most cheerful and often the most secular of Christian songs.
On this record you find your favourite carols in an unfamiliar guise--we've called the album 'Tijuana Christmas', but you will find the mariachi sound taking on a richer and more varied flavour as the Toreo Band bring out the charms of our most beautiful carol tunes in imaginative brand new arrangements. 'The Holly and the Ivy' sets the pace with a bright, sparkling beat that even adds to the gaiety of one of our oldest and liveliest carols; 'Silent Night' a much more recent and a more devout carol, is given a quite contrasting treatment, slow and tender. 'Hark, the Herald Angels Sing' sets off again at a brisk, bouncy pace--and if you feel like dancing, why not? It may come as a surprise to you that our oldest carols used to be dances, and that the word itself described a form of circular dance.
In the preface to the Oxford book of carols you will find carols described as songs with a religious impulse that are simple, joyful, popular and modern. You'll never have heard them sounding more joyful, popular or modern than they do on this exciting and original L.P.
BLASE MACHIN
What I Say
Christmas is a time for miracles, so they say, and the discovery of this album is another little miracle which may just find it's place in the canon of Christmas Tales. You see, I was all ready to review a completely different album. Last January I picked up a copy of 
Mitch Miller's 'Holiday - Sing Along With Mitch'
 which had a cover that both intrigued and terrified me. Look, surely that man must be Satan. There can be no other explanation. The picture on that album cover (here, go, 
go look at it again
) can only be a coded message. Mitch is wearing a 'Santa' hat. Santa is a well-known anagram of Satan. I think I've made my point.
Anyway, the point is that while researching a bit about Mitch, I realised that although he's pretty much unknown in the UK, his profile in other parts of the world is significantly higher, and people might actually catch me out in the rubbish that I write here.
So it was a strange quirk of fate when last week I happened to be in a charity store, looking for something to put my TV on, when I noticed this album, Tijuana Christmas, staring at me from the record shelf. I can only assume that some enterprising shop-hand had tried to do a touch of seasonal promotion and put this on prominent display. Well, there was no choice, I had to buy it. Wouldn't you? 
But that's not the miraculous part. Oh no!
When I got it home, and proudly showed it off to my wife, The Very Lovely Mrs. McDingo, she was delighted to inform me that this very album had been a significant part of her childhood. It seems that, when growing up, it was her family's tradition on Christmas Eve to go out to the local woodland, find a tree, hack it down, take it home, and decorate it to the delightful strains of this album. Christmas Eve's soundtrack in her childhood was this set of tunes.
It would therefore be churlish of me to be anything but lavish in my praise of this masterpiece of Mexican Musicala, surely? Hmmm.... well, as it's the season of goodwill, I'm prepared to overlook the fact that the chances are that The Torero Band (whose name doesn't even appear on the front of the album - it's in smallish print on the back) have probably never been further south than Croydon. MFP, the label, boasts of it's offices in Amsterdam, Brussels, Johannesburg, Cologne, London, Paris and Sydney. It has no offices, it would seem, anywhere on the American continent. Of course, that doesn't necessarily mean that 'The Torero Band' is really a front for a bunch of session musicians from 
Welwyn Garden City
, but I think you'd have a hard time proving me wrong.
And then, just this morning I was reading Bill Bryson's 
The Lost Continent
 when I found this pertinent comment:-
It had never once occurred to me in thirty-six years of living that anyone listened to Mexican music for pleasure... there would be another song. Or rather, it would be the same song again, as far as I could tell. That is the unfortunate thing about Mexican musicians. They only seem to know one tune.
Which just about sums up the album. There is a clear formula to the songs - introduction, featuring the key melody line (or occasionally a variation thereupon), which lasts for four bars. Then the main tune comes in hitting with full Mariachi orchestration, playing the song with a strong swing beat with that distinctive raspy brass, sweep you along for 2 minutes, then start with the next song.
I've complained time and time again about the homogenisation of music on albums like this, but in this case it's the overarching style that is the reason for the samey feel - of course the tunes all sound the same. That's the whole point. It took me a while to understand that, but I think I'm there now!
But the real acid test came when I put this album on this morning to listen to it again. It was early - certainly before 7:30. I and two bleary eyed boys aged 6 and 4 were looking to start the day. The moment I put this album on, both the boys started dancing. Really grooving to the tunes, and of course, I couldn't help but join them. So for once I followed the instructions on the front. And it was ace.
Merry Christmas to you all.
Tracks
Side 1
1. The Holly And The Ivy
2. Silent Night
3. Hark! The Herald Angels Sing
4. While Shepherds Watched
5. O Little Town Of Bethlehem
6. Good King Wenceslas 
Side 2
1. God Rest Ye Merry Gentlemen
2. Away In A Manger
3. The First Nowell
4. Christians Awake
5. Once In Royal David's City
6. O, Come All Ye Faithful 
And let joy be unconfined, this gem is now on Spotify - find the album
here