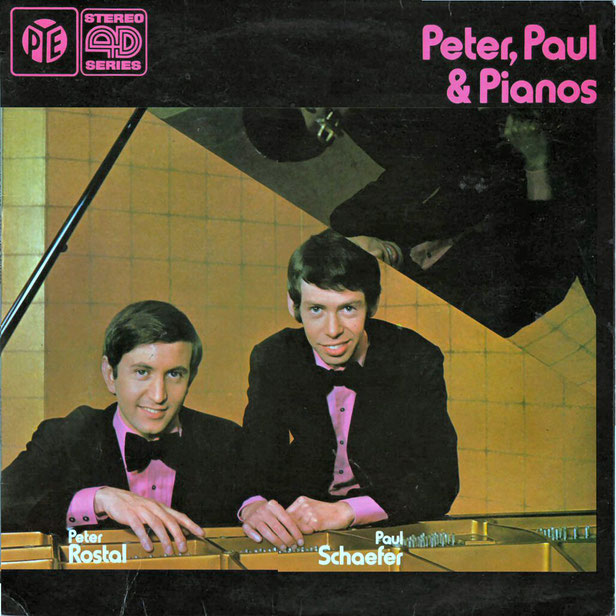 Label / Cat. No: PYE - NSPL41005 
First Released: 1971 

What The Album Blurb Says...

Every now and again in show-business an exciting piece of talent comes to the surface - it happened with Tom Jones and Barbra Streisand, but it doesn't happen often.

Stars are not made by managers or impresarios, they are made by the public - sure, managers or agents recognise a star quality and then groom it, but most stars are there because of that contact with an audience, because they are selling the goods the public wants and because that public wants them as people.

I first saw Rostal and Schaefer perform to a live audience in Johannesburg; they were closing the first half of a bill I was appearing on. From my dressing-room I heard shouts from the auditorium of 'encore!' and 'more!' - it sounded sweeter than the music they had been playing. On this night I witnessed not one but two stars being born and to watch them blossom over the past twelve months has pleased me more than I can say.

No wonder they have been booked for television shows, concerts, and asked to record sounds like you have here on their first major disc.

Although in their early twenties, they have somehow packed twenty-odd years between them in practising at the keyboard - no wonder the powers that be decided to include them in the 1970 Royal Variety Show, some entertainers work a life time for this honour - they achieved it in twelve short months.

Fly away Peter, fly away Paul and keep delighting us with your magic. It is a privilege to have this record, almost a first edition, I shall treasure it.

Most sincerely, Max Bygraves.


What I Say

I bet that Paul Schaefer rues the day he met Peter Rostal. Fine, they share interests, they work together well, and conveniently enough, they both play the piano. But in the wake of 'Peter, Paul and Mary', Paul was only ever going to get second billing. 'Paul, Peter & Pianos' just sounds wrong, even though it's in lovely alphabetical order. I bet Paul is still kicking himself that he didn't change his name to something with three syllables - Francisco, maybe. Anything to make him stand out head and shoulders above Peter.

Yet it wasn't to be. I notice that in later years they became known as 'Rostal and Schaefer' which is infinitely more exotic than 'Peter & Paul', but it means that Peter still gets top billing. The swine.

Max Bygraves seems to be pretty taken with these two young men. And who wouldn't be? Look at the pair of them with their sensible haircuts and dinner jackets. Fashionable pink shirts, and bow-ties that you just know, you just know are made of velvet. The wry smile on Paul's face, the confident 'trust me' grin on Peter's. yes, these are clearly the kind of young men that you could take home to mother. And even when they're not in their concert finest, they clearly know how to dress to impress.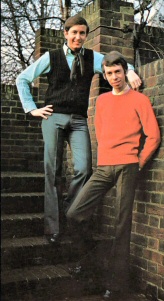 Why, just look at them in their casual fineries. Cravats, Crew-necks and Crimplene trousers. What more could a girl ask for!

But I'm being unfair. Those were wonderful clothes in 1971 and I'm judging them harshly purely because fashions have changed. This is supposed to be all about the music.

Ah! The music. I have a small confession to make - I recorded this album to review ages ago - months and months, and had the file kicking around. On listening to it this week, I loved the frantic, furious opening number - only to hear my past self go back and switch the album from 45 back to 33 1/3. It didn't seem quite so lively after that. Bum. But still and excellent opener showing these two lively guys at their best. It has a bit of an Eastern European feel, Balkan possibly.... though of course, I could be talking out of the back of my head.

The rest of side one is an odd mix. Popular standards, arranged to show off the pianists virtuosity make this album the audio equivalent of a doily - all frills and fluff, but with little obvious purpose. I mean, you could put a cake on it I suppose, but what's the point of that? And it would leave crumbs in the grooves.

Anyway.... I digress. Despite the knockabout between the two pianists, there's no killer punch. The version of 'Tonight' from 'West Side Story' is actually an arrangement of the quintet (For once I know what I'm talking about - I was two (count 'em, two) of the Jets in an amateur production in 1989, so I'm completely qualified and everything....) is artfully done, but has none of the aggression that the song should have.

Maybe that's the point though - Paul and Peter (as I shall refer to them in an effort to restore the balance) aren't in show-business to break new territory, or to threaten the Status Quo. Though that's a fight I'd pay to see - Rostal & Schaefer vs Rossi & Parfitt. Hmmm... I feel a celebrity tag boxing blog coming on... where was I? Oh yes, they don't offer anything new, but why should they. Like Max says, they give the public what they want.

And sometimes the public don't know what they want. I went into this album thinking I was going to hate it. Pre-packaged, bland cover-versions, I thought. But if you don't expect anything more from this album than a few nice tunes, then you won't be disappointed. I mean, I doubt this is going to make it onto any playlist, but it's pleasant enough. And for today (and probably only today), I'll settle for 'pleasant enough'.
Tracks

Side 1

1. Hejre Kati
2. Edelweiss
3. Tonight
4. Czardas
5. Yesterday
6. Malaguena

Side 2

1. Love Story
2. As Long As He Needs Me
3. Love Is Blue
4. Ritual Fire Dance
5. Clair De Lune
6. Bolero


Final score:

7 out of 10