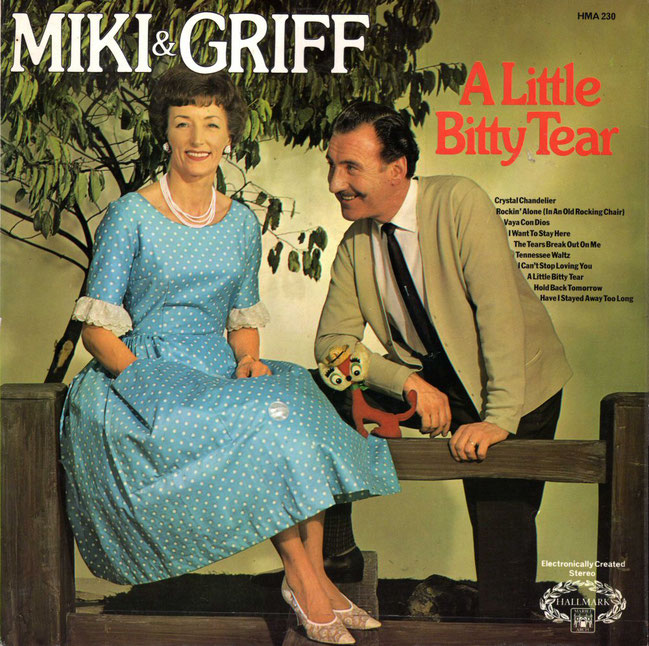 Label / Cat. No: Hallmark Records HMA 230
First Released: Sometime After 1963
What The Album Blurb Says...
Comfortable. At first glance it doesn't seem the ideal word to sum up the sound of Miki and Griff, but listen a little closer to the kind of songs that they sing to the way in which they're presented and you may, after all, find it a rather apt appraisal.
They're comfortable because everything that they do vocally is easy on the ear and has a warm and friendly approach, rather like the greeting of an old and much loved friend. It's an approach that this two-some have found success with ever since they teamed up and began delighting stage and television audiences. And in the late 1950's they began to find recording success, notably with "Little Bitty Tear" which, despite the formidable competition offered by Burl Ives, gave the couple a solid chart hit.
This collection of songs encompasses titles that Miki and Griff fans know and love. "Vaya Con Dios" "Can't stop loving you" "Tennessee Waltz" and "Hold back tomorrow" are the sorty of songs we expect Miki and Griff to sing and because they perform them so delightfully and with their own natural charm, listening is, well... comfortable?
What I Say
I had no idea that there was an English country movement in the late 50s. However, I should have guessed - growing up in Suffolk in the 70s, where the populace was 20 years behind the times, the proliferation of Country bands (I'm told I mustn't call it Country & Western) should have been a giveaway.
I'd also never heard of Miki and Griff, but the album cover just oozed drew me in. The slightly older lady with pearl necklace (ooer missus) and very 50s dress sitting on a mock stile while a slightly leering gentleman in acryclic cardigan and a side parting you could use as a set square leans in in a vaguely threatening way is classic charity shop record cover. There's even the kind of toy cat that causes nightmares in over-sensitive children lurking between the happy couple.
The music? Well, the music is incidental - I could look at these two all day, but the assessment of 'comfortable' is one I'd go along with. If only because all the tunes seem vaguely familiar. The title track, which opens the album, is just a distillation of every country-lite tune you've ever heard. The steel guitar is understated, and you can just feel the guitarist wanted to break out and wail all over it. Rockin' Alone tells a sad story of geriatric abuse, and in what was obviously a more innocent time, Griff (and I am assuming Griff is the male in this partnership) says he knows of some teenagers who would love to have an old lady like this to look after, as if she were their own granny. These days the teens would nick her pension to spend on cider. Probably. Yes, yes, I know there are some perfectly lovely teenagers out there, before anyone starts complaining. Which is unlikely, really, seeing as nobody reads this yet. Or possibly ever....
Anyway, yes, so the tunes continue. Vaya Con Dios.... well, it probably sounded exotic in 1962. I don't speak Spanish, so for all I know it could mean "take twice daily with food". I don't remember what 'I can't stop loving you' was like, and 'The Tears Break Out On Me' is a maudlin tale, comparing crying to some kind of nasty rash. What where they thinking?
I have to admit that my mind wandered by the time I got to Side 2, mainly because it was all so samey. There were moments where you could just tell that Miki & Griff wanted to rock out a little more, let rip, scare the older generation. This is evident by the Chas & Dave style chorus in Crystal Chandeliers. But thankfully they managed to just about keep a lid on things, and their light country stylings won out.
So in short, probably what you expect from the cover. Inoffensive British take on American country music. Comfortable? Like a pair of tweed slippers. But perhaps 'Predictable' is a better word for it.
Sound Clips
Tracks
Side 1
A Little Bitty Tear 
Rockin' Alone (In An Old Rocking Chair)
Vaya Con Dios
I Can't Stop Loving You
The Tears Break Out On Me
Side 2
Tennessee Waltz
Crystal Chandelier
 Hold Back Tomorrow
I Want To Stay Here
Have I Stayed Away Too Long
Final Score
6 out of 10