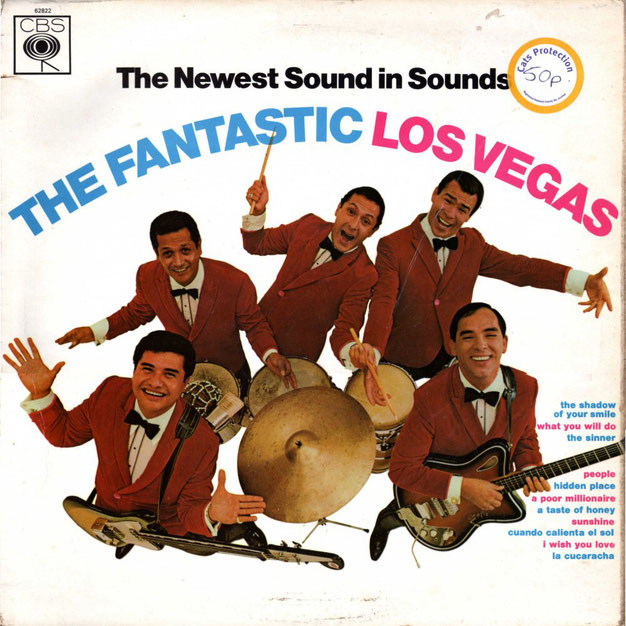 Label / Cat. No: CBS / MONO BPG 62822
First Released: 1966
What The Album Blurb Says...
"There is a New Sound in town and it is provided by LOS VEGAS, a gifted quintet of Mexican troubadors." - Nick LaPole, New York Journal American
"The Los Vegas Quintet, on the Ed Sullivan Show are nothing less than sensational." - Ben Gross, New York Daily News.
Here are Los Vegas, five tremendously talented young Mexicanos with a tasteful, exciting and swinging new sound. A gratifying blend of jazz-rock-pop-Latin, this electrifying group is "turning on" audiences from New York to San Juan. The combo included a pianist, two guitarists, a timbales-bongo player and a drummer.
Los Vegas sing with finesse; their smooth harmonies are reminiscent of North American groups like the Pied Pipers and the Four Freshmen. Their instrumental beat is groovy - the lads really swing. And wait until you hear the virtuoso sounds they get from guitars, timbales, bongo, bass and flute.
Also, the Los Vegas repertoire is well rounded. It has quality, pace and variety. The selections in this album are nicely balanced between Spanish and Yankee tunes. From People to La Cucaracha, the combo projects each and every number with polished pipes, faultless musicianship and unbridled enthusiasm.
Barry Authors of Bel-Aire Artists Corp., Ltd. brought Los Vegas to album producer Teo Macero's attention, and your excitement is bound to match his from the moment you first hear them too. Olé!... you're off and swinging with Los Vegas, The Newest Sound in Sounds!
What I Say
You know, they're really setting themselves up for a fall when they call their album 'The Newest Sound in Sounds'. For a start, what the hell does that actually mean? After all, I've heard pretty much all the sounds present on this album before, and a lot of them in the same mix and blend as they are presented here. In fact, I'd go so far as to say that there isn't a single new or surprising sound to be found whatsoever on this album.
Which is a shame. I really did want to enjoy this album though I think that's because of the claim that their instrumental beat is groovy - the lads really swing. I'm not sure that I'd call this album 'groovy' or 'swinging'. The word I think I'd use is 'dull'. And 'cliched'. I know people don't always want to push barriers, and if you want a nice, gentle, unthreatening album of mid 60s latin tinged easy listening, then I'm sure that this would represent a good investment. 
The problem for me though is that this promised so much. I mean, come on, there's a Timbales-Bongo player. That surely means that things are going to ROCK. We've been promised a heady blend of "jazz-rock-pop-Latin". Throw in prog and country and you've got the whole bally set. This should be music that tears down those staid barriers, sticks two fingers up to 'the man', and presages punk by a decade. But it isn't.
If you recall, there's a scene in the 'Blues Brothers' where Jake & Elwood go to find Donald 'Duck'Dunn, and he's playing bass in a jazz lounge band. The Brothers are appalled that such an incredible musician should be playing such wallpaper fripperies. This is what this album reminds me of - cocktail lounge jazz at its blandest. Just listen to 'I Wish You Love' to see exactly what I mean.
Where there are songs that I should recognise, they are so draped in Mexicana that it's impossible to dig out the original tune. Even 'La Cucaracha', which is a Latin song is so Mexicaned-up (is that a word?) that it's in danger of collapsing in on itself under the weight of bongos.
I think that Barry Authors of the wonderfully corporate sounding Bel-Aire Artists Corp., Ltd. thought that because the five members of The Fantastic Los Vegas had matching Tuxes, bow-ties and cheesy grins, that they would be a saleable commodity.
I'd like to think that we're all a bit older and wiser now. But I doubt it. Westlife anyone?
Sound Clips
Tracks
Side 1
1. Sunshine
2. People (From "Funny Girl")
3. La Cucaracha
4. A Poor Millionaire
5. A Taste Of Honey
6. The Sinner
Side 2
1. The Shadow Of Your Smile
2. Hidden Place
3. Cuando Calienta El Sol (Love Me With All Your Heart)
4. I Wish You Love
5. What You Will Do
Final score:
1 out of 10 for describing these gentlemen well on their way to middle age as 'lads'.