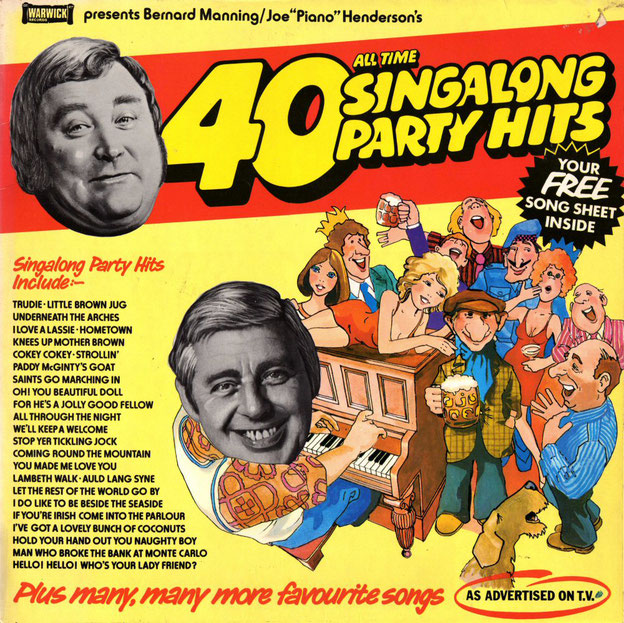 Label / Cat No: Warwick Records WW5001
First Released: 1975
What The Album Blurb Says:
Here you have, on one tremendous L.P., two of Britain's most talented entertainers.
BERNARD MANNING, the Lancashire comedian, singer and recording artiste, who in recent years has become one of the country's most popular television personalities through such shows as "THE COMEDIANS", and more recently, the highly successful "WHEELTAPPERS & SHUNTERS SOCIAL CLUB" programme.
At the piano is the great JOE "MR. PIANO" HENDERSON. Joe's inimitable style of piano playing has made him one of the busiest piano men in Europe. the "JOE HENDERSON SHOW" is always a firm favourite on B.B.C. radio and we frequently find Joe cropping up, as a guest artiste, on many of the top T.V. shows.
These two artistes, together with Joe's rhythm group and the Michael John Singers, make "40 ALL TIME SINGALONG PARTY HITS" a perfect party L.P., or, indeed, just the record to play at almost any time, whether on your own to cheer yourself up, or with a happy singalong group of friends around you.
What I Say...
There are some questions in life to which you don't really want to know the answer.  How is the sausage made?  What is my child doing in there?  How did he/she get into that position?  To add to this, I said in my 2008 review of 'Join In With Joe', "I'd like to know more about Joe.  And his friends."  And now I wish I had never asked, because this album provides the answer.
I'm not going to go into an appraisal of Bernard Manning's career here, not because I don't want to, but because there's more of Mr. Manning to come on Forgotten Albums, and I would prefer to keep my powder dry for now.  If by any chance you aren't aware of Bernie's legacy, everything you need to know is right here, (Warning - NSFW, contains 'language').
When we last met Joe, I discovered that his hit, 'Trudie', had been a best seller, and recipient of an Ivor Novello award for songwriting.  Fair enough, the bloke's got talent.  Which makes it the sadder to see that the first of the 'Singalong Party Hits' listed on the cover is..... 'Trudie'.  What circumstances befell 'Mr. Piano' in the intervening years that reduces his work to being thrashed out by a racist crooner?
Just a note on the 'Mr. Piano' sobriquet - Joe is indeed 'Mr. Piano'.  I'm not sure if he legally changed his name by deed poll or anything like that, but everywhere you look, it's 'Mr. Piano'.  So why oh why is he listed on the front of this album as Joe "Piano" Henderson.  Where's the title gone?  No 'Mr.' in sight.  Is this a slight on the character of Joe Henderson?  Did he annoy the graphic artist to the point where petty revenge was in order?  Or is this just the result of a hastily botched together album, cashing in on the rising popularity of one artiste, and the waning popularity of the other?  I'll leave you to decide on that one.
The album itself is pretty much what you'd expect from the title.  If you were to eat a lot of cheese, drink yourself into a stupor, and then dream of all those half remembered songs from your childhood that your grandparents used to sing, you could pretty much recreate this album without having to go to the expense or embarrassment of going out and buying it.  The conceit that this is a spontaneous singalong is stretched at times by the close harmony work of the backing singers, especially at the start of 'We'll Keep A Welcome', but they do try and keep up this idea that it's a genuine good old knees up.
I suppose it's only natural, what with Joe being "Mr. Piano" and everything, that his friends would include a banjo player, a clarinettist, a bassist and a drummer, but it's a really good job that they were all able to come to his party, and that they knew all the songs, in order as this spontaneous singalong kicked off.
It is this very conceit of 'the party' that has led me to the inevitable conclusion that this album is a lost masterpiece from the golden age of Progressive Rock.  No, no, bear with me. Firstly, this is truly a concept album - there is a thematic subtext that runs through the whole of the album, that we are experiencing real time at a party.
Secondly, the songs are suites that chop and change between tempo, blending from one to the next to make a thematically satisfying whole.
Thirdly, if you listen closely, it's clear that Joe Henderson is wearing a cape and pointy hat, just like Rick Wakeman.... oh.  Well, maybe it breaks down a bit there, but it'll take some convincing to make me change my mind.
There are only a couple of highlights on the album, which are available below.  I genuinely like the arrangement of 'Saints Go Marching In'.  It takes a standard, and mixes it up just enough to make you take notice.  And 'Boomps A Daisy' is just mad - think ITV light entertainment circa 1983 and you're pretty much there.
But my favourite part of all is the ending.  Not just because it's the end, but also for Bernard Manning's hearty attempts to make us believe that he really was a party - "Wonderful party, Joe!", and that he's now leaving.  Makes me laugh every time.
A Horror For Your Eyes And Ears
Skip to 2:20 for the full effect!
I can't help but notice that Bernard calls Joe 'Joe 'Piano' Henderson', and not Mr. Piano.  Maybe Bernard got to the cover artist and made his change it.  Maybe there was a feud, and this is Manning's revenge.  In terms of conspiracy theories, I think we may have hit the mother-lode...
Tracks
Side 1
1. Opening Medley
Trudie
Little Brown Jug
Don't Dilly Dally On The Way
2. Flanagan & Allen Medley
Underneath The Arches
Strollin
Hometown
3. Scottish Medley
I Love A Lassie
Stop Yer Tickling Jock
Donald, Where's Your Troosers?
A Hundred Pipers
Just A Wee Dreoch an Doris
Scotland The Brave
4. Let The Rest Of The World Go By
5. Irish Medley
Paddy McGinty's Goat
If You're Irish Come Into The Parlour
Dear Old Donegal
6. If You Knew Susie
7. Saints Medley
Coming Round The Mountain
Old Folks At Home
British Grenadiers
Drunken Sailor
Poor Old Joe
Saints Go Marching In
John Brown's Body
For He's A Jolly Good Fellow
Side 2
1. Seaside Medley
I Do Like To Be Beside The Seaside
Hello! Hello! Who's your Lady Friend?
Hold Your Hand Out You Naughty Boy
Ship Ahoy
Man Who Broke The Bank At Monte Carlo
I've Got A Lovely Bunch Of Coconuts
2. Harvest Moon Medley
Oh! You Beautiful Doll
You Made Me Love You
Shine On Harvest Moon
3. Welsh Medley
All Through The Night
We'll Keep A Welcome
4. Goodnight Medley
My Bonnie
Daisy Bell
She Was One Of The Early Birds
After The Ball
Goodnight Ladies
5. Boomps A Daisy
6. Cokey Cokey
7. Knees Up Mother Brown
8. Lambeth Walk
9. Auld Lang Syne
Final Score:
4 out of 10