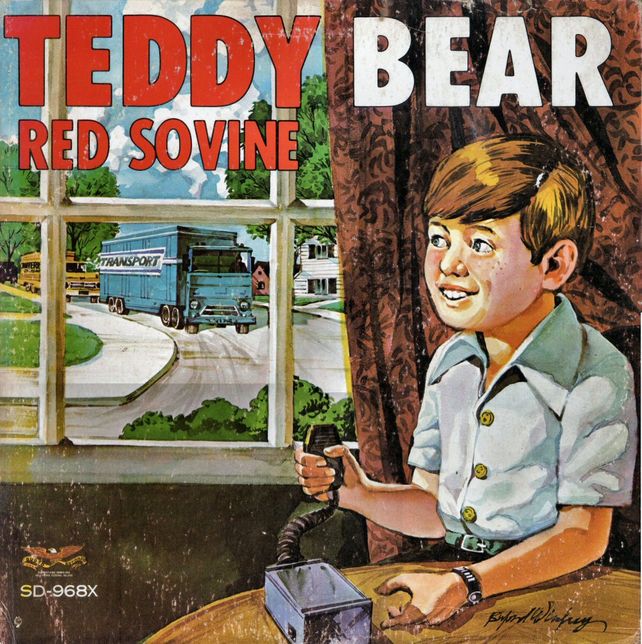 Label / Cat No: Gusto Records - SD-968X
First Released: 1976
What else I Say...
OK, so what was meant to be an album review turned into a bit of a rant about just the first song. Sadly, I suspect that we're going to be walking down a well trodden path here, but join with me anyway as we move on to the next track...
'Little Rosa' is another recitation song, that is Red Sovine uses every ounce of his sincerity to regale us over a mournful steel guitar with the story of a grieving Italian immigrant trying to have a moment's peace over the grave of his late daughter.  Well, that escalated quickly, I mean at least Teddy Bear for all his disabilities was a living breathing child.  Two songs in and we're dealing with infant mortality.  That's a pretty steep curve by anyone's standards.
It seems that Red recorded this song originally in 1956, and twenty years later re-recorded it, presumably in the belief that it fitted the light-hearted tone of this album.  It opens with the kind of close-harmony female singing that seems more fitting for 1956 than 1976, and which is absent from the original.  And while the production values are better, I think I prefer the orginal for two reasons.
Firstly, it's very slightly slower, a bit more sparse with the instrumentation, and just seems to fit the delicate subject matter better even if the tremulous emotion in Mr. Sovine's voice is just over the edge of believability.  And secondly, because in the intervening 20 years, Red has obviously been practising his cod Italian accent, and lays it on so much more thickly.
At first I was quite shocked - we live in an age where even the gentlest mocking of the peculiarities of someone speaking English as a second tongue is frowned upon and the comedy accent is all but a thing of the past.  But actually, this was recorded in 1956 and 1976, and things were different then. Just using Italian as an example as Red is here, we still found it "hilarious" with Joe Dolce and 'Shaddup You Face' in 1981, and still finding it just as funny 8 years later with this sort of thing...
I do believe that after Red has intoned "... during the course of our conversation and in his broken English this is the story just as he told it to me..." it would be a bit weird if he then went on to relate the tale in his West Virginian drawl.  I suppose any humour we hear is derived from the very fact that we are used to hearing the 'comedy' Italian accent, and it does trigger those memories of 'Allo 'Allo and Mind Your Language.
And to be fair, there is no mockery at all - the purpose of this song is to tug at your heartstrings, pure and simple, and a pro like Red wouldn't undermine that by even hinting that the man telling the tale to him was a figure of fun.  Actually, looking at the lyrics written down gave me something that the recorded version didn't.
The over-sentimentality of the song version hides the compassion of the narrator.  After all, this is a story that starts with Red going to visit the grave of a friend, noticing a man crying at a graveside, and him going over, putting a hand on his shoulder and engaging with the mourner.  There's a kindness, an empathy which isn't the focus of the song, but which jumped out at me when I ignored the delivery and just looked at the text.  I was surprised to find myself suddenly thinking about the song in a different way.  Don't get me wrong, I don't think that songs about grieving fathers needs more than a couple of listens before the effect wears off, and I shan't be adding this to a playlist anytime soon, but it did make me more open to this album as a whole.  It's odd, as this song is just as 'mawkishly sentimental' as Teddy Bear in many ways, but whereas that left me cold and feeling deliberately manipulated, 'Little Rosa' with even a little reflection became quite sweet and endearing.
And so that just leaves us with the whole of the rest of the album to deal with in one post!  Yeah, I can do that, surely....  So for now, here's Red Sovine with his 1956 version of 'Little Rosa' as performed in 1962.  Try not to be too dazzled by the Rhinestones.
And as a treat, here's Red in glorious technicolour performing the song with Webb Pierce, who appears to be wearing one of Abba's outfits.