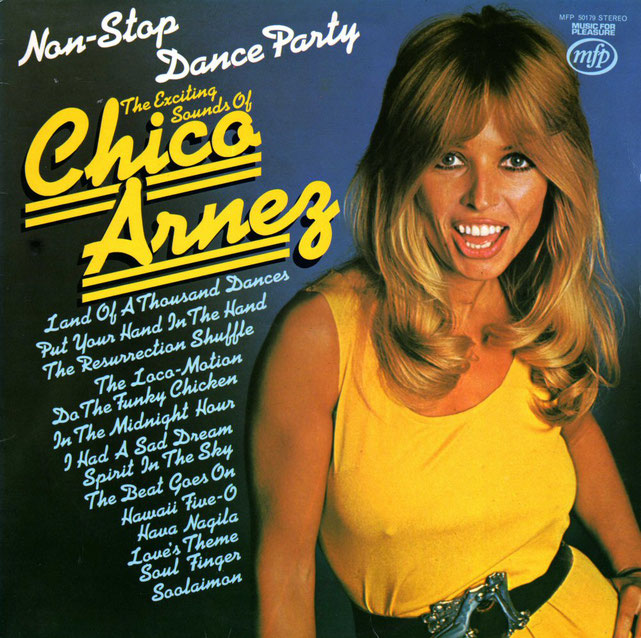 Label / Cat No: Music For Pleasure MRP 50179
First Released: 1974
What The Album Blurb Says:
Regular listeners to BBC Radio 2 will be familiar with the infectiously catchy stylings of Chico Arnez, thanks to all year round appearances on programmes such as "Late Night Extra", "Night Ride" and the tony Brandon, Charlie Chester and Joe Henderson shows.
twenty years on the business has brought the ultimate degree of professionalism to Chico's music, and he has a dazzling stage show to back it up, utilising strobe lights, slides, movies and a machine which blows bubbles over the audience!
but the essence of it all is the happy, good-time dance sound itself - ideal party fare as is obvious from one listen to this non-stop collection of some of the best numbers to grace the pop charts in recent years.
Chico carries a 14 piece line-up including a rep-roaring brass section, pulsating rhythm and four voices.  their distinctive brand of excitement has carried them around the world, playing in such places as Hong Kong, Japan, Australia and Europe as well as here in Britain.
Chico himself sings, as well as directing the band and playing double-bass and a little piano, while the inventive arrangements stand to the credit of Chico, John Clark and John Osborne.
Over the years half-a-dozen albums have helped carry Chico's talents to the public and each time h has gone one better. On this record there are the soul classics Land Of A Thousand Dances, a hit for Chris Kenner and Wilson Pickett, Do The Funky Chicken,  which marked the greatest triumph of Memphis Sound veteran Rufus Thomas, and Pickett's memorable In The Midnight Hour. Sonny and Cher's The Beat Goes On, the infections Resurrection Shuffle, the gospelly Put Your Hand In The Hand and the heavy rocker spirit In The Sky also get a new lease of life.
The fourteen exciting new arrangements on this album make it right for any party - so get ready to dance - non-stop!
Roger St. Pierre 
What I Say...
This album has been one helluva ride.....  Really.  I've had more ups and downs with this record than a Trump Tower elevator.  So let me take you by the hand, and lead you through the streets of... Streatham, as I take you on a journey of lies, betrayal and deception.
I picked this album up just a few short weeks ago in a charity shop in Winchester.  As ever, it was the gaudy cover that first appealed to me.  An early 70s slack-jawed beauty with unnecessary nipplage (yes, nipplage.  That really is a word that I haven't just made up...) poking through her chemical yellow tank-top vest type thing.  Standard fayre of this vintage, but more usually associated with the studio cover type albums of 'Top of the Pops', or 'Top Hits', it immediately piqued my curiosity that this was for a single artist.  Chico Arnez.
I'd never heard of Chico before, but he was clearly a bit of a radio favourite, and as the album notes say, he was a regular on Radio 2 back in the day.  Plus we see that man Joe Henderson popping up again.  Looks like I'm getting to know far more about Joe's friends than I'd ever imagined.
There's not a lot of information about Chico out there in internetland.  Over his career (which apparently is well traveled if you believe Mr. St. Pierre), he only released a handful of albums, of which I can only find this to be the fifth.  Often with 'His 'Latin-America Orchestra' or 'His Cubana Brass', the albums were understandably heavily latin-influenced.  This group of musicians don't have the benefit of being 'His' anything, but I entered expecting those exciting South American rhythms, but I got more, so much more.
On playing the album, I thought within moments of the frenetic opening number that I'd struck gold.  I don't think it's too much of a stretch to compare my job here at Forgotten Albums as being romantically akin to that of a gold-panner.  I spend hours in dark, cold places sifting through piles of murk and grime in the hope, the oh so distant hope, that the one shining nugget will gleam through, making my life immeasurably richer.  And with this album I thought, at last, that I'd hit pay-dirt.
This album is choc-full of brilliant tunes, amazing arrangements and unexpected choices.  This 14 piece band cavorts through 34 minutes (yes, it is quite short) of great music.  From the opening duo of 'The Locomotion' and 'Put Your Hand In The Hand', you expect this to be a high-energy, densely musical foray into the mind of the party animal of 1967.  The style is so drenched in sixties' tropes that you expect Austin Powers to come bursting through the window at any moment.  Swinging London at it's apex.
It's the mix of fast paced bass guitar, wah-wah rhythm guitar, twiddly hammond organ and hi-hat led drum riff that gives this that loving 60s feeling, and the addition of the frankly amazing brass section gives this whole band depth and diversity.  And diversity there is aplenty.  He doesn't just stick with pop numbers, but we get blues, soul, funk, gospel, country, tv themes, traditional folk tunes, rock, and even proto heavy-metal.
I've listened to this album over and over now, and there's another factor at play here.  The non-stop element, clearly designed to prevent the poor over-stretched party host from having to change 45s over on their radiogram every 3 minutes, has thought out the playlist.  Fast tracks to get you going, through to solid legitimate tunes to keep you on the dance floor.  A couple of slow songs to bring the mood down, then Hava Nagila for the community dance, and then back to the luscious 'Love's Theme' to play you out while you smooch with your chosen special one.  It's a whole night's playlist condensed into a well packaged 34 minutes.
And so as you can tell, I clearly have a real affection for this album.  It's just fun.  That's all, no pretence to anything else, just fun.  But then, oh, but then the doubts started to creep up on me...
Firstly, there was the fact that when I looked closer, I realised that the album was published in 1974, probably recorded the same year.  This was 7 years later than I would have dated it from the music alone.  This means, surely, that rather than being a pioneer of that 60s sound Chico's arrangements were, let's be kind, and call them a homage.  Let's be less kind and suggest that maybe he was an opportunist with a talent to copy others' styles.
But what really led me down the path of surprise was reading the album notes again.  It's only a small thing, but the arrangements "stand to the credit of Chico, John Clark and John Osborne". I know that Chico was London-based, but for someone with the flamboyance of Sr. Chico Arnez, surely he wouldn't be working with blokes called John, whether it's Clark or Osborne, it just feels to pedestrian.
With a little more digging, I finally found the truth.  At least, I think it's the truth - it is repeated in more than a few places, but it seems that Chico Arnez never existed.  Chico Arnez was a persona created by a bassist.  Called Jackie Davis.  From Streatham.
There is apparently a story that does the rounds of the BBC about Chico.  I quote here from The Independant:-
"Chico was in fact Jackie Davies from the East End of London. Chico would introduce himself in a cod South American accent, as the band played behind him.
'Hello amigos. Thees ees Chico Arnez weeth the sounds of Latin Amereeca,' he said, as one of the band hit a bum note, at which Chico turned round and thundered in the unmistakable vowel sounds of the East India Dock Road: 'Oo the fuck was that?'"
-Martin Kelner
I don't know why I felt so disappointed, so cheated.  Maybe I cursed myself for being caught up the excitement of those pulsing latin beats.  And so I remind myself, Jackie or Chico, it doesn't really matter.  The music speaks for itself. And it's bloody brilliant.
Oh, and the engineer on this album, John Kurlander - he was only assistant engineer by request on the Abbey Road album, and has a handful of Oscars and other awards for his music for the Lord Of The Rings trilogy.  See, Chico may be a sham, but at least this album has pedigree.
And compare the pace of this Elvis version with the madly frantic Chico one below!
Tracks
Side 1
1. The Loco-Motion
2. Put Your Hand In The Hand
3. The Resurrection Shuffle
4. Do The Funky chicken
5. Soul Finger
6. Soolaimon
7. Hawaii Five-O
Side 2
1. In The Midnight Hour (You Can't Love Me)
2. Spirit In The Sky
3. The Beat Goes On
4. Land Of A Thousand Dances
5. I Had A Sad Dream
6. Hava Nagila
7. Love's Theme
Final Score:
9.5 out of 10 for Chico, 4 out of 10 for that charlatan Jackie.