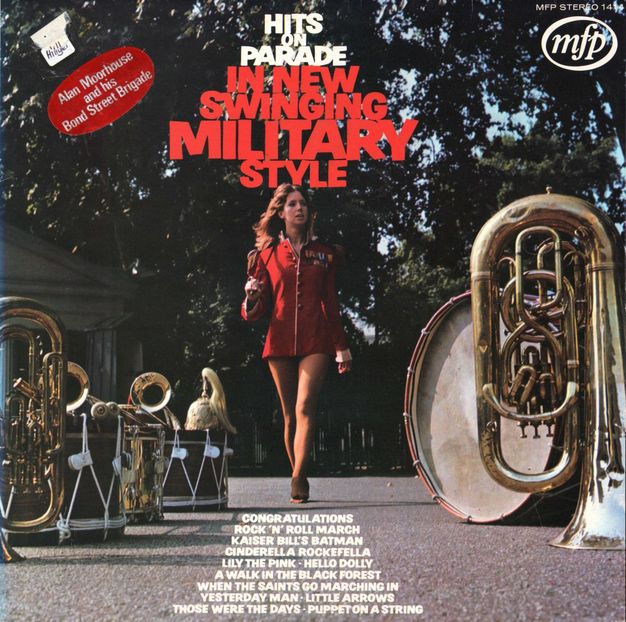 Label / Cat No: Music For Pleasure - MFP1414
First Released: 1970
What The Album Blurb Says:
Hits on Parade is an album which incorporates a wide variety of popular tunes. Each has a well defined, bouncy rhythm and lends itself to a march theme, the theme of this record. Puppet on a String proved to be a winner for Sandie Shaw in the 1967 Eurovision Song Contest and the following year Cliff Richard came close to winning the same contest with Congratulations. The Scaffold burst into the pop scene with their jaunty records and their Lily the Pink forms quite a contrast to the delightful tune of Those were the days that took Mary Hopkin sailing into the hit parade. Leapy Lee obtained his first chart success with Little Arrows as did Esther and Abi Ofarim with their Cinderella Rockefella although Esther and Abi were very well known on the continent beforehand. All these tunes, plus many more can be heard on this record, excitingly recreated in stereo by talented studio artists who successfully capture the original atmosphere of each hit in turn.
Verity Stevens 
What I Say...
It's been a while since I took the writer of the sleeve notes to task, but the blurb here irked me because it seems to have been dashed off in the last ten minutes of a Thursday afternoon.  Verity Stevens appears to be the 'Music for Pleasure' in-house sleeve note writer, and judging by the output from that label alone (4000+ titles at least), I can't expect her to be an expert on everything and everyone.  But why is it that groups 'burst' onto the pop scene, eh?  Surely they graft and rehearse and gig and tour and build a following and eventually get a modicum of success.  That's not bursting, that's slogging, and it seems to undervalue their achievements.  And while I'm at it, if Verity is going to deal in cliches, surely it's burst on to the pop scene, not in to.  Grrrr.
I suppose it could be my reading, it could be clumsy sentence structure, but she seems to be saying that The Scaffold are crap in comparison to Mary Hopkin.  I think she's contrasting the 'jauntiness' of Lily the Pink with the 'delightfulness' of Those Were The Days, but it looks like she's saying that one is delightful, and therefore the other isn't.    Maybe I'm just being fussy.  It has been known.
Tunes "excitingly recreated in stereo by talented studio artists who successfully capture the original atmosphere of each hit in turn" is it?  What about a somewhat cynical cross market appealing album recorded by a bunch of jobbing musos who sound like they were recruited from a Soho jive club on a promise of a portion of chips and the chance to get jazzy on a couple of tracks.  Of course they don't capture the atmosphere.  They rob it of all character and transplant an alien structure and instrumentation onto it.
Calm, calm, calm.  So, what we have here is a collection of songs which have been shoehorned into a military march arrangement.  Is your pop music not formal and regimented enough?  Is your military music too stuffy and pompous?  Well here's the album for you.  To be absolutely honest, when I introduced this album to the very lovely Mrs. ForgottenAlbums, her first comment was 'oh, my Mum would like that', so there clearly was a market out there for this kind of crossover.
Unlike our previous genre-bending experience, this at least makes a bit more sense.  Rather than playing one band's songs in the style of another, this at least takes loads of different songs, and corralls them into a singular format.  Actually, that's probably not that different from The Beatles and Glen Miller now I come to think of it, but I know what I mean.  I think.
I remember as a child, my sister had a magic robot game.  You'd point the robot to a question, move it to a circle of answers, and it would give you the right answer.  If you don't know what on earth I'm taking about, or you really want to see it in operation, watch this.....
Although I can't be certain, I'm pretty sure that Alan Moorhouse used one of these to arrange the album.  On the questions side it'd have Introduction, Verse, Chorus, Middle Eight etc, and on the answers side it would have Drums, Pipes, Drums, Brass, Drums, Loud Drums, Loud Brass and so on. Pick your section, get the answer, bingo, there's another song completed.  Loud drums, loud drums, brass, pipes, drums, loud drums, loud pipes, brass swell, end. If you love drums, this album is for you.  If you love pipes or brass, this album is for you.  If you want subtlety, nuance and variation..... probably not so much.
That's not to say that this all sounds like the Red Army Band circa 1982, although an awful lot of it does.  I can just see them goose-stepping on the Mayday parade through Red Square to 'Cinderella Rockefella' in an attempt to prove to the proles that the Communist Government was really very groovy.  But there are some tracks which stand out.
'When the Saints Go Marching In' for example is pure Trad Jazz.  I'd be happy to have the band play this behind my coffin when the time comes.  While the strictly military tunes keep the musicians in check, you can hear the joy in the freedom that this version brings.
And then there's the 'Rock 'n' Roll March', which unlike the other top tunes on here was actually written by Alan Moorhouse.  Ahhhh, Alan Moorhouse.  I'd actually forgotten until I tried to research him that I used to work with someone called Alan Moorhouse.  OK, that may not be that interesting, but at least it's true.  Or at best it's true, I don't remember which.  Anyway, I'm getting off the point. The 'Rock 'n' Roll March' sounds to my ears exactly like the music a British film of 1966 would play during a scene in a seedy underground club with striptease artistes shaking their tassled brassieres at the camera in red light in close up.  Maybe I've given this too much thought, but take a listen below and tell me I'm wrong.
I have a feeling that Mr. Moorhouse may have had a falling out with the sleeve designer.  No, not because the young lady on the front is not in regulation military uniform (she's missing her hat, not to mention her trousers), but because the red splash that says 'Alan Moorhouse and his Bond Street Brigade' is not printed on, but is a sticker applied after the event.  His name isn't on the spine either.  It's clear that this omission was serious enough that the follow up album (oh dear Lord yes, there's another one of these out there) prints his name in almost sarcastically large lettering on the cover.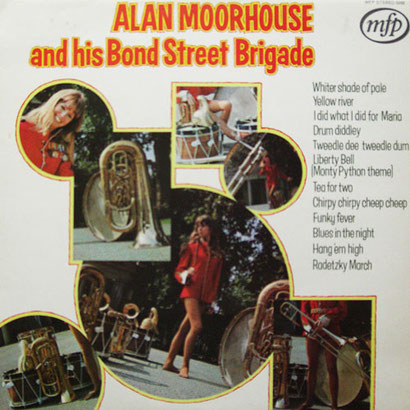 It would seem that this album was popular enough to warrant a second go, and Mr. Moorhouse's penchant for rearranging other people's work into themed collections doesn't end here, oh no.  There are albums called "McCartney, Mendelssohn & Mancini Go Marching With Alan Moorhouse", and yet more intriguingly, "Beatles, Bach, Bacharach Go Bossa".  It seems that consistency of genre is less important to our Alan than alliteration. That's obviously the secret to his success.
I seem to have been very harsh on this album, and the truth is that although I hate the conceit, and the constant military style gets on my nerves, musically there's nothing wrong with this album.  It delivers what it says it's going to, and just because it's not my thing doesn't mean that it's a bad album.  In fact, I've been quite happy to just have this on in the background as I'm driving to work, and compared to some of the drivel I've been listening to lately, it's actually not that offensive.  In fact I may take that as my new personal motto - "Actually, not that offensive".  Works for me.  You'll either like this or you won't, but I think a predisposition to drum and pipe music is a must.
One final thought?  Who's that scruffy little 'erbert running along behind these fine marching men? Oh, that'll be the traditional military bass guitarist who is also represented in this brigade.
Tracks
Side 1
1. Yesterday Man
2. I Was Kaiser Bill's Batman
3. When The Saints Go Marching In
4. Little Arrows
5. Rock 'n' Roll March
6. Lily The Pink
Side 2
1. Cinderella Rockefella
2. Hello Dolly
3. A Walk In The Black Forest
4. Congratulations
5. Those Were The Days
6. Puppet On A String
Final Score:
5 out of 10