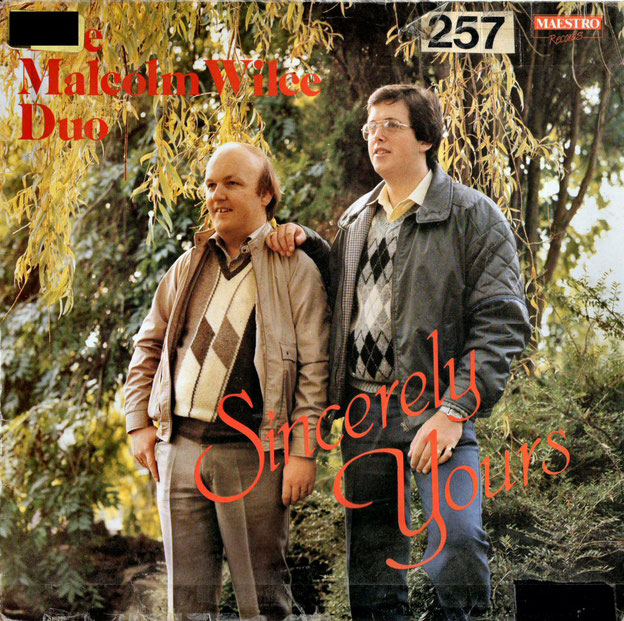 Label / Cat No: Maestro MTS22
First Released: 1988
What The Album Blurb Says: 
What a pleasure to be asked by Maestro records to say a few words about this very popular Duo and their latest release.
with festival time at hand, dancers everywhere will be keen to listen and dance to the to-tapping, inspirational tunes contained on this album.
With such a wide variety of melodies, we are sure that this recording will meet with everyone's approval and for many people, bring back many happy memories of times past.
Congratulations once again to Malcolm and Mark, and the team at Maestro Records.
Terry and Ethel Grundy.
What I Say...
1988, eh?  What a year that was. I entered adulthood by turning 18, and on the same day Fish left Marillion and Roger Hargreaves, author of the Mister Men series died.  Yeah, thanks universe. (On the same day one year later, Liverpool beat Crystal Palace 9-0, so clearly a crappy date all round).  But what musical joys did 1988 bring?  Well, Public Enemy released 'It Takes A Nation...', U2, 'Rattle & Hum', Prince, 'Lovesexy' and there was, of course N.W.A.'s 'Straight Outta Compton'.  There are several 1988 albums which are still staples in my collection, look....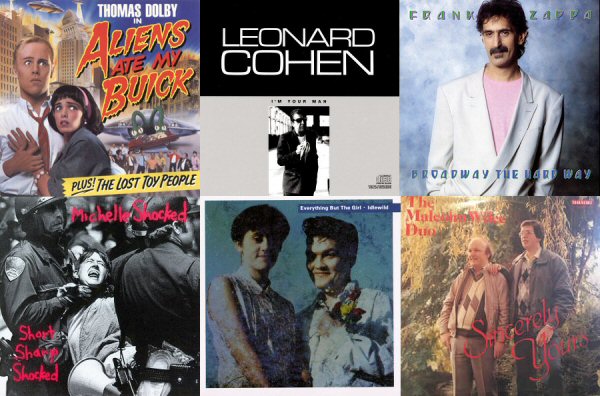 OK, to be properly transparent, I didn't hear Thomas Dolby until about 1996, or Idlewild until about the same time.  Oh, and I didn't know about the Malcolm Wilce Duo until this year.  But these are all albums I keep on coming back to.  Well, OK, I keep coming back to 'Sincerely Yours' because I needed to give it a fair hearing for this review.  Hmmm..... to be fair, I would probably never have listened to it if I hadn't found it languishing in a box in a stall in Hereford Market.
Once again, it was the album cover that intrigued me first.  Two men of seemingly mismatched age in the middle of a municipal park in fine casual-wear.  You don't see that every day, do you?  Argyle sweaters, a good pair of slacks and a sensible coat, not really your average rock star outfit, I admit. But I think the point is they look like someone you would see every day.  If I'm being honest, I looked more like a member of The Malcolm Wilce Duo in the 80s than I did a member of Bros or Dexys or Duran Duran. And I suspect you did too.
This was my first epiphany.  You can't judge this album by 'pop' standards, because it's not a 'pop' album, not by a long chalk.  My second epiphany (and also only an excuse to use the word 'epiphany' again) is that this isn't an album to listen to in the traditional way.
'Sincerely Yours' is an album with a very distinct purpose.  It's for people to dance to - old timey style dancing, not like Chico's Non-Stop Dance Party which clearly was designed purely for you to wig out to.  This is formal dancing in the traditional style.  The track listing even tells you what dance the track is for - Quickstep, Waltz, Cha Cha and so on.  I'm not sure if this is a complete set - do you put it on, dance your way through the variations, turn the record over and do the same, or do you take the waltzes from this album, then the waltzes from another and so on?  I simply don't know, but I'd guess that this provides an evening's or half an evening's entertainment.
I was sold from the beginning, in part due to circumstance.  I'd accidentally recorded the album at 45 r.p.m., and listened the first time as I was leaving work.  I had the car window open, and as I drove off, a jolly ditty provided a live action soundtrack.  A colleague of mine was grinning from ear to ear and doing a little jig, proving that The Malcolm Wilce Duo were made to make you dance.  And also proving that we all need a personal soundtrack to our lives.  Sadly, I think the muted trombone would feature largely in mine.
From listening (and from not reading the sleeve notes) I assumed that both of the fine gentlemen on the front were organists, and that the drumming was provided by the inbuilt organ rhythms.  When I realised that Mark Helmore (the one who the Duo's not named after) was in fact the drummer, I had to reassess again.  Clearly Malcolm can find his way round his organ (you knew I was going to make that joke sooner or later) with aplomb, creating melody, bass and pads, but Mark was a bit of a revelation.  His drumming is extremely tight, very controlled - it'd have to be for me to mistake him for a drum machine, and also to keep a regular beat for all the dancers out there.  Nobody wants a sloppy foxtrot now, do they.
Forgotten Albums has had drummers under the leash before - the wild, beating heart of The Kaye Family, Adrian, was clearly under strict instructions to play to the song, on the understanding that he could end every number a la Keith Moon.  I get no such sense of the untamed beast in Mr. Helmore, this is pure discipline.  That's not to say that there isn't flair either - you can tell he enjoys the faster numbers, and by this album's standards is positively unhinged by the time we get to the album's closer, 'Zambezi', but it's his steady hand that guides us unswervingly, patiently through the slower dances.
Malcolm certainly knows how to get the best out of his instrument.  Though not an organ fan, I can at least appreciate that he gets the most out of a limited set of voices, and fills out the arrangements enough that a duo can provide a full(ish) sound.  For me, I would like to hear a little more flexibility in the timing of some of the melody lines - it's very regimented, but again I suspect it's a necessity to keep people like Terry and Ethel Grundy in time when out for a trot around the parquet flooring.  And why aren't more people called Terry and Ethel Grundy?  You don't hear names like that any more.  If I ever get another cat, I'm calling it Terry or Ethel Grundy, and you can quote me on that.
This is definitely an album of two halves.  I have a soft spot for the faster numbers, they're jolly, jaunty and good wholesome fun.  The slower numbers though..... to my non-dancing ears (and who has dancing ears anyway) are a bit of a dirge.  'Oom Pah Pah' feels painfully slow, 'Say Wonderful Things' is forgettable, and the previous owner of the album (Brenda from Barrow-in-Furness - there was a sticker on the front with her name and address) was clearly displeased with 'Skye Boat Song' as she'd written on the sleeve, in red pen no less, 'Don't Like'!  However, I still get that these are paced for dancing, and it's the rhythm and tempo as much as the tunes that define what goes on this album.
Amongst my high points are the whole of 'Zambezi', the part of 'Winchester Cathedral' where Mark Helmore turns into the one in Chas and Dave who isn't Chas.  Or Dave.  You know, the drummer in Chas and Dave.  He must have a name...
...Oh, I wish I hadn't googled that now.  He did.  It was Mick Burt, and he died in 2014.
But my favourite few seconds of the album are during 'Roulette' where it sounds like Chas & Dave are trapped in a 1973 episode of 'Vision On'.  Sound clip below - just don't have dreams that Noseybonk is coming to get you.
However, my biggest issue is the inclusion of 'The Old Rugged Cross'.  Going out for an evening of unbridled ballroom dancing, I don't think I'd want my hedonistic impulses being corralled by having to dance to a mournful hymn.  It's like trying to do the conga to 'Abide With Me' - they just don't go together.
I must be getting older.  If I'd written this when I first started Forgotten Albums, I'm sure I would have judged on the dated clothes and unfashionable music, but I'm a mellower man now.  Sometimes.  The very fact that there was still a market for this in 1988 and beyond shows me that there is a world out there about which I know very little.  And while knowledge has never handicapped me from having an opinion in the past, I'm kind of glad that in the years between Wogan on Come Dancing and Strictly, there was a hardcore underground movement keeping the dance alive.  You Can't Stop The Beat.
1988, the CD was still only a few years old - I didn't get a CD player for another 3 years.  It couldn't come too soon.  The fundamental flaw of this album was that my copy skipped and jumped through years of happy playing.  I struggle enough to dance at the best of times, this would have finished me off.
Tracks
Side 1
1. Putting On the Style
    Does The chewing Gum Lose Its Flavour......QS
2. Pistol Packin' Mama
    The Runaway Train...................................QS
3. Deep Purple
    That Lovely Weekend......................FT/saunter
4. You'll Never Know
    Only You.......................................FT/Saunter
5. The Old Rugged Cross................................W
6. Skye Boat Song
    Comin' Thro' The Rye.................................W
Side 2
1. Mornings At Seven.....................................R
2. Yours
    Isle Of Capri.............................................R
3. Winchester Cathedral.......................Cha Cha
4. Roulette.........................................Cha Cha
5. Oom Pah Pah
    Wonderful Copenhagen....................OT/Waltz
6. Say Wonderful Things......................OT/Waltz
7. Zambezi......................................Bossanova
Final Score:
7 out of 10
You're not safe down here....