Older readers of Forgotten Albums will know that I like to try and do what I laughingly call 'research' on the albums I feature here.  Of course, what that really means is that I do a quick google search and hope for the best, regurgitating any tasty morsels that I find.  And yet 'The Malcolm Wilce Duo' remained a bit of a mystery for me.  Most of the results I could find were catalogue entries listing a whole career's worth of albums, but no hard facts about the Duo themselves.
Ah, but then, but then, nestling amongst the text under the link on the final page of my search were the words 'former drummer with Malcolm Wilce Duo'.  Hope bursting in my heart, I clicked on the link to MTH Dancing, and there on the front page was the man from the cover of 'Sincerely Yours' looking back at me.  Older, wiser, but unmistakably the same man.
A couple of e-mails and a few texts later, I found myself on the phone to Mark for in interview to try and find out more about The Malcolm Wilce Duo, and Sincerely Yours....
(All photos are ©Mark Helmore 2017, and taken from his website - link below)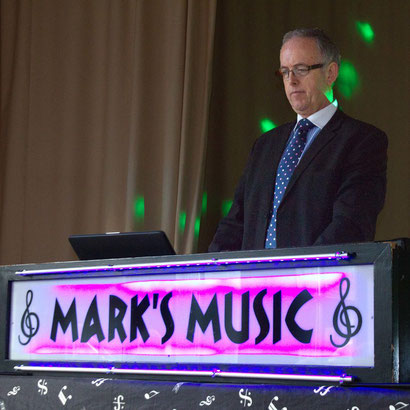 Forgotten Albums:
Hi Mark, thanks for taking the time to talk to me.  First things first - how did you get involved in the Malcolm Wilce Duo?
Mark Helmore:
My dad was a dance teacher in Banbury in Oxfordshire, and I was in a band playing in the General Foods Sports and Social Club.  The organist who was in that band, my Dad asked him if he'd be interested in playing for Sequence Dancing.  He thought he'd give it a go and we started playing as the band - it was just the organ and drums then for the dances.  But then he got ill and needed a kidney transplant, so he was laid up just as my Dad had a big dance we needed to play for.  Malcolm's name was given to my Dad, so he called him and explained there was a big dance coming up, and asked if he'd be willing to play with a drummer. Malcolm said yes and that's how it all started.
FA: After that start, how long was 'The Malcolm Wilce Duo' out gigging for?
MH: We were operational from 1982 until, 2014.  That was a long time!
FA: And in that time, how many gigs to you think you played?
MH:  Crikey!  I wouldn't like to say to be honest.  I mean, we did so much it's unbelievable.  I mean not only did we do one night gigs, but we also did weeks away, fortnights away for dance holidays. We literally covered the length and breadth of the country in the early days.
FA:  Forgive my ignorance, but is this Ballroom Dancing, old time dancing, or is there a different terminology for what you do?
MH:  No, the recordings we did with Maestro [the record label] are what you would class as 'Modern Sequence'.
FA:  Modern Sequence?  And is that for a group, for couples, individuals?
MH:  Basically, it's ballroom dancing, but for Modern Sequence the dancing, the steps are put into 16 bar sequences.  So in other words people will dance 16 bars of a sequence, and repeat that all the way through until the sequence stops.  And they name them, so rather than say you're going to play a waltz, you'd announce it's The Waltz Catherine, which is a particular dance made up of these 16 bars which are repeated.
FA:  My only exposure to ballroom dancing while growing up was 'Come Dancing', and that seemed to belong to my parents or grandparents generation.  I got the impression that in English culture it was tailing off, but obviously from what you're saying, there was still a demand for the music you play.
MH:  That's right, and there still is today to a certain extent.  There's been a bit of a resurgence recently since 'Strictly', but more for the Ballroom side of it as opposed to the sequence.  What tends to happen from our experience is that people have perhaps learned to do Ballroom, and then they look at the Sequence.... a lot of people don't like Sequence, they're brought up with Ballroom and Latin and they stick with that.  But then there are another group of people who enjoy the Ballroom and Latin, but like the fact they can put their steps into certain dances and enjoy Sequence as well. It's quite a mixture right across the board really.
FA:  And it feels very much like a community thing, that people are going for the social aspect.
MH:  That's right, it is a social evening really.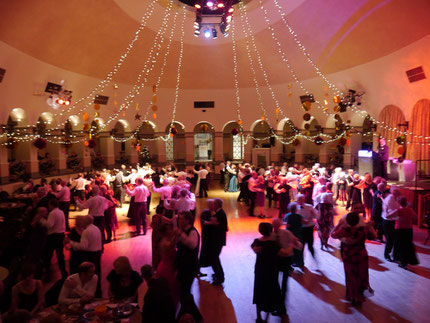 FA:  I've listened to the album a few times now, and from my experience drummers are people who like to have a bit of freedom, to improvise and hit things hard.  Your style is very different - very precise, very controlled which goes with needing to keep a tight beat for the dancing.  But did you ever feel restricted in your drumming by the style of music you played?
MH:  Yeah, you do find with that side - Ballroom or strict tempo you are restricted with what you can do.  But as I said, with my Dad being a dance teacher, that's what I was brought up with.  And obviously when I was younger in bands that were more than just keyboards and drums, like a five piece band or something playing for a dance, I'd always sit there with the drummer and they'd let me have a go sometimes, and that's how I learned.  I'm self taught, but I have played everything - Jazz, Pop and Rock, I've done it all. It's always good to let your hair down a bit!
FA: And are you still playing now?
MH:  I still play now, but not touring so much now, not since I stopped playing with Malcolm.  But there's a keyboard player called David Last who plays the same sort of thing that Malcolm and I did, and I play with him, but it's not so much touring now as one-night bookings.  I've also done a few recordings with him too.
FA:  So are the records, the recordings made for people to play at their own dances, or were they made as merchandise, giving people a reminder of a night out.
MH:  Maestro, the record label are specialists in strict tempo dance music, and the records and cds are designed for people to have their own sequence dances, and they still produce all that kind of music.
FA:  I did find a flaw though - my copy of the album was well played, and skipped in places.  Surely that would have caused problems.
MH:  Yeah, that would put them out of sequence!
FA: My copy also has a sticker on the front, as it was previously owned by Brenda from Barrow-in-Furness.  Is sequence dancing a peculiarly British thing?
MH: No, not at all. In Australia, they have sequence dancing too, but the CDs go all over the world. (side note - I've since noticed a lot of sellers on eBay have copies of Malcolm Wilce Duo CDs on sale from the USA....)
FA: I have to ask you about the sleeve notes - they were written by Terry and Ethel Grundy, who I see are still active and running their own tea dances in Cannock.  How did you know them?
MH: Well, they used to run their own dances in Birmingham, and they had all the records that we'd recorded.  In the early days, what we used to do was ask someone we'd worked with and who'd used our music in their dances to do the write up for us.  But Terry and Ethel we met at Butlins when we used to do the dance festivals, mainly at Bognor Regis & Minehead and they were the MCs there.  We run dance holidays ourselves now in places like Bournemouth, Paignton, Dawlish and so on.
FA: So there's still a large enough following for the Sequence Dancing movement
MH: We're well placed here (Weston super Mare) as people aren't that willing to travel more than an hour or so, plus we have the ballrooms down here.  You wont find so much as you travel north.  But I think we had the best of it.  There are still people playing this music, but a lot of the sequence clubs aren't around any more.
FA: Do you think that's a demographic problem, with this being an older person's social activity?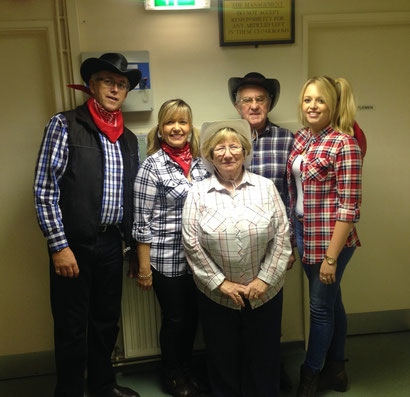 MH: Yes, that's right.  A lot of people have passed on, and there's nobody coming up to replace them.  But there is a future, as I said, it is going more to social dancing, which is what you'd class as ballroom, latin and social sequence which is the easy sequence dances that people know.  You combine it all in one evening now, whereas when we used to play for a sequence dance, everything was sequence all night so everybody would be doing the same thing at the same time.  Whereas by the time we finished we were playing more social dancing where you'd be doing a mixture of ballroom and sequence and latin, so right across the board.
FA: It sounds to me that there is a similarity between the idea of sequence, and that of line dancing.  Did line dancing have any impact on the world of sequence do you think?
MH: We do incorporate that as people enjoy line dancing, so we've brought that in to the social side of what we do.
FA: If I can ask about the album sleeve, I've noticed that almost all of your other album covers are very formal, with you and Malcolm in suits or DJs, but this was taken in a park in Weston.  Was this a deliberate change of style?
MH: That's right, we came out of the dickie bows and the dinner jackets, to go for a more casual look.  I look a lot younger in that photo, and I had more hair!
FA: So, the big question.  Do you dance yourself?
MH: I do, after a fashion!
My massive thanks to Mark for his time and patience.  You can find out more about his work (and I would encourage you to do so) at www.mthdancing.com