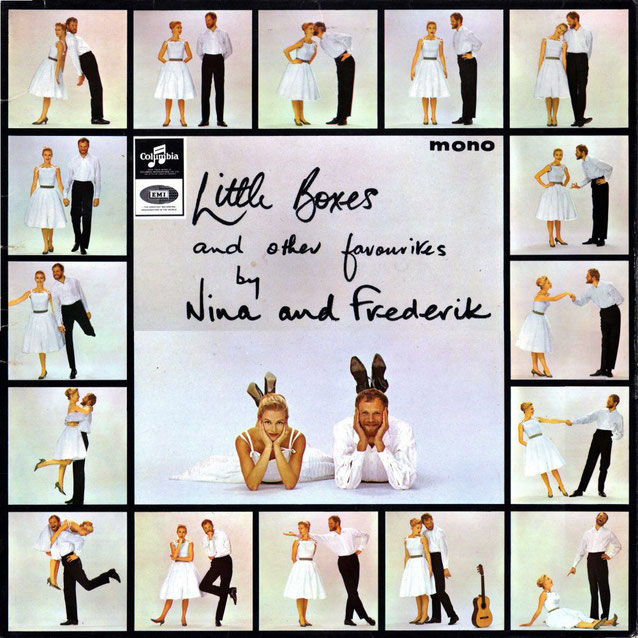 Label / Cat No: Columbia Records 33SX 1683
First Released: This Compilation - 1964
What The Album Blurb Says:
Nina and Frederik started singing together, so the story goes, by accident.  the setting was a student party in Copenhagen after the war - Frederik was invited and duly arrived. he just happened to bring his guitar along. He sang a few Calypsos and the beautiful blonde girl just happened to join in singing the descant. One version says the event occurred in Nina's kitchen; another when they were both four years old. Whatever the facts, is one really to believe that such golden things happen by chance?
The story goes on to say that someone then had the idea they should sing together professionally. (rumour has it that the 'someone' was Nina and Frederik.) So it began. After a great deal of work, nerves, excitement, they opened at Copenhagen's "Mon Coeur" in cabaret, on July 1st 1957. They received a rapturous reception and success was assured.
They were, at once, pursued, cajoled and contracted. In a very short space of time they were known throughout Europe and even further afield. Trinidad offered them the Freedom of the City - and quite right too!
It is very appropriate that their story should be so romantic because Nina and Frederik are romantic people: beautiful, elegant and graceful. But the world they create when they sing is a very real world. It is their gentleness that makes it bearable. There is romance wherever they go, always of a very national kind. Scandinavians possess them, Germans are their devoted slaves, and the English think of them as English. Their appeal is widespread. In every section of the community, in every age group, there are those whom Nina and Frederik charm and captivate. Romance, fittingly, enters into their private life. They were married in 1960, and now have two children, Nicholas and Kirsa.
They have won a large following through the medium of radio, television, films and, of course, records. But those who have not seen them in the delightful flesh, so to speak, have missed a rare treat. Their appeal is visual, and once having seen them perform, one is left with a vivid, lasting memory of the warmth they engender.
This new long-playing record, then, is something of a departure for them in recent years, for they have been preoccupied with cabaret and concerts, spreading their net wide round the world. They have developed a performance of wit and insight, always remaining faithful to their songs which are loved best, and new ones which they hope will come to be loved.
When you have heard and enjoyed this record your pleasure will be made complete by seeing them in person. You are very likely to get the opportunity, Nina and Frederik love to travel, and have the habit of popping up in the most unexpected places. Their most recent conquest was the wooing and winning of Hong Kong.
It has become a cliche to say of a great many singers that their special gift is an ability to make each listener feel that the song is being sung for them alone. it is, in fact, true of very few, for it is an extremely rare gift. Ella Fitzgerald certainly has it; so have Nina and Frederik. I had this strikingly proved to me not long ago when, along with my wife, and a friend, I had the pleasure of visiting Nina and Frederik in their hotel room, late one night. They sang us some of their new songs, and we sat round, listening, into the early hours of the morning. Of course, it is not surprising, with so few of us present in the confines of an hotel room,, that we should feel we were being sung to individually, but the point was made dramatically clear a few nights later at their highly successful concert at the Royal Festival Hall in London. There, being one of a large audience, attentive and enthusiastic, I had the same selfish impression as before. They were singing for me! Likewise the guests in the hotel that night. No-one had banged on the wall, or thumped on the ceiling, or complained to the manager. One has a picture of them reaching angrily for the telephone and then, suddenly being magically lulled by the music, thinking, like us, that Nina and Frederik were singing for them personally. I wouldn't be a bit surprised.
Recently, Nina and Frederik have been asked if they are becoming singers of a message. Their reply is that they are entertainers. They do not seek to impose a message or a point of view. If it is a good song it is worth singing, but, travelling as they do, and being perceptive people, it is understandable in the world today that some songs are more worth singing than others. 
On this record Hush Little Baby is "traditional Nina and Frederik", and there are also two new ones which can be especially recommended. There is the haunting melody of Strange World and the powerful lyric of One More Parade.
Nina and Frederik are unique entertainers and rare people. In a world often noisy they produce a gentle sound; to a world often vulgar they bring dignity. I know you will get pleasure from listening to them sing again... and again... and again.
Ronald Harwood.
What I Say...
Blimey, where do I start?  I've had this album kicking around for at least 8 years but I remember picking it up simply because I thought it was stylish.  The handsome couple on the cover - her looking like a young Doris Day, him looking like a newly-qualified chemistry teacher, it was all so glamorous. Well, not so much the chemistry teacher bit.  But this LP was a thing of quality - proper studio shots on the cover, heavyweight card with a nice glossy sheen, and the vinyl itself a good weight, all on the famous Columbia label, this stood out amongst the other albums I tend to pick up.
Yet I had never heard of Nina. Or Frederik.  That in itself doesn't mean they're 'forgotten' in the way that this site usually means it, but this was clearly a Duo with the record company behind them, and from the sleeve notes alone it seemed that they enjoyed a degree of success, and yet I'd never heard mention of them until I was an adult.  When I mentioned at work that I was reviewing this album, my boss said "What?  You can't do that one.  I've heard of Nina and Frederik!", and yet between himself and another colleague, they could only name two tracks.  Take a look on Spotify, and there are hundreds of them, and yet in the 21st Century they are all but forgotten.
I usually like at this stage to say a little bit about the artists, but the true story of Nina and Frederik would take up far more than a usual entry here, and I have a feeling that this is going to be a long one anyway.  Lucky you.  So, at some point in the not too distant future I'll do a separate thing about the artistes, but here I shall focus on the music.
In another break from tradition, I'm going to lead you by the hand, track by track through this album in its entirety.  Full tracks, or links to full tracks on YouTube or Spotify are available, and I would urge you to give each track a listen and see what you think for yourself.
I'm also going to talk about (whisper) *feelings*.  Well, to be fair, more about the kind of feelings that this music evokes in me which is no doubt a peculiarity, and in you will create other associations or *feelings*.  I'd be interested to know what you think.  Or *feel*. 
And so, with no further ado, Little Boxes (and other favourites) by Nina and Frederik
Side One
1. Little Boxes
Thinking back, I probably acquired this album in part because this was a song that I kind of knew, I think I'd heard it on the radio once or twice in my lifetime, and sort of felt it was significant in some way.  I have a distant memory of my Mother telling me that it was socially important, but I didn't know much more about it than that.  As I'm sure you know, it's a folk song gently damning uniformity and conformity, and paving the way for the following counter-culture revolution.  It's a gentle melody, and I know that I was fascinated by the phrase 'ticky-tacky' without any real understanding of its meaning.  Ticky-tacky.  Nice phrase.  Sits pleasantly in the mouth.  Ticky.  Tacky.
So, with no expectations I started the album, with this pleasant enough flute opening.  A fairly expected, English sounding bloke starts us off, and it's all very much within expectations, and then in comes Nina with her harmonies, and everything changes.  Everything.
I'm a really sucker for a good harmony, and these two deliver in spades.  I really wasn't expecting this, such accomplished, beautiful harmonies.  I spent ages trying to work out why they appealed to me so much, what made them different, and I think I've narrowed it down.
Firstly, they aren't simple, lazy harmonies, but rather take the pairing in unusual or unexpected directions.  Where you might expect her to go up, she goes down, and vice versa. I suspect this might be where 'counter melody' comes in, but as a buffoon in such matters, I'm not going to commit to this term yet.
Secondly, in many (though not all) cases, Nina sings in a similar range to Frederik, but takes the lower part, effectively providing the bass with her silky smooth voice.  The sleeve notes call this 'descant' singing, which helped to provide a description, but the technical definition implies that descant is sung higher than the melody, and that's not always the case with these two.  Nina takes the low road often enough to be noticeable, and I find that rather lovely.
There is a definite difference in the quality of their respective voices - Nina's flows like warm syrup, while Frederiks is competent, but that bit more pedestrian.  Over the course of the album, they both take 'lead' vocals with minimal input from the other on occasion, as well as full on harmonised songs.  There's enough of a mix to keep it interesting, but overall I think where Nina takes the lead of the equal descant, those songs stand out slightly more than those where Frederik is more prominent.
Anyway, moving on....
2. Those Who Are Wise
Ahhhh.... our first Spotify link.  And of course, it doesn't bloody work right.  The link for this song takes you to another, unrelated Nina and Frederik track, in German.  So for the first one, here's a playlist where you'll find 'Those Who Are Wise' as Track 4.  Sorry.  Just click on the Spotify logo.  Go on.  It's a lovely song.
After the bouncy, upbeat opening of 'Little Boxes' we move onto the far more laid back, cowboy swing of 'Those Who Are Wise'.  Despite being branded as folk singers, there is more than a hint of a country influence on this album, and this is the first example right here.  
It's on this song that the first curveball comes.  The harmonies at the end of the first musical phrase, but halfway through the lyrical one swoop keep you hanging on, waiting for a resolution with is what drives the song forward.  Again, these two people are creating interesting harmonies which I don't think are matched even when you add a third person into the mix, as in this example by the Kingston Trio...
The song itself doesn't particularly appeal - it becomes repetitive very quickly, but it's the gut reaction that it produces that keeps it interesting.  There was something about the nature of this song which reminds me of soap or cold cream adverts from my youth.  I'm sure you know the kind of thing - a wide eyed housewife holding her hand at an improbabe right angle at chin level, a coiled mound of lotion on her outstretched fingers, rubbing the cosmetic goodness into her cheek with three fingers.  The sense of luxury that was implied to a 5 year-old me, the ability to let a little luxury transport you is replicated in me by these harmonies.  They impart the same sense of indulgent little luxuries that I understood as a child, and I can't help but wonder how this happens, but it does.  So there's that.  Next.....
3. Try To Remember
A fragile, gentle little song that showcases the smoothness of Nina's vocals.  It was by this stage of listening that I realised one of the things that sets this apart from more modern music is the importance of diction.  No wonder the English claimed them as their own, as there is not a hint of an accent, and the RP is flawless.  Every word enunciated with absolute clarity.
There's also a sense of melancholy and nostalgia going on here, though nostalgia for what I couldn't tell you.  Maybe it's a trick of using the word 'remember' in the title.
4. Scarlet Ribbons
We veer unexpectedly into the twee here.  Another song that sounds like it should be a country number, and indeed was covered by people like Jim Reeves.  Here it has a lilting swing beat that doesn't quite convince, but plods along merrily enough telling the tale of a little girl who prays for the 'scarlet ribbons' of the title, a mother who can't find them in the town, yet checks on her daughter in the morning, and finds her bed festooned with miraculous red hair adornments.  Clearly this was meant as a semi-religious tract, highlighting the benevolence of a mysteriously moving God, but sounds to my ears like people using God like Argos, placing their orders for earthly goods and getting next day delivery.  Doesn't sit comfortably.  And this isn't the last time that we'll meet over-indulged children on this album.  I can't help but feel that this is the kind of song that would have ended up on a Tony Best or Maralene Powell album.... so of course I googled it, and while I can find no evidence that they did, I found out that the song was written in 15 minutes, and has been recorded by Cliff Richard.  Says it all really.
5. The Old Maid Song
And again, Spotify let's me down.  I copied the link for the song, but when I paste it back in, it takes me to a version of 'Little Donkey'.  So back to the playlist - track 7 this time....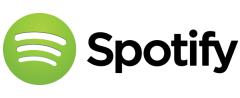 This isn't the version on 'Little Boxes', but rather a live version from 'Nina og Frederik - 100 Go'e' which is a much more catchily named album.  In terms of style, the recording here is much more like this version by The Highwaymen:-
They claim in the introduction that this was a song they found in Australia, but there are versions recorded by Pete Seeger amongst others, so I'd be surprised if it wasn't a regular on the folk scene beforehand.  The tune doesn't stand out particularly, and feels like a bit of a filler. However, it has my new favourite lyric ever in the second verse.
"I have a sister Sarah, she's ugly and misshapen
Before she was 16, she was taken"
The whole song is the lament of an old maid who clearly has been saving herself, while her younger sister who apparently put it about a bit in her youth is settled with two children, and has been since she was eighteen.  The 'Old Maid' herself, it transpires, is only 36.  That's a mere child, surely!  Well, whatever the circumstances, this narrator is now throwing herself on anyone who might take her, and the overall effect is a bit saucy to say the least.  I might be applying a 21st Century sensibility here, but I strongly suspect that this whole song was quite racy for the time.
6. One More Parade
So now we see the other side of Nina and Frederik, particularly Frederik.  This Phil Ochs song sounds at first listen like a bombastic recount of war, and if it's bombast you want, Frederik delivers in spades, while Nina is at her least smooth, most emotional self on this song.  After a couple of listens, it became clear that this song is in the tradition of using the tools of the enemy against themselves, as it's a quietly damning statement on the human cost of war, and of the anonymity of the losses. I can't find a copy of this on the internet, but as the next best thing (and it's a corker), here's a version by They Might Be Giants.
This, and one other track stand out for being political on this album, and I'd imagine show the shifting social awareness that took place between the 50s and 60s, championed by the folk movement before moving into more mainstream pop.  Looking back 60 years later, this kind of gentle(ish) questioning of the status quo seems incredibly mild, but I suspect that in context, the temerity to ask or doubt the leadership on such decisions was profoundly shocking.  I find it strangely comforting that two upper-class people such as Nina and Frederik were not so comfortable as to not question the world around them.  I suppose this could possibly be the result of being so well travelled for the time, but I'm conjecturing, and Puff the Magic Dragon's waiting.  Hold on, here he comes...
Side 2
1. Puff The Magic Dragon
Let me be honest, until my 47th year I hated this song.  Hated it.  I'm not sure if it was the contrived tweeness, the clumsy rhyming, the assumption that people, especially children were meant to love it, or what.  But I did not like it at all.
That is, until I got this album.  This version is lovely, from the zingy, flutey opening to the cheerful delivery, and once again, the magical harmonies.  The whole thing is, for me for the first time, a gorgeous children's song.
But....
A large part of the love may come from the fact that by coincidence, it was this song that came on the car stereo just after I'd picked up my son and his girlfriend.  They like to sit in the back, canoodling while I drive them chauffeur style.  Which means that unlike our usual trips, he wasn't able to control the volume knob on the stereo.  So in true Dadly style, I turned it up to full, opened the car windows, and sung along.  With gusto.  Through the streets of Presteigne.  In terms of embarrassing my children - something I consider a serious parental duty - this was up there with the best of them, if not a personal best.  So this song is now bound to have a place in my heart.  Moving on....
2. Charade
This one was a bit of a puzzler.  A predominantly Nina vocal, it kept on reminding me of film music. Actually, that's not surprising, as it seems this was a Henry Mancini / Johnny Mercer composition as the title song from the 1963 film 'Charade'.  But that's not the film I was thinking of.  Imagine if you will a James Bond film called 'Charade'  where the titular lead was played by Jayne Mansfield (or other siren suductress of your choice), then this would be the Bond Theme.  It's sultry, the music feels like a vaguely threatening undertone to the downbeat lyrics, but most of all it's that chord progression.  Seriously - it has Bond's fingerprints all over it.  If you listen to nothing else, try the last 20 seconds and tell me it's not classic Bond.  Still, good song though.
3. Hush Little Baby 
You know the score by now.....  Playlist Track 8 this time.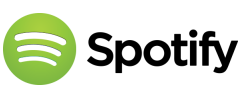 If Nina and Frederik redeemed 'Puff The Magic Dragon' for me, they singularly failed to do the same with this song.  Again, one I've hated for years, and the soft jungle stylings here don't elevate the song above the mundane.  Sweet, unthreatening, even my 9 year-old daughter listened to this once and said 'that girl's very spoilt'.  I couldn't agree more.  Next.
4. Strange World
Weirdly enough, I can't find a version of this on Spotify or YouTube.  If you're that curious, there are places you can download it, but I'm fairly sure that the artists will see none of the benefits if you do that.....  So how can I describe this?  It's another of the good duo songs with refreshing melody and harmony with a surprisingly downbeat style, with a little bit of mystery thrown in.  The strangeness in question is 'why aren't people nicer to each other', which seems reasonable to ask.  Not a standout track by any means, but a good solid standard.
5. Nicodemus
See, here's the reward if you've managed to read down this far, here's the good stuff!  Track 9 on the playlist this time.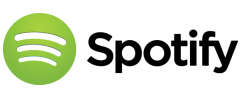 Although you need to bear in mind, this is either a re-recording or a live version, either way it's different enough from the version on this album to need a bit of clarification.
My grandparents had a sideboard in their dining room which was like the tomb of Tutenkhamun. It contained probably every jar of pickle, condiment, sauce and dressing that they'd ever bought, and they remained in there, preserved for ever, a snapshot in time.  Because they remained in a sealed tomb for most of the time, the very fabric of that sideboard became impregnated with the unique smell of all the ancient bottles and jars.  As well as bringing out the natural wood smells, there was a sweetness, an earthiness and something else I can't quite identify, but it all combined to make an aroma that was a genuine one off - I've never come across that smell anywhere else.
Synaesthesia is "... a neurological phenomenon in which stimulation of one sensory or cognitive pathway leads to automatic, involuntary experiences in a second sensory or cognitive pathway."  It's a condition which leads those with it to combine experiences, so they call smell words, or  music has colours - one sensory input leads to a connection with another in the brain, making associations that do not occur in the majority of us.  I am not synaesthtic, but on two occasions in my life, I have been left with the incredible impression of being able to perfectly recall (or, it seems, smell) my grandparent's sideboard.
The first was when I discovered this really annoyingly addictive game. I assumed that it was something to do with the colour palette which was very 1950s which in my mind is clearly associated with my grandparents for some reason.  I think that was the last time their house was decorated....  However, it happened again when I first heard this song, which makes me think that it must be some weird connection in my head between the Jazz Vibraphone and my grandparent's sideboard.
In the Spotify link above, the Vibraphone isn't as prominent as on this album's version, so you may not get to smell the sideboard quite so much....
So, smelly digression aside, this is a weird song.  Part Negro spiritual, part Jazz and part 'Happy Birthday', it sees Frederik doing his best Paul Robeson impression with varying degrees of success. It doesn't quite fall into Black and White Minstrels territory, but it teeters on the edge.  
One thing that did occur to me though - if there is a trajectory that runs from Cab Calloway to Tom Waits (and if there isn't, there should be), this song seems to fit half way along that line.  Who'd have thought a European aristocrat would be the missing link between a big band leader and a massively original innovator?
6. Blowin' In The Wind
If 'Puff The Magic Dragon' made me like a song I'd previously hated, this here track does the exact opposite.  Maybe I have the glorious benefit of hindsight and can see what a groundbreaking, iconic song this became. Maybe it's because I have fond memories of singing this in assembly at junior school (I swear I didn't dream this - I'm sure it was one of the standard songs along with the usual hymns and so on - there were big word sheets hung from walls.  Anyone?  Anyone.....?)  But I think as a general rule, Bob Dylan doesn't translate well to cheesy Latin beats.  Just doesn't work for me.
Putting that aside for a moment, let's assume that Nina og Frederik (yes, I'm going native with their name) realised the importance, the universality of the song.  That doesn't mean that you need to ladle on the emotion and the amateur dramatics to get the point across.  There is something that I find so annoying in the way they sing "How many deaths will it take 'til he knows / that too many people have DIEEED!!!?!%&!"  that it takes away any chance I had of finding something redeeming in this version.
For me it's the great let-down of this album, that the closing track, the big final number, the lasting impression that this leaves you with is not even remotely in the class of the rest of the album.
And this album does have class, tons of it.  Don't be put off by their mangling of Bob.  Let the rest of it wash over you and soothe you.  Go on.  You know you want to.
Tracks
Side 1
1. Little Boxes
2. Those Who Are Wise
3. Try To Remember
4. Scarlet Ribbons
5. The Old Maid Song
6. One More Parade 
Side 2
1. Puff The Magic Dragon
2. Charade
3. Hush Little Baby
4. Strange World
5. Nicodemus
6. Blowin' In The Wind
Final Score:
8 out of 10