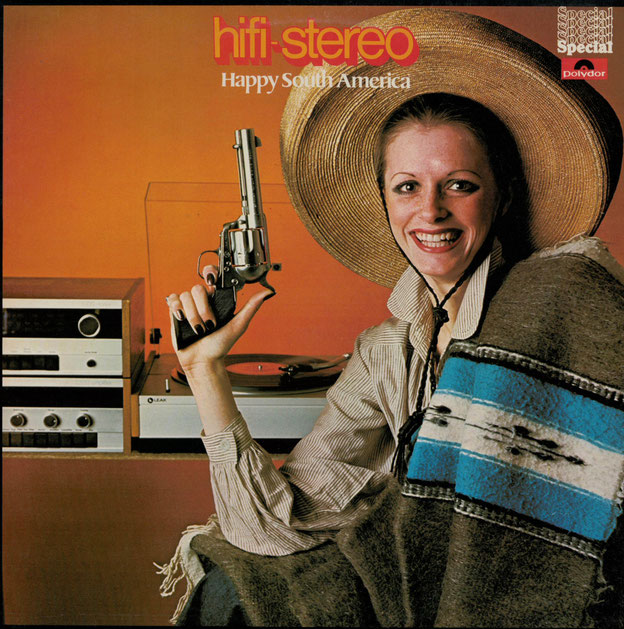 Label / Cat No: Polydor Special 2482 292
First Released: 1972
What The Album Blurb Says: 
None - just some blurb about other albums in the series (if you're interested, Big Band in HiFi stereo, HiFi Stereo Festival, HiFi Stereo In concert, Golden instrumentals in Hi Fi Stereo and Love Songs in Hi Fi Stereo.....)
What I Say...
We start 'Happy Season' here on Forgotten Albums with this little gem, a compilation from 1972, but made up of tracks recorded within the 10 years prior to this collection.  This Polydor 'Special' album was clearly made to be played on high end home stereo's of the time, and the fact that 'hifi-stereo' is in much bigger typeface than the album title bears this out.  You'll notice that the cover indeed features a hifi stereo, and the make and model are even catalogued on the reverse of the sleeve, such is the focus of the equipment.
More interestingly for me though is the Happy South American lady on the front who looks like she's from Chelmsford. There is absolutely nothing Latin about this young lady, except for the props she's been made to pose with.  Her slightly khaki Dorothy Perkins blouse doesn't seem quite in keeping with her Mexican sombrero and Peruvian poncho, not to mention the revolver.  That is some mighty weapon she's packing - are we to infer that all happy South American's are also banditos?  Is the defining quality of the entirety of South America revolutionary gun slingers?  If only they had pasted on a Zapata moustache as well, we'd have the full set for stereotype bingo.  What lack of foresight the designers had there.
The record itself is in pristine condition.  For a cover and the vinyl to be in such good nick 45 years after production would seem to imply that the previous owner didn't play it much. Unlike many records in the collection, there's not a scratch and barely a crackle anywhere. Actually, I suppose it could have been treasured beyond Inca Gold, and kept in climate controlled conditions to preserve the magnificence of this album.  But I doubt it.
I'll be honest.  What with the proto-Sloane Ranger on the front, and the fact that most of the recordings were made by people with German names, I didn't hold out high hopes for the quality of this collection.  But I was wrong.  So wrong.
Side 1 opens with the sound of sleigh bells.  Well, they may not be actual sleigh bells, but something that sounds exactly like sleigh bells.  This rapidly morphs into the throbbing Latin drums before a smoky voiced lovely starts seductively whispering short phrases over the top.  If ever there was an opening to an album to draw you in, this is it.  I have no idea what this woman is saying - for all I know she could be reading the football scores, but I don't care.  I just know that I'm hooked.
And so the scene is set - lots of thumping rhythms, lots of pipes (which sound suspiciously like flutes to me....) lots of squeaky trumpets, but sadly no more sultry temptresses whispering Spanish nonsense.  Can't win them all I suppose.
'La Machine' or 'The Machine' for you non native speakers out there is a curious one.  We get some xylophone, and our first significant guitar of the record, though not the acoustic you might expect, but a perfectly plucked electric.  To my uneducated, ill-refined ears, this sounds less like Latin America and more like Highlife from Nigeria.  I wonder if in those pre-Peter Gabriel days the good people at Polydor needed a filler for their South American compilation, and popped this in hoping that nobody would know any better.  To me it sticks out like a sore thumb, but in 1972 would it?  Would it?  
And that's not saying it's not a great track - it is.  Bumps up the happiness quotient well, just not sure it fits with this album too well.
'Guantanamera' starts like it's an outtake from Grease, then picks up a melody that wouldn't be out of place on the football terraces.  Once I found myself singing along with 'There's only one Kevin Keegan, there's only one Kevin Keegan', I couldn't stop, and can't unhear it.
On a related note, when my sister was at University in the mid / late Eighties, she was asked why she had a picture of a 70s footballer on her wall.  She didn't.  It was a contemporary picture of me.  Outrageous.
And so on to track four - Para Los Rumberos.  If any track were a westernized, 60s interpretation of South American music, this is it.  The pace is frantic, the bongos (or SA equivalent) are battered for all their worth, the brass is at it's squeakiest, and the electric guitar over the top of it is straight out of 1967.  The combination is joyous and uplifting in the extreme.
The album goes on in this vein, pretty much until the end.  The only dip in the high-energy feel good tunes is the closing of Side 1, 'El Condor Pasa', which is a low-energy feel good tune.  Until recently I only knew the Simon and Garfunkel version of this, which for all it's loveliness, does come across a bit twee now.   This version, although falling on the muzak spectrum, has a certain charm about it, if only because it's not the S&G version, and now falls firmly into second place in my personal El Condor Pasa Top Ten, after this gorgeous version by Richard Durrant.  Yes, I have a personal El Condor Pasa Top Ten.  You want to call me out on that?  Do you?
Moving on.  Side two is very similar to side one, unsurprisingly enough.  If 'El Condor Pasa' gave you a breather at the end of the first side, 'Amparita Roca' pulls you straight back in for side two, starting with a Mariachi fanfare, clip-clopping drums and full on bullfighting grandeur.
I spent ages trying to think what the next song, La Boliviana reminded me of until it came to me in a flash.  Jump to 3:07 for the full flavour.
You get the idea by now.  I can't help but feel that a lot of these songs are western appropriations of South American ideas, melodies arranged and produced to within an inch of their lives to please the aural palette of the European.  Take the final song on the album - Desafinado.  This is smooth jazz, as smooth as smooth can be.  It's only the drumbeat, low in the mix barely holding the gossamer threads of the delicate saxophone.  These songs owe as much to their South American roots as my Mum's 1980s curry owed to subcontinental cuisine (sorry Mum). Some are clearly South American in origin, but clearly not in the arrangements, whereas others are South American only in the sense that they'd pass muster in a Ballroom Latin class.
Speaking of European ears though, although the writers of the songs do tend to have mostly Spanish names, the performers are very much more Teutonic sounding.  We have songs from Ladi Geisler, Kai Warner, Max Greger and Kurt Edelhagen.  My remaining hope was for Roberto Delgado as the sole genuine purveyor of Latin music, until I found out that Delgado was the stage name of Horst Wende from Saxony.  Ladi Geisler was Horst, sorry Roberto's bass player, and also played for Bert Kaempfert and James Last himself. It seems that the tracks here are all from James Last contemporaries, both in time, and it would seem, place.  For some reason Germany was a hotbed of South American rhythms in the 1960s, and this album is a distillation of that.
So is it Happy?  Surely that's the point.  James Last always wanted his albums to be a party, adding whooping and hollering to keep the excitement going.  It's a tactic that worked, although not employed here, but the music was always arranged perkily. Well, I'm pleased to say that it is, very happy.  With expertly orchestrated songs, frenetic rhythms and expertly played arrangements, this may not take you any closer to South America than Leipzig, but it provides song after song of upbeat entertainment, and I'm really glad to have it in my collection.  Taco, anyone?
Tracks
Side 1
1. Salambo No. 1
2. La Machine
3. Guantanamera
4. Para Los Rumberos
5. El Paso
6. El Condor Pasa
Side 2
1. Amparita Roca
2. La Boliviana
3. Borriquito
4. Caballero Ole
5. Cha Beat
6. Desafinado
Happiness Quotient:
9 out of 10
There's only one Kevin Keegan, there's only one Kevin Keegan